Close
UHV employee's photography wins On My Own Time Best of Show, advances to city show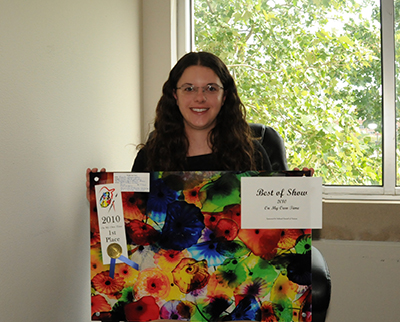 University of Houston-Victoria employee Kayla Sappington's "Bellagio Hand-Blown Glass" photo won Best of Show in UHV's On My Own Time Employee Art show. Three of her pieces will advance to the On My Own Time City Show April 22 to May 2.
When University of Houston-Victoria employee Kayla Sappington bought her husband, Nathan, a digital camera for Father's Day in 2007, she never imagined she would use it more than he did.
"I find photography to be a great outlet for my creativity," said Sappington, a systems specialist in UHV's Information Technology Department. "Buying a digital camera was probably one of the best purchases my family has ever made."
Sappington's work recently was honored in the On My Own Time Employee Art Show at UHV. In addition to winning Best of Show and first place in the color photography category for her acrylic print photo "Bellagio Hand-Blown Glass," Sappington also won first place in the black and white photography and metal art categories.
Although Sappington's mother, Sarah, had told her for years that she needed to enter some of her photographs in an art show, the UHV show was her first try.
All three of Sappington's pieces will advance to the On My Own Time City Show April 22 to May 2 at the Leo J. Welder Center for the Performing Arts, 214 N. Main St. The show will consist of finalists selected from On My Own Time in-house art shows at nine area employers.
"Bellagio Hand-Blown Glass" started as a photo Sappington took inside the Bellagio hotel in Las Vegas in October of 2008. She was attending a computer training seminar in the city, and the brightly colored blown glass hung from the ceiling of the hotel lobby caught her eye.
"The photograph reminds me of the circus, "Willy Wonka and the Chocolate Factory" and a glass container full of jelly beans on my grandmother's kitchen table all at the same time," Sappington said.
She eventually found a lab that could print the photo on acrylic, which made it look more three dimensional.
Sappington also is interested in photographing people and operates a small photography business, Footprints by K, in her spare time. Her business, www.footprintsbyk.com, mainly consists of taking photos for high school seniors and occasionally weddings.
She now has the chance to receive additional recognition for her photography in the city show. Best of Show and People's Choice winners will receive special awards, while first- through third-place winners and honorable mention designations in all 14 categories will get ribbons.
Other UHV employees advancing to the city show are:
Holly Verhasselt, executive assistant to the provost and vice president for academic affairs, People's Choice Award and second place, textiles
Dmitri Sobolev, School of Arts & Sciences assistant professor, first place, digitally enhanced photography and second place, color photography
Leslee Lee, travel analyst, first place, crafts
Eric Chacon, Web developer, first place, drawings
Sandy Venneman, School of Arts & Sciences associate professor, first place, paintings
Judy Lucas, admissions analyst, second place, paintings
Nancy Penry, training and continuing education coordinator, first place, textiles
Joe Baugh, executive director of the Cultural Council of Victoria, which has sponsored the annual art show for 25 years, said a team of three judges selected the winning artwork from each in-house art show. Out of 214 entries, 102 will advance to the On My Own Time City Show, which the public can attend for free. The public also is invited to a free reception for the city show winners from 4:30 to 6:30 p.m. April 22 at the Welder Center.
"A lot of the people with entries in the city show are really talented and proud of their art, but they have no place to exhibit it," Baugh said. "This gives them a chance to do that and be recognized."
The University of Houston-Victoria, located in the heart of the Coastal Bend region since 1973 in Victoria, Texas, offers courses leading to more than 80 academic programs in the schools of Arts & Sciences; Business Administration; and Education, Health Professions & Human Development. UHV provides face-to-face classes at its Victoria campus, as well as an instructional site in Katy, Texas, and online classes that students can take from anywhere. UHV supports the American Association of State Colleges and Universities Opportunities for All initiative to increase awareness about state colleges and universities and the important role they have in providing a high-quality and accessible education to an increasingly diverse student population, as well as contributing to regional and state economic development.