Close
UHV student to complete bachelor's degree in just two years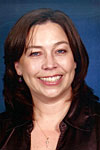 Jennifer Burns
University of Houston-Victoria student Jennifer Burns is finishing what usually takes students at least four years to complete in only two.
She will graduate from UHV this summer with a bachelor's degree in psychology after starting community colleges classes at The Woodlands-based Lone Star College in July of 2008. Burns began online courses at UHV in the fall of 2009 and has taken as many as 25 hours in one semester. She once completed a self-paced course in only four weeks.
But Burns, a resident of Spring, is more than just an exceptionally motivated student. For her, it's not about a better job or financial security. It's all about being a good mother. After years of being told she couldn't conceive, Burns found out she was pregnant and had a daughter named Brynna two years ago.
"She was the best surprise ever," she said. "The circumstances aren't the best because I'm doing it by myself, but she's a blessing that has changed my life. I've always wanted to be a mother. Life has suddenly just opened back up for me."
Burns, now 42, realized her priorities had shifted dramatically. Suddenly, time was crucial, and her childhood made her even more determined to give her daughter what she had missed growing up.
"I had a lot of problems in my childhood," she said. "But I want to break that cycle and be the best mom I can be. I'm learning about psychology so I can raise her with good values and good self-esteem."
Burns also wants to be a good example for her daughter. "I'm 42, and I don't have my degree," Burns said. "I wanted her to see that it's really important to get your education, and I need to get back to work. I have things I want to do. I have a fire lit under me now because if you read the statistics about single parents, it just makes you want to give up. I want to make sure I can take care of her. I want to be able to take her to Disney World on her sixth birthday."
Burns calls Brynna her miracle baby not only because doctors had told her she would never have children. When Brynna was 7 months old, she contracted meningitis, which resulted in a stroke.
"At one point, she was completely paralyzed on her right side," Burns said. "But then, all of a sudden, she recovered. Babies are miraculous. She's completely transformed my life."
Now Burns is hoping she can use her degree to transform the lives of other children. She wants to work with victims of abuse.
"I know when I was little, I needed support and understanding," she said. "I want to be able to help a young child who has had an experience similar to mine. To me, that would be the greatest gift I could give someone, and it would make what I went through mean something."
The UHV Outstanding Student is an online feature highlighting the exceptional students who attend the University of Houston-Victoria. To nominate a student, contact UHV Communications Manager Paula Cobler  or call 361-570-4350.
The University of Houston-Victoria, located in the heart of the Coastal Bend region since 1973 in Victoria, Texas, offers courses leading to more than 80 academic programs in the schools of Arts & Sciences; Business Administration; and Education, Health Professions & Human Development. UHV provides face-to-face classes at its Victoria campus, as well as an instructional site in Katy, Texas, and online classes that students can take from anywhere. UHV supports the American Association of State Colleges and Universities Opportunities for All initiative to increase awareness about state colleges and universities and the important role they have in providing a high-quality and accessible education to an increasingly diverse student population, as well as contributing to regional and state economic development.