Close
Lifelong softball teammates continue tradition at UHV
Three lifelong teammates from Missouri City will stay together as they play for the University of Houston-Victoria Jaguars softball team in the fall.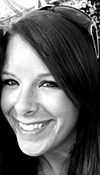 Tara Williams
It all started when second baseman Tara Williams was recruited by UHV assistant softball coach Lindsey Ferguson.
"She had the right heart and skills to make a good addition to our team," head coach Keri Lambeth said.
While touring the UHV campus, Williams found out the team was looking for a new outfielder and a catcher. As fate would have it, her two best friends she's played with since she was about 6 years old, Kara Waukau and Kristina Droz, played outfield and catcher, respectively.
Lambeth and Ferguson evaluated the pair of suggested players, who attend Elkins High School with Williams, and signed the whole trio in December.
"I think it's an amazing opportunity," Williams said. "We've always joked around that we would go to college together, but we didn't think it was possible. You never hear about these sorts of things happening."
Her current and future teammates expressed similar sentiments.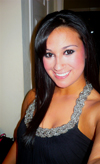 Kristina Droz
"We're all best friends, so it will be great to get to play together for four more years,"
Droz said.
"We had talked about it and joked about playing all together, but we never really thought it would happen," Waukau said. "But the fact that it has is really amazing, and it's so exciting to even think about it."
It was Williams' excitement that easily convinced the other two to follow her to UHV.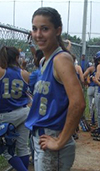 Kara Waukau
"She was so interested in UHV and was so excited about it, and when she went to her visit, she loved it," Waukau said.
The other two students also bring with them a history of accomplishments on the field that drew Lambeth and Ferguson's attention.
Waukau was an All-District Honorable Mention her freshman and sophomore years and All-District Second Team her junior year.
Droz became a starting player her freshman year when she was named Second Team All-District. She went on to be named First Team All-District her sophomore and junior years.
"Any time you bring new players onto a team, there is an adjustment period where everyone learns to play with each other and grow into a cohesive unit," Lambeth said. "With these three new players, that bond already exists, which will be a real bonus as we begin to practice and play."
All three students said they are thrilled to be a part of the historic FIRST 200 underclassmen. UHV has grown from an upper-division teaching center offering junior-, senior- and graduate-level classes to a rapidly growing institution of almost 3,700 students at face-to-face locations in Sugar Land, Katy and Victoria, and online. On June 19, Texas Gov. Rick Perry signed a bill granting UHV permission to add freshmen and sophomores to the Victoria campus in the fall of 2010. 
"That's going to be cool," Droz said. "It's going to be so much better than going to a big school where you are not going to know anybody. Being a first is the best thing."
Williams summed up the feelings of the other two.
"I can't wait to go," she said. "It's going to be great."
The University of Houston-Victoria, located in the heart of the Coastal Bend region since 1973 in Victoria, Texas, offers courses leading to more than 80 academic programs in the schools of Arts & Sciences; Business Administration; and Education, Health Professions & Human Development. UHV provides face-to-face classes at its Victoria campus, as well as an instructional site in Katy, Texas, and online classes that students can take from anywhere. UHV supports the American Association of State Colleges and Universities Opportunities for All initiative to increase awareness about state colleges and universities and the important role they have in providing a high-quality and accessible education to an increasingly diverse student population, as well as contributing to regional and state economic development.