Close
UHV student overcomes obstacles to graduate Saturday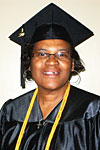 Brenda Stephenson
Recent University of Houston-Victoria graduate Brenda Stephenson can now say she's accomplished her biggest goal even though it didn't come easy.
The 54-year-old grandmother of three graduated from high school in 1973. For 23 years, she worked at Albertson's supermarket until it closed. Stephenson hadn't seen a classroom for three decades when she decided to return to school in 2003 first at The Victoria College and then at UHV. She worked two jobs while attending classes and endured the loss of her son.
In 2003, Stephenson, then a cashier at an HEB Plus, ran into the former principal of Patti Welder Magnet Middle School in Victoria. He offered her a job as a teacher's aide at the school.
"I took it because I love children," Stephenson said. "Then I found out I could work as an aide and further my education. I didn't have a college education and neither did my two sons, Curtis and Eric. They got their GEDs, but I always stressed to them how important education was. That's why I signed up. I remember looking at all the classes I had to take and thinking I was standing at the end of a long, long hallway."
Stephenson, an education major, pushed on, often studying until the early hours of the morning. She continued to work at HEB Plus in the evening and became a teacher's aide in 2009 at DeLeon Elementary School in Victoria.
"I'd stay up sometimes until two or three o'clock in the morning studying," she said. "My husband, Eausaw, was always right there helping me and quizzing me. My teachers were wonderful. Every time I needed help, they were always there. One teacher I worked with at VISD would come over and tutor me in math, sometimes until one in the morning, and she had to work the next day."
But in 2005, tragedy struck. Stephenson's 19-year-old son, Eric, was killed in a drive by shooting.
"He had come by to visit me that morning," Stephenson said. "That night, I went to class to take a midterm exam. In the middle of it, my husband came and got me. He told me Eric had been shot; the next day, my baby died."
Stephenson refused to fall apart. Instead she drew strength from God, her husband and her family.
"There were times I thought I couldn't go on," she said. "But that's when God reminded me of all the positive things I still had in my life. I still had my other beautiful son, my loving husband, my precious mother and my three adorable grandchildren. I had to be thankful I had Eric for 19 years and realize he's not in my past. He's still a part of my future because I know when I walked across that graduation stage, he was with me."
Stephenson has lived in Victoria her entire life and said she would like to work with at-risk middle school students. This is a calling she believes comes from her son, Eric.
"I want to work with kids who others have given up on because that's what my son was," she said. "Eric went to alternative schools and was labeled a bad kid, but I was there every day telling him, 'Don't you give up on yourself, you're not a bad kid, but you are making bad choices.' I feel like this is my calling."
On Saturday, surrounded by her family, Stephenson graduated from UHV with a Bachelor of Science in Interdisciplinary Studies.
"It was the greatest feeling in the world," she said. "All students should have the opportunity to experience that exhilarating emotion."
The UHV Outstanding Student is an online feature highlighting the exceptional students who attend the University of Houston-Victoria. To nominate a student, contact UHV Communications Manager Paula Cobler  or call 361-570-4350.
The University of Houston-Victoria, located in the heart of the Coastal Bend region since 1973 in Victoria, Texas, offers courses leading to more than 80 academic programs in the schools of Arts & Sciences; Business Administration; and Education, Health Professions & Human Development. UHV provides face-to-face classes at its Victoria campus, as well as an instructional site in Katy, Texas, and online classes that students can take from anywhere. UHV supports the American Association of State Colleges and Universities Opportunities for All initiative to increase awareness about state colleges and universities and the important role they have in providing a high-quality and accessible education to an increasingly diverse student population, as well as contributing to regional and state economic development.