Close
National magazines publish works by UHV writer-in-residence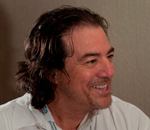 Dagoberto Gilb
University of Houston-Victoria writer-in-residence Dagoberto Gilb recently had two short stories published in two of the nation's top magazines at nearly the same time - about a year after he suffered a stroke.
Gilb, an acclaimed author of seven books, wrote the short story "Uncle Rock" for the May 10 edition of The New Yorker and followed it up with another short story, "please, thank you," that appears in the current edition of Harper's Magazine.
"please, thank you" was the first piece Gilb wrote after a stroke on April 29, 2009, left him in the hospital unable to write or even walk. After extensive physical therapy to relearn basic tasks, he started to write again on a computer but could only use one hand.
"I'm proud of myself that I wrote the story only six months after my stroke," he said. "I typed the whole thing with my left hand, and I think every 10th letter I typed was a mistake that I had to fix, but I was determined to do it."
The first-person piece is about a man, Mr. Sanchez, and his experiences in the hospital after having a stroke. The entire story is typed without the use of the shift key or apostrophe because Gilb, like Mr. Sanchez, could not use his right hand.
Gilb began using one finger on his right hand, in addition to his left hand, about five months ago and wrote "Uncle Rock," which appeared in the May 10 edition of The New Yorker. It is set in 1980s Los Angeles and centers around a young boy, Erick, his Mexican immigrant mother and her boyfriend, Roque, who takes them to a Dodgers baseball game.
"Writing is all about making a collage, a mosaic of things you know," Gilb said. "In the 1980s, I used to take my sons to Dodgers games and wait to get autographs from the players. Fiction to me is just a parallel world to what you know."
The New Yorker has printed three other fiction and nonfiction pieces by Gilb through the years, and Harper's Magazine ran the story "Willows Village" in its September 2008 issue and a nonfiction piece before that.  
Gilb also was featured in a May 3 New Yorker blog, The Book Bench, in which he answered questions about "Uncle Rock" from Cressida Leyshon, a fiction editor at the magazine. In the blog, he also discussed his work at UHV as executive director of Centro Victoria, a literary center based in the university's School of Arts & Sciences.
The center started in the spring with workshops across the state for high school English teachers. During the workshops, Gilb and Macarena Hernández, managing director of Centro Victoria, discussed "Made in Texas," a bound guide they developed to help teachers incorporate more Mexican-American authors into their lessons.
"We've reached a lot of teachers who are really enthusiastic about this," Gilb said. "We're still in the beginning phases, and we'll be doing more workshops in the fall."
"Made in Texas" features six weeks of material – everything from poetry, fiction, nonfiction, memoir and lyrics – to teach students who Mexican-Americans are, why they are here, what their literary descendants and contemporaries have written about, and why, Gilb said.
In fact, organizers of the University of Texas at El Paso Upward Bound program may incorporate the material into their curriculum, and Gilb hopes to attend a presentation in El Paso at the end of the month. Upward Bound is a free, year-round college preparatory program to prepare low-income, potential first-generation college bound students for success in college.
Gilb said he appreciates the support he has received from UHV since he started in August of 2009.
"I've been treated really well," he said. "I love Victoria. It's a great city."
Jeffrey Di Leo, UHV School of Arts and Sciences dean, said that this is the first time a UHV faculty member has been published in both magazines.
"We are so honored to have a writer of Dagoberto Gilb's caliber at UHV working to promote Mexican-American literature and culture, and getting the word out about the university," he said. "His work with Centro Victoria has been causing quite a bit of excitement and anticipation around the state and the nation."
To read The New Yorker's Book Bench blog about Gilb, go to
www.newyorker.com/online/blogs/books/2010/05/this-week-in-fiction-dagoberto-gilb.html.
"Uncle Rock" can be read at
www.newyorker.com/fiction/features/2010/05/10/100510fi_fiction_gilb. The full text of "please, thank you" is only available online to Harper's Magazine subscribers.
The University of Houston-Victoria, located in the heart of the Coastal Bend region since 1973 in Victoria, Texas, offers courses leading to more than 80 academic programs in the schools of Arts & Sciences; Business Administration; and Education, Health Professions & Human Development. UHV provides face-to-face classes at its Victoria campus, as well as an instructional site in Katy, Texas, and online classes that students can take from anywhere. UHV supports the American Association of State Colleges and Universities Opportunities for All initiative to increase awareness about state colleges and universities and the important role they have in providing a high-quality and accessible education to an increasingly diverse student population, as well as contributing to regional and state economic development.