Close
Fiction Collective Two at UHV announces book contest winners
A children's educational publisher executive from Connecticut and a veterinarian from Wisconsin recently won book contests sponsored by Fiction Collective Two, an independent press with executive offices at the University of Houston-Victoria.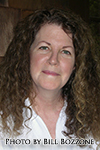 Tricia Bauer
Tricia Bauer, vice president of special markets for Rosen Publishing in New York City, won $15,000 as the recipient of the first FC2 Catherine Doctorow Innovative Fiction Prize for her novel, "Father Flashes."
FC2 also announced that Sara Greenslit, a veterinarian with Healthy Pet Veterinary Clinic in Madison, Wis., won this year's FC2 Ronald Sukenick/American Book Review Innovative Fiction Contest for her novel, "As if a Bird Flew by Me," and $1,000.
In addition, FC2, an imprint of the University of Alabama Press, will publish both books in 2011.
"FC2 is honored to be able to recognize and publish two authors as talented as Ms. Bauer and Dr. Greenslit," said Jeffrey Di Leo, dean of the UHV School of Arts & Sciences, which houses the FC2 offices as part of its publishing center and its Master of Science in Publishing degree program. "Their innovative fiction is just the kind of writing FC2 wants to nurture."
Bauer, who lives in West Redding, Conn., has written for newspapers and magazines, and has held editorial and marketing jobs with different children's books publishers. Her first book, a collection of short stories called "Working Women and other Stories," was published in 1995 to critical acclaim.
Her first novel, "Boondocking," was published in 1997. It was selected for the Discover Great New Writers program and named one of Library Journal's Best First Novels. The novel is about a retired couple who journey in their RV through America after losing their only daughter at the hands of her husband.
Doctorow contest winner "Father Flashes" is written from the perspective of a woman whose photographer father is overtaken by the devastating effects of Alzheimer's disease, which impacts his entire family. Bauer's own father died from the disease in 1997.
"Although I fictionalized aspects of the book, emotionally it's all there," she said. "It was absolutely brutal to go through, but like anything hard, it can make you discover things about yourself."
"Father Flashes" is less than 100 pages long and started as a book of poetry until Bauer decided to meld poetry and prose.
She is thrilled to have won the FC2 Catherine Doctorow Innovative Fiction Prize and hopes to take some time off from her publishing job to devote herself full time to writing.
"This prize means that I can get this book that I think is good and that is personally important to me published," she said. "I'm just so excited that "Father Flashes" was recognized because it doesn't conform to the page requirements or format that most major publishers want right now."

Sara Greenslit
Greenslit said she also was pleased to win the Sukenick contest for "As if a Bird Flew by Me."
"FC2 is a press I wholly admire," she said. "I'm immensely grateful and honored."
"As if a Bird Flew by Me" is based on a piece called "Ghost Opera" by Chinese composer Tan Dun and is set it three time periods – the past, now and forever, Greenslit said. It will be her second published novel. Her first, "The Blue of her Body," edged out 177 other entries to become the winner of the 2006 Starcherone Fiction Prize. Starcherone Books is another independent publisher of innovative fiction.
Through both the Doctorow and Sukenick contests, FC2 aims to publish and promote the work of writers of fiction deemed too experimental, innovative or challenging for contemporary commercial presses, Di Leo said.
Writers with at least three published books of fiction are eligible for the Doctorow prize. Special mention in the Doctorow contest went to Melanie Rae Thon for her manuscript "The Voice of the River." The contest judge was novelist Carole Maso, who also is a professor at Brown University in Providence, R.I.
The Sukenick contest is open to writers who have not previously published with FC2. Cited for special mention in the recent contest were Kathleen M. McLaughlin for her manuscript "Burn" and Erin M. Kautza for her manuscript "Expiration Dates of Various Creatures." The contest judge was Susan Steinberg, who is on the FC2 Board of Directors.  
The submission period for both contests is Aug. 15 to Nov. 1. For more information, go to www.fc2.org.
FC2 is an author-run, not-for-profit publisher of nontraditional fiction founded in 1974. It is supported by UHV, the University of Utah, the University of Alabama Press and private contributors.
The University of Houston-Victoria, located in the heart of the Coastal Bend region since 1973 in Victoria, Texas, offers courses leading to more than 80 academic programs in the schools of Arts & Sciences; Business Administration; and Education, Health Professions & Human Development. UHV provides face-to-face classes at its Victoria campus, as well as an instructional site in Katy, Texas, and online classes that students can take from anywhere. UHV supports the American Association of State Colleges and Universities Opportunities for All initiative to increase awareness about state colleges and universities and the important role they have in providing a high-quality and accessible education to an increasingly diverse student population, as well as contributing to regional and state economic development.