Close
UHV American Book Review literary journal names four new associate editors
UHV American Book Review literary journal names four new associate editors
The University of Houston-Victoria American Book Review has four new associate editors from prestigious academic settings across the country to further the internationally distributed literary journal's goal of being the top source for opinion on literary innovation.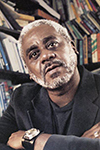 Charles Johnson
Charles Johnson, National Book Award winner and professor emeritus at the University of Washington in Seattle; Christina Milletti, assistant professor of English at the State University of New York-Buffalo; Cris Mazza, professor of English at the University of Illinois-Chicago; and Dagoberto Gilb, UHV writer-in-residence and executive director of Centro Victoria, have accepted invitations to help shape the content of the 31-year-old literary review.
"These four writers have demonstrated uncommon literary sensibility in their respective careers," said Jeffrey Di Leo, ABR editor/publisher and dean of the UHV School of Arts & Sciences. "We look forward to achieving new heights under their leadership."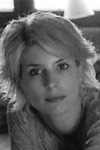 Christina Milletti
The advisory capacity of the associate editors includes assigning books for review in their respective areas of literary specialization, suggesting and organizing focus features, and providing guidance to the ABR editorial staff about timely issues within subgenres of the small press literary realm.
"The appointment of these four enormously talented associate editors is tangible proof of a re-energized and diversified American Book Review," Managing Editor Charles Alcorn said. "Their invaluable guidance and far-reaching connectivity ensures that ABR will remain poised at the leading edge of the critical exchange."
Mazza, who for the last 15 years has taught novel writing at the University of Illinois, has some clear ideas about shaping ABR's editorial stance.

Cris Mazza
"ABR needs to keep challenging conventions, first and primarily by assigning independent press books for review," she said. "ABR could have a segment each issue that gives some real experiences of independent literary writers, as well as publishing in some of the new formats and the new face of publicity."  
Gilb is equally excited about the possibilities ABR offers to emerging writers.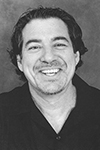 Dagoberto Gilb
"Not all musicians go to Julliard to learn their instrument best and not all writers have pedigrees or prestigious publishers," he said. "The small, regional press is often where the beginning writer finds his first champion. And it is the small, regional press that New York uses to find gutsy talent, innovation, fresh and new styles, and writers who are not following trend but inventing the new ones, sometimes through courage, sometimes innocently unaware."
Johnson, Gilb, Milletti and Mazza join 11 other ABR associate editors:
Mark Amerika, poet and Net artist, University of Colorado-Boulder
C.S. Giscombe, poet, University of California-Berkley
R.M. Berry, novelist and theorist, Florida State University, Gainesville, Fla.
Dinda Gorlée, Dutch translator and semiotician, University of Bergen, Bergen, Norway
Larry McCaffery, alt fictionist, novelist and biographer, San Diego State University, San Diego
Doug Nufer, Oulipo poet and novelist, Seattle
Kevin Prufer, poet, University of Houston, Houston
John Tytell, beat scholar, Brooklyn College/City University of New York
Barry Wallenstein, poet and jazz musician, New York City
Tom Williams, short story writer and cultural critic, chair of the UHV Humanities Division  
Eric Miles Williamson, novelist and critic, University of Texas-Pan American, Edinburg
UHV is home to ABR, as well as Fiction Collective Two, an innovative fiction press; Cuneiform, a poetry press; symploke, a theoretical journal; the Society for Critical Exchange, a scholarly society devoted to theory; and Centro Victoria, a literary center. It also hosts the only master's of science in publishing program in the southern U.S.
In addition, the ABR staff organizes both the fall and spring UHV/ABR Reading Series each year, which brings nationally known authors to the UHV main campus. Johnson, Mazza and Gilb previously were featured. For more information about ABR, go to americanbookreview.org/.
The University of Houston-Victoria, located in the heart of the Coastal Bend region since 1973 in Victoria, Texas, offers courses leading to more than 80 academic programs in the schools of Arts & Sciences; Business Administration; and Education, Health Professions & Human Development. UHV provides face-to-face classes at its Victoria campus, as well as an instructional site in Katy, Texas, and online classes that students can take from anywhere. UHV supports the American Association of State Colleges and Universities Opportunities for All initiative to increase awareness about state colleges and universities and the important role they have in providing a high-quality and accessible education to an increasingly diverse student population, as well as contributing to regional and state economic development.