Close
UHV supporters celebrate year of successes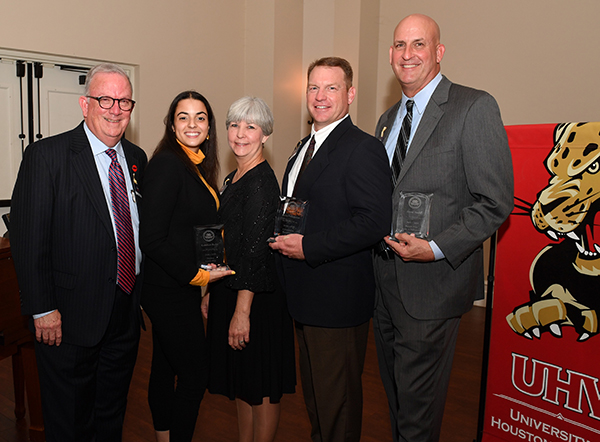 UHV President Bob Glenn, left, stands with award winners on Tuesday after the 2018-2019 UHV President's Annual Report and Excellence Awards. Pictured with Glenn are UHV student Katherine Burke, second from left, recipient of the Student Leadership Award; Martha Toler, executive lead team coordinator for Alcoa Point Comfort Operations, and Kevin Riggs, site manager for Alcoa Point Comfort Operations, who accepted the Community Partnership Award on behalf of Alcoa Foundation; and Victoria College President David Hinds, who received the People Who Make A Difference Award.
The University of Houston-Victoria welcomed community leaders and supporters Tuesday evening to its 2018-2019 UHV President's Annual Report & Excellence Awards to celebrate a year of growth and present awards to a community leader, a foundation with a long history of supporting the university and a student who has made an impact on campus.
About 150 people, including community members; UHV faculty, staff and students; and supporters of the university, came to Spring Creek Place Event Center for the dinner and presentation. The event showcased highlights that took place during the 2019 fiscal year.
The theme for this year's event was "Expanding Our Legacy," in reference to the many steps the university has taken to grow its facilities and offerings to students and the community. During the past year, UHV broke ground on a new Science, Technology, Engineering & Mathematics Building set to open in fall 2020 and the former Town Plaza Mall building for renovations at the corner of Airline Road and Laurent Street. The university also opened its University Commons student center and library, and UHV Katy moved into a new academic building shared with the University of Houston.
More information about UHV's growth and major events from the 2018-2019 fiscal year can be found on the event website uhvannualreport.com.
"UHV is dedicated to making a lasting, positive impact on its students and community," UHV President Bob Glenn said. "The 2018-2019 year has been a time of pushing forward and cultivating growth that will create a strong legacy from which future generations will benefit. I'm happy to share this progress and celebrate it with our friends and supporters."
The university gave three awards during the ceremony, including the People Who Make a Difference Award, which pays tribute to those who have supported the university and made a difference in the quality of life of the community. This year, the award was presented to Victoria College President David Hinds.
Hinds has served as president of Victoria College since August 2015. Under his leadership, Victoria College has continued to strengthen partnerships with Victoria Independent School District, surrounding area school districts, UHV and businesses throughout the region. He also serves on the Victoria Economic Development Corp. Executive Board, the UHV President's Regional Advisory Board, the Texas Association of Community College Legislative Committee, and the Golden Crescent Regional Planning Commission Regional Economic Development Advisory Committee. Hinds plans to retire in the fall.
"I've learned so much from everyone in this room," Hinds said during the event. "This award is really about being cooperative. I want to thank Roger Welder, Ron Walker, Vic Morgan and Bob Glenn for encouraging me to be collaborative. I am very honored to receive this award, and I wish UHV, VC and Victoria all the best."
Another award from the event was the Community Partnership Award, which was given to Alcoa Foundation for the organization's continuing support for UHV's science, technology, engineering and mathematics efforts.
Alcoa has been part of the Crossroads community since 1948, and the Alcoa Foundation has supported UHV through gifts, grants and donations for 35 years – since 1984. During that time, the foundation has given more than $525,000 to UHV to fund scholarships, leadership programs, programs for girls and – most recently – an array of STEM-related programs for area high school and middle school students. During 2018-2019, the foundation awarded UHV a $30,000 grant to finance the university's popular mathematics, robotics and computer science classes, camps and events, and helped the university offer the Texas Women in Computing Summer Camp for middle school girls for the first time.
"It's an honor to receive this and humbling to know we are one of more than 1,300 who supported UHV through donations this year," said Kevin Riggs, site manager for Alcoa Point Comfort Operations. "Alcoa Foundation was established in 1952 with the intention of investing in communities where Alcoa operates, and it's been a pleasure to support UHV's growth and legacy through the years."
The Student Leadership Award recognizes a student who demonstrates excellence in leadership and academics. This year's award was given to Katherine Burke, a senior from Waipio, Hawaii, who is double majoring in psychology and business administration with a concentration in human resource management.
During her time at UHV, Burke has been a part of several student organizations. She was president of the Business Student Association in 2018-2019, and a member of the Residence Hall Association and the Jaguar Activities Board. She also previously served as a senator for the UHV Student Government Association and as vice president for the National Society of Leadership and Success. In addition, she has worked as a senior resident assistant and a student worker in UHV Career Services. She also has been on the President's and Deans' lists multiple times.
"I'm so grateful to receive this award," Burke said. "I couldn't have done it without the support of my friends, family and professors, not to mention my boss, Camilla Sutton. I'm so honored."
In addition to these awards, the event featured videos about Athletics, Student Life and each of UHV's three academic schools, followed by speeches about highlights from the past year. These included:
In the School of Arts & Sciences, a $10,000 grant from the National Center for Women & Information Technology supported university programs to increase enrollment, retention and graduation of women majoring in undergraduate computer science degrees.
In the School of Business Administration, Chinese businessman Bingxin Wu donated $700,000 to the university over a 10-year period to improve programs, research and international business studies for business students and faculty.
In the School of Education, Health Professions & Human Development, the school's two degrees in its graduate counseling education program were awarded eight-year re-accreditations from the national Council for Accreditation of Counseling & Related Educational Programs.
Student Life provided students with several volunteering opportunities, including the fifth annual Alternative Spring Break trip to Biloxi, Miss., and several local service projects during National Volunteer Week. These included volunteering in Victoria at the Dorothy O'Connor Pet Adoption Center, Retama Manor South and the Food Bank of the Golden Crescent.
The softball team won its second Red River Athletic Conference regular season title in three years and made its seventh appearance at the National Association of Intercollegiate Athletics Championship Tournament. The men's golf team won its fourth straight PGA Works Golf Championship. In soccer, the men's team advanced to the RRAC semifinals, while the women's team battled to the RRAC quarterfinals.
The 2018-2019 annual report website features videos shown during the event; faculty, staff, student and alumni highlights; UHV's enrollment and financial figures; a list of donors; photos from the year and more. Videos filmed at Tuesday's event and an event photo gallery will be added to the website.
The University of Houston-Victoria, located in the heart of the Coastal Bend region since 1973 in Victoria, Texas, offers courses leading to more than 80 academic programs in the schools of Arts & Sciences; Business Administration; and Education, Health Professions & Human Development. UHV provides face-to-face classes at its Victoria campus, as well as an instructional site in Katy, Texas, and online classes that students can take from anywhere. UHV supports the American Association of State Colleges and Universities Opportunities for All initiative to increase awareness about state colleges and universities and the important role they have in providing a high-quality and accessible education to an increasingly diverse student population, as well as contributing to regional and state economic development.