Close
UHV student to use degree to achieve dream of becoming early intervention specialist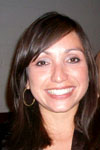 Valerie Quinones
When University of Houston-Victoria student Valerie Quinones graduates in December, it will be with a degree to allow her to fulfill a dream that's been a decade in the making.
"I spent 30 years trying to figure out what I wanted to be when I grew up," she said. "Then I discovered the Early Childhood Intervention program, and everything fell into place. It's the most amazing program, and I knew I wanted to be a part of it."
The Region III Education Service Center Early Childhood Intervention program helps babies and toddlers who have disabilities or delays in their development in Victoria and surrounding areas.
In 1998, Quinones was working for the Women, Infants & Children public health program when she met an EIC program employee. Suddenly she knew exactly what she wanted to become. Soon after, Quinones switched careers, and for the past eight years, she's been an EIC child find coordinator.
Child find coordinators visit physicians and other community organizations to ensure that any children in need of developmental services are referred to the EIC program. Many families qualify for the program at no cost. Funding for the EIC program comes from the federal Disability Education Act, as well as state and local funds. Services include speech, occupational and physical therapy.
"The appeal for me is knowing I can make a difference in a life so early," Quinones said. "Those differences have such long-term results."
But for this El Campo resident, helping families find resources wasn't enough. Quinones wanted to do more, but without a degree, her career was limited.
"Working with such a great group of professionals at the EIC program made me really want my degree more than ever," she said. "My co-workers were really encouraging, and UHV's online classes gave me the opportunity to work, take care of my family and finish my education."
Quinones will graduate in December with a bachelor's degree in psychology. The degree will allow her to become certified as an early intervention specialist.
"As a paraprofessional, I am limited," she said. "I cannot provide the direct services I can as an early intervention specialist."
Now instead of referring families in need to the EIC program, Quinones will have the opportunity to work directly with children, providing developmental services.
"ECI's motto is 'early is best.' I believe that," Quinones said. "Working with early intervention specialists for the past eight years has affirmed my belief. I want to be like them. I want to be part of ensuring that every child has every opportunity to succeed."
In addition to keeping up with two busy teenagers, Quinones is a member of the Phi Kappa Phi national honors society. She also is an EIC Spanish interpreter ?a position she finds rewarding.
"I know it makes a difference when the families have someone there they can communicate with, someone they can relate to," she said. "The need for professionals who speak Spanish is there. We just don't have many, so I'm very proud of the work I do as an interpreter."
The UHV Outstanding Student is an online feature highlighting the exceptional students who attend the University of Houston-Victoria. To nominate a student, contact UHV Communications Manager Paula Cobler  or call 361-570-4350
The University of Houston-Victoria, located in the heart of the Coastal Bend region since 1973 in Victoria, Texas, offers courses leading to more than 80 academic programs in the schools of Arts & Sciences; Business Administration; and Education, Health Professions & Human Development. UHV provides face-to-face classes at its Victoria campus, as well as an instructional site in Katy, Texas, and online classes that students can take from anywhere. UHV supports the American Association of State Colleges and Universities Opportunities for All initiative to increase awareness about state colleges and universities and the important role they have in providing a high-quality and accessible education to an increasingly diverse student population, as well as contributing to regional and state economic development.