Close
UHV business students examine waste management company at BBA conference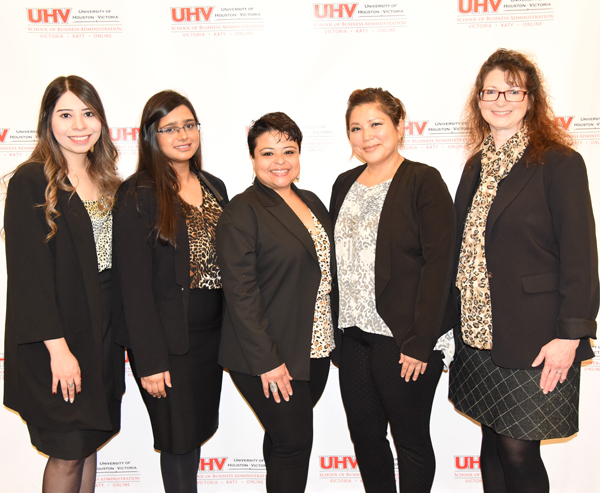 UHV School of Business Administration students Nancy Jara of Houston, left; Hafsa Noman of Katy, Monica Secaida Munoz of Katy, Amy Su of Richmond and Elizabeth Fennell-Thomas of Houston pose for a picture Saturday during the school's Bachelor of Business Administration Case Conference. The women won first place for their analysis of Waste Management Inc.
When the first-place team was preparing its case for the 37th University of Houston-Victoria Bachelor of Business Administration Case Conference, they decided to recommend an expansion into niche waste management markets, and the judges took notice.
Elizabeth Fennell-Thomas and Nancy Jara of Houston, Hafsa Noman and Monica Secaida Munoz of Katy, and Amy Su of Richmond won first place for their presentation on Waste Management Inc., a company headquartered in Houston that is the leading provider of comprehensive waste management in North America.
"The BBA conference is an exciting time for the business school as we see our students reach the culmination of all the work they put into earning their degrees," said Ken Colwell, dean of the school. "I am proud to see so many excellent proposals and celebrate our students' achievements with them at this event."
The UHV School of Business Administration held the Dec. 7 conference at UHV. Every semester since 2007, students enrolled in "Strategic Management," the capstone course of the BBA program, have attended the conference and competed as teams in the presentation of a company case analysis. This year's conference included 149 students in 33 teams, and the keynote speaker was Hunter Follett, CEO of Tejas Production Services.
During the conference, students must present information from different analyses of the company to a panel of judges made up of UHV faculty, alumni and community business leaders, who give scores to individuals and teams. Throughout the semester-long case study, students spend countless hours researching companies, collaborating with their teammates and challenging themselves to create a successful presentation, said Charlie Huang, UHV associate professor of management.
"I am proud of all of our students for their achievements," Huang said. "To me, everybody is a winner, because the students now know they can fly higher through commitment and hard work. Moreover, their effort and experience during the learning process definitely will pay off in the future."
When Fennell-Thomas and her teammates were preparing for their presentation, they met weekly through various digital apps and often had Skype meetings that lasted three to four hours, she said. During their research and analysis, the team noticed that Waste Management Inc. has a history of acquiring other companies. The team suggested that the company redirect resources away from buying other companies and instead focus on niche needs, such as electronic waste recycling and water filtration needs.
"So many families in America have old phones and computers just taking up space in drawers with not a lot of options to safely recycle them instead of dumping them in a landfill," Fennell-Thomas said. "If Waste Management made e-waste recycling commonly available or focused resources on water filtration needs, they could turn a profit while also meeting their company's commitment to green efforts."
Now that she has been part of such a large project, Fennell-Thomas feels like she can be more confident in her career. She has worked in business for 20 years and is now working with Aberdare Business Solutions, a bookkeeping and tax firm in Katy. In the future, she plans to be a certified public accountant and has already applied to the new Master of Accountancy program at UHV.
"The whole team is happy and proud of our work," she said. "We were surprised when we won first place, but now we know that we have experience that will serve us well in our future careers."
Other teams placing in the BBA competition were:
Second Place – Rachel Cavazos of El Campo, Cesar Martinez of Channelview, Selena Schmidt of Wharton, Alan Silva of Katy and Genesis Sorto of Richmond.
Third Place – Arisbeth Harvey and Samantha Sanders of Katy, Elva Lopez and Rina Vallejo of Richmond, and Jocelyn Yeung of Houston.
The University of Houston-Victoria, located in the heart of the Coastal Bend region since 1973 in Victoria, Texas, offers courses leading to more than 80 academic programs in the schools of Arts & Sciences; Business Administration; and Education, Health Professions & Human Development. UHV provides face-to-face classes at its Victoria campus, as well as an instructional site in Katy, Texas, and online classes that students can take from anywhere. UHV supports the American Association of State Colleges and Universities Opportunities for All initiative to increase awareness about state colleges and universities and the important role they have in providing a high-quality and accessible education to an increasingly diverse student population, as well as contributing to regional and state economic development.