Close
UHV awards first post-master's nursing certificates
Two University of Houston-Victoria School of Nursing graduates recently advanced their medical careers by earning post-master's certificates – the first ever awarded by the school.
Sabrina Davila and Elsy John received their certificates – Davila's in nurse administration and John's in nurse education – after getting their Master of Science in Nursing degrees from UHV.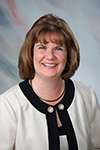 Denise Neill
"The certificates provide them a functional focus while building on what they already have," said Denise Neill, the school's MSN program coordinator.
For two years, master's nursing students or degree holders have had the option to pursue the post-master's certificate in education. After students requested it, the school also made the certificate in nurse administration available in the spring. Each certificate requires three additional courses relevant to the specialty. The courses give students specialized knowledge and credentials, which empower them in the job market, Neill said.
The post-master's certificate in nurse administration requires candidates to learn administrative functions by taking three courses:  human resource management, leadership and finance.
"Recipients can apply for midlevel management positions with education under their belt that will help them manage employees, prepare a budget – things that, quite honestly, a lot of nurses have no experience with," Neill said. "So in today's competitive job market, this certificate gives the student one more leg up."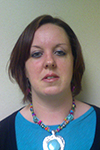 Sabrina Davila
Because Davila got her MSN with a concentration in nurse education, she chose to expand her career options by obtaining the post-master's certificate in nurse administration.
"You never know what's going to happen in life, but eventually, I'd like to be in administration," said Davila, a clinical documentation specialist at Citizens Medical Center. "This way, I'll be prepared for whatever opportunity presents itself."
The other certificate – the post-master's certificate in nurse education – along with a MSN, demonstrates a student's competency in learner assessment, program and student evaluation, and curriculum development. Like the MSN degree with a concentration in nurse education, the certificate cuts in half the amount of teaching experience a recipient needs to be eligible to sit for the Certified Nurse Educator Exam. The certificate requires only nine hours of coursework, compared with the 36 hours needed for the MSN with a concentration in nurse education.
"In Texas, anybody with a master's degree in nursing can apply for a faculty position teaching nursing, but this certificate's coursework provides the tools and resources they need to make the transition into education and adjust to the academic setting," Neill said.

Elsy John
Since John was getting a MSN with a nurse administration concentration, she opted for the post-master's certificate in nurse education.
"I wanted the freedom to choose either a nurse administrator or nurse educator position," said John, a clinical nurse at the MD Anderson Cancer Center in Houston who is transitioning into a position as a senior nurse educator. "MD Anderson offered both positions to me, so having the certificate is already helping a lot."
The University of Houston-Victoria, located in the heart of the Coastal Bend region since 1973 in Victoria, Texas, offers courses leading to more than 80 academic programs in the schools of Arts & Sciences; Business Administration; and Education, Health Professions & Human Development. UHV provides face-to-face classes at its Victoria campus, as well as an instructional site in Katy, Texas, and online classes that students can take from anywhere. UHV supports the American Association of State Colleges and Universities Opportunities for All initiative to increase awareness about state colleges and universities and the important role they have in providing a high-quality and accessible education to an increasingly diverse student population, as well as contributing to regional and state economic development.