Close
UHV alumna captures significant, small-town histories in book
Through her writings about a small town in Texas called Muleshoe, University of Houston-Victoria alumnus Alice Liles has made a Texas-sized splash on the World Wide Web and on bookshelves throughout the state.
Liles, who graduated in 1980 with a Master of Education from UHV, lived and taught in Edna while taking classes. She credits the regular commute to campus as a source of inspiration for her first blog and, later, book title. During one of these drives, Willie Nelson's "Denver" played on the radio.
In her first blog entry, dated Sept. 5, 2009, Liles recalled the day in 1980 when she and her family made the move to Muleshoe following a job opportunity for her husband.
"On moving day, by the time my family made it to Muleshoe, it was no longer daytime," Liles said. "Night had fallen, and as we drove, we were encircled with lights in the distance. And then it hit me. 'The bright lights of Denver were shining like diamonds, like 10,000 jewels in the sky.' I know. It wasn't Denver, and the lights weren't in the sky, but it fit."
To date, The Bright Lights of Muleshoe blog has amassed several hundred entries. It's a wealth of reading material that features many common blogging topics such as pets, travel, personal updates and movie reviews.
The blog's unique appeal, however, lies in posts about past and present-day Muleshoe, the town's residents and their stories. Site visitors can read about the National Mule Memorial – a life-size mule statue named Ol' Pete – people and places of interest, life in West Texas and, of course, high school football.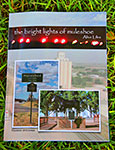 The response around town has been positive. Selected entries even have appeared in the local newspaper, the Muleshoe Journal.
But Liles said these stories about the human experience can resonate with anyone, Texan or not. On Aug. 28, 2018, Liles reached out to her largest audience yet with "The Bright Lights of Muleshoe," a paperback collection of 49 blog entries and more than 200 full-color photographs published by Indiana-based AuthorHouse.
"I was getting positive feedback from the blog and felt like the stories I wrote about needed to be told and preserved for future generations," she said of her motivation to publish. "I had always wanted to be a writer, so this was one way to make that happen."
The past year and a half has been a gratifying and rewarding time, Liles said. She has held promotional events and signings at the San Antonio Book Festival, the Texas Book Festival in Austin, and has been invited to speak about the book to several community groups in Muleshoe. Liles also has been spotlighted on local Lubbock television and the syndicated radio show The Sound of Texas.
"I have been busy, so I guess this is my 15 minutes of fame," she said.
Liles hopes her writings will serve as a lasting reminder of the past long after those 15 minutes are over.
"A wealth of history dies with each small town that slowly disappears as the old folks die and the children move away," Liles said. "Books like 'The Bright Lights of Muleshoe' are important because they become a permanent record of personal stories that wouldn't make it into a conventional history book."
The historical significance of "The Bright Lights of Muleshoe" has earned Liles both recognition and shelf space at three Texas institutions: the Texas Tech University Southwest Collection/Special Collections, the Texas State Archives and Library, and the Texas Center for the Book.
Looking toward the future, Liles suspects other story collections are on the horizon, perhaps "The Bright Lights of Muleshoe, Vol. II."
"After each new story I write, I always wish it had made it into the book. I will never run out of people to write about, and I hate to leave anyone out," she said, adding that the next book will be a little more personal. "I plan to write about my life in Muleshoe, but they would still be relatable human interest stories."
Paperback and e-book editions of "The Bright Lights of Muleshoe" are available for purchase at major online retailers, including Amazon and Barnes & Noble. The book also is available for purchase through Liles' website, www.aliceliles.com. Readers who purchase books through Liles' website can request their book be signed.
The University of Houston-Victoria, located in the heart of the Coastal Bend region since 1973 in Victoria, Texas, offers courses leading to more than 80 academic programs in the schools of Arts & Sciences; Business Administration; and Education, Health Professions & Human Development. UHV provides face-to-face classes at its Victoria campus, as well as an instructional site in Katy, Texas, and online classes that students can take from anywhere. UHV supports the American Association of State Colleges and Universities Opportunities for All initiative to increase awareness about state colleges and universities and the important role they have in providing a high-quality and accessible education to an increasingly diverse student population, as well as contributing to regional and state economic development.
Contact:
Victoria Hudgeons, Special to UHV
361-570-4296
Share: