Close
Area educator finds help at UHV to achieve career goals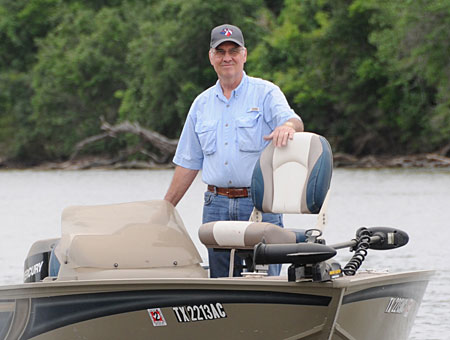 Photo by Kayla Sappington
University of Houston-Victoria alumnus Gary Thedford plans on spending some time fishing now that he's retired after spending 39 years as an educator. He has a master's degree and two certifications from UHV.
When Gary Thedford decided he wanted to advance his career as a fourth-grade teacher at Vanderbilt Elementary School, he turned to the University of Houston-Victoria to help him reach his goal of becoming a school principal.
"I feel like I got a good foundation at UHV, and the courses gave me ideas that were applicable to my job at the time and my future job as a principal," 62-year-old Thedford said.
Thedford retired in mid-June as principal of Industrial Elementary East in Vanderbilt after 39 years in education with 25 of them as a principal in Industrial Independent School District. During his career, he received a degree and two certifications from UHV: a Master of Education in 1976, a midmanagement administrator certificate in 1978 and a superintendent certificate in 1992.
"I heard about the campus when it first opened in 1973, and I liked the convenience of it, plus it was something new," said Thedford, who is the father of two daughters, one of whom is Kayla Sappington, a systems specialist in UHV's Information Technology Department. "A group of us carpooled to Victoria to take classes during the summer and at night during the school year. It was a busy time."
Thedford knew about teaching from his mother, who had a teaching certificate and worked hard as a substitute teacher during his childhood. A college adviser in Corpus Christi suggested he become a teacher.
"Male teachers were and still are needed at the elementary-school level, so I observed some teachers in the classroom and decided I was interested," Lolita resident Thedford said.
He landed his first teaching job in 1971 as a fourth-grade teacher in Austwell-Tivoli Independent School District before going to Industrial Independent School District as a fourth- and fifth-grade teacher and then principal.
What changed the most during his career in education was the technology, Thedford said. When he first became principal at the now-closed La Ward Elementary in 1985, attendance in all the classrooms was done by hand and then Thedford typed up an attendance report on his typewriter. Now attendance is done electronically. He also remembers when the school was the first in the district to get Internet access for its computers.
His greatest accomplishment as an educator was when the Texas Education Association rated La Ward Elementary as exemplary from 1995 to 2003. Preliminary 2009-10 ratings for Industrial Elementary East show that it also will be ranked an exemplary school, the highest possible ranking in the agency's accountability ratings system.
"It's a good way to go out," Thedford said. "I've worked with a great group of teachers who have made this possible."
Throughout his career, Thedford's goal has been to help all students reach their full potential.
"You've got to look at the kids and their needs and provide them with whatever you think can help them be successful," he said. "That's been my philosophy as an educator."
Although UHV's dean of the School of Education & Human Development does not know Thedford personally, he said he is not surprised about his successful career.
"Mr. Thedford is just another example of how UHV positively impacts education in the Crossroads," Lawrence Rossow said. "Many of the area paraprofessionals, teachers, principals and superintendents have UHV degrees."
Sappington said she always has looked up to her father.
"I can only imagine the extreme amounts of patience and perseverance required to keep an elementary school in order, yet he always made it look quite effortless while I was growing up," she said. "I am very proud of what he has accomplished in 39 years."
Thedford may even eventually work with some UHV education students as a student teacher supervisor. Although Thedford said he plans on "taking it easy" at least through the fall, he's not one to sit around his house. He'll be fishing, hunting and continuing his work as the music director at First Baptist Church of Lolita, where his wife, Sarah, plays the piano.
Students still will see him at school district events as an announcer for the Industrial High School football team and marching band. They may even see him behind the wheel of a school bus, since he's kept up with his bus driver certification that he first got when he was a classroom teacher.
"I can't believe it's been 39 years," he said. "I'll definitely have to find something more to do."
The University of Houston-Victoria, located in the heart of the Coastal Bend region since 1973 in Victoria, Texas, offers courses leading to more than 80 academic programs in the schools of Arts & Sciences; Business Administration; and Education, Health Professions & Human Development. UHV provides face-to-face classes at its Victoria campus, as well as an instructional site in Katy, Texas, and online classes that students can take from anywhere. UHV supports the American Association of State Colleges and Universities Opportunities for All initiative to increase awareness about state colleges and universities and the important role they have in providing a high-quality and accessible education to an increasingly diverse student population, as well as contributing to regional and state economic development.