Close
UHV's education degrees help school district attract top administrators
University of Houston-Victoria's education study offerings are an indispensible part of the local school district's strategy to attract top-notch talent.
This fall, nine out of 10 new campus principals who were assigned or reassigned in the Victoria Independent School District have education degrees from UHV.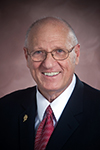 Lawrence Rossow
Lawrence Rossow, dean of the UHV School of Education & Human Development, said the university's offerings are advantageous to local and area school districts.
"UHV's programs benefit the education attainment level of area teachers, particularly those in the Victoria ISD," Rossow said. "Our focus on cutting-edge technology and the latest education trends mean educators know they will get the best quality degree for the time and money they invest."
Lisa Cortez, the new principal of Stroman Middle School, said UHV's easy access and convenient schedule was a big factor.
"I chose UHV to pursue my master's degree because it was right here in my hometown," said Cortez, who also served five years each as assistant principal at Shields Elementary and Memorial High. "It allowed me to continue teaching during the day while furthering my education in the evening and, in turn, advancing in my career."
Eloy Chapa, the school district's human resources executive director, said having the university in the same town is invaluable.
"I cannot say enough about the importance UHV has for the community and our educators," Chapa said. "It's really a crown jewel. It's such an asset that we can go over there for a new degree or new certification."
Chapa himself has taken advantage of the opportunities at UHV.
"I was a counselor in Gonzales, and I wanted to get principal certification," he said. "A few of us from Gonzales decided we would carpool to take advantage of UHV's proximity. Right before graduation, I found out about openings in VISD, so I thought, 'Why not move?'"
Chapa, who also has worked as an assistant principal and a principal in VISD, said the district encourages teachers to get their master's degrees.
"We also work closely with UHV on job fairs," he said. "I don't think we'd be in a position to staff our district the way we do if it wasn't for assistance from UHV."
In addition, UHV's expansion to a four-year institution this fall can only mean good things for the school district as more students take advantage of its offerings.
Diane Boyett, VISD administrative spokeswoman, said UHV's growth bodes well for the school district's future.
"The education programs at UHV are a tremendous asset to Victoria public schools and will become even more so as UHV becomes a destination university," Boyett said. 
The university also helps retain local talent in Victoria.
"In years past, most of the graduates from UHV already had ties to this area," she said. "That made them more likely to be planning to stay in the Crossroads for their professional careers."
Boyett added that the school district's staffing decisions benefit from UHV's presence.
"Having a stable and steady supply of teachers is critical for any school system, and UHV provides a quality pool of applicants, especially on the elementary education and master's levels," she said.
The new principals in VISD with UHV degrees are:
Greg Crockett, Victoria East High School principal, bachelor's in education and Master of Education
Debbie Crick, Victoria West High School principal, MEd in administration and supervision
Sherri Hathaway, Victoria Area Center for Advanced Learning and Liberty Academy principal, MEd in administration and supervision
Lisa Blundell, Cade Middle School principal, bachelor's in education, MEd in administration and supervision, and mid-management certification
Lisa Cortez, Stroman Middle School principal, Bachelor of Science in Interdisciplinary Studies and MEd in administration and supervision
Clark Motley, Howell Middle School principal, teaching certification and master's degree
Lynn Guerra, Schorlemmer Elementary School principal, Bachelor of Science in Interdisciplinary Studies and MEd in administration and supervision
James Taylor, Rowland Magnet School principal, Bachelor of Science in Interdisciplinary Studies and MEd in administration and supervision
Steve Janca, Guadalupe and William Wood Elementary School principal, Bachelor of Business Administration and MEd in administration and supervision
The University of Houston-Victoria, located in the heart of the Coastal Bend region since 1973 in Victoria, Texas, offers courses leading to more than 80 academic programs in the schools of Arts & Sciences; Business Administration; and Education, Health Professions & Human Development. UHV provides face-to-face classes at its Victoria campus, as well as an instructional site in Katy, Texas, and online classes that students can take from anywhere. UHV supports the American Association of State Colleges and Universities Opportunities for All initiative to increase awareness about state colleges and universities and the important role they have in providing a high-quality and accessible education to an increasingly diverse student population, as well as contributing to regional and state economic development.