Close
UHV faculty move into new academic building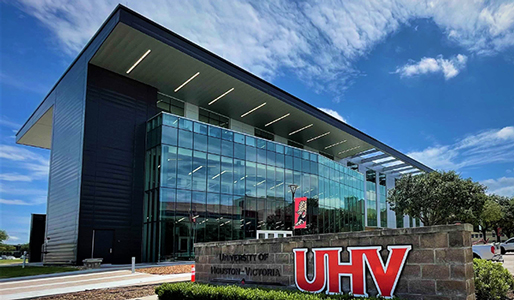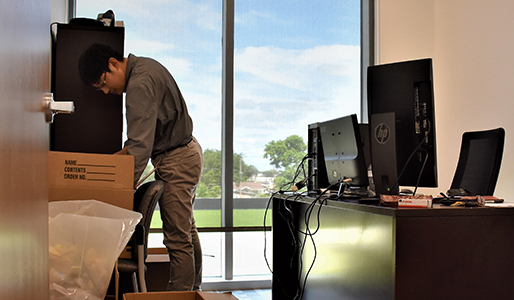 Gen Kaneko, UHV assistant professor of biology, looks through folders in a box Thursday while moving into his new office in University South. UHV faculty began moving into the new academic building this month.
In just a few short months, University of Houston-Victoria students will have their first face-to-face classes in University South, the newest academic building on the UHV campus dedicated to science, technology and mathematics programs.
UHV faculty began moving into their offices in University South, 3007 N. Ben Wilson St., this month. Equipment and other items for research labs and classrooms will be moved into the building throughout the summer, and more faculty are expected to move into the new building within the next month to prepare for the fall semester.
"We are excited to bring everyone on board into UHV's newest academic facility," said Chance Glenn, UHV provost and vice president for academic affairs. "This building will be a great step forward for STEM courses, and we are ready to begin the fall semester at University South."
Groundbreaking on the 58,464-square-foot, three-story building began in November 2018. University South received an honorable mention award during the American Institute of Architects Corpus Christi Chapter's 2019 Design Awards Program for architectural design. The building is located next to University Center and University North, and across Ben Wilson Street from University Commons.

Included in the building is an amphitheater classroom, labs, classrooms, dedicated research areas, study spaces, a third-floor patio, an outdoor trellis, conference rooms, and faculty office spaces.
On the first floor is an immersive, 210-degree visualization theater that was funded by a $450,000 gift from the M.G. & Lillie A. Johnson Foundation. The screen in the theater displays images that appear to surround the user, providing an immersive experience. The visualization theater will be available for the science programs to use for presentations and lectures. The theater is a training tool that would help in various educational settings, including virtual reality, data visualization and animations for any of the UHV science programs. There also are separate areas for robotics and the gaming and simulation programs.
The foundation previously donated $1.5 million to finance the build-out and state-of-the-art equipment for health-related labs in University South.The gift also funded a state-of-the-art kinesiology lab in UHV Northwest.
"The new STEM building has been designed around students' needs," said Amjad Nusayr, a UHV assistant professor of computer science. "Bigger labs and new equipment will certainly enhance the student experience. The STEM faculty are eager to welcome our students and to call University South their second home."
The new building offers space for all the UHV science programs to be housed in one location.
Before University South was built, science classrooms and labs were scattered between University Center and University North. As the science programs began to grow, students and faculty had to share research space in classrooms or use labs located off-campus as well.
Now, the building offers separate classrooms, labs, lab preparation space and areas dedicated for just research on the second and third floors for biology, chemistry and physics.
Along with dedicated areas for learning and research, there also are areas squared away for special lab equipment, including the Nuclear Magnetic Resonance spectrometer. The machine uses magnetic properties of atoms to determine the chemical structure of organic compounds. The spectrometer is used by biology and biomedical science students and will have its own room next to one of the research labs.
Having the space for faculty, students and equipment is a game-changer for the academic programs housed in University South, said Jes McCue, a clinical assistant professor of biology.
"We now have the space, facilities and inspiration to provide our students with advanced lab work experiences they need," she said. "This is a huge win for all of us, especially our biology majors and biomedical sciences master's program, as our students will be better prepared to collaborate with and work in rigorous research labs and health professions. I am very excited to see how these dynamic changes will ripple throughout our UHV and greater Victoria communities."
More space also means more possibilities for projects, including student projects using the motion-capture lab. Since the motion-capture lab is dependent on volume for students to record in the lab, more students would be able to work in the lab and add more props for animation work as well, said Rogerio da Silva, director of the digital gaming and simulation program. For the gaming and simulation program, there also will be a computer lab with high-performance computers and larger hard drives for graphical performance. With the visualization lab, there could be more than one simulation playing at one time in the theater for projects, he said.
The building also is a great space to host workshops, public events for the community and prospective students for each of the science programs, and even possibly have live demonstrations of robotics and gaming technology during Jaguar Days, he said.
"There are many possibilities in the new building for learning in different ways and in bigger spaces," he said. "This helps our programs to grow and develop as well."
Seeing the building come to life after many discussions with faculty is amazing, said Ricardo Teixeira, a UHV associate professor of mathematics and coordinator of the Bachelor of Arts in Applied Sciences petroleum technology program. The building was customized to the needs of the programs, and now the programs have their own spaces for labs and space for students to interact, he said. Students who are in the dual-major program for mathematics and computer science also will have most of their science and math courses in the same building now.
Teixeira, who also is the UHV Faculty Senate President, is excited that all the science and mathematics faculty will be in the same building and share hallways and space.
"University South will be a great space for the faculty and students, and also the community," Teixeira said. "It is an amazing building that helps UHV's mission of becoming a destination university. It is something for UHV and local communities to be proud of."
The University of Houston-Victoria, located in the heart of the Coastal Bend region since 1973 in Victoria, Texas, offers courses leading to more than 80 academic programs in the schools of Arts & Sciences; Business Administration; and Education, Health Professions & Human Development. UHV provides face-to-face classes at its Victoria campus, as well as an instructional site in Katy, Texas, and online classes that students can take from anywhere. UHV supports the American Association of State Colleges and Universities Opportunities for All initiative to increase awareness about state colleges and universities and the important role they have in providing a high-quality and accessible education to an increasingly diverse student population, as well as contributing to regional and state economic development.