Close
UHV staff member recognized as top Latino leader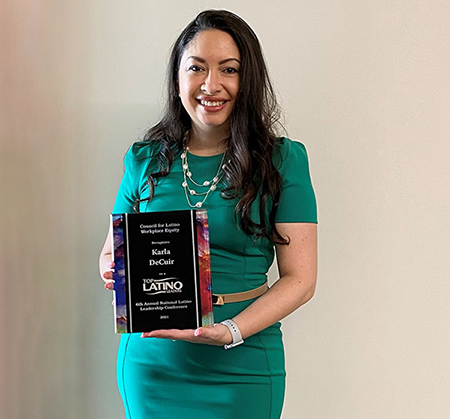 Karla DeCuir holds her Top Latino Leader award from the Council for Latino Workplace Equity. DeCuir and 26 others will be recognized as a National Latino Leader during the sixth annual National Latino Leadership Conference held virtually from Sept. 14 to 15.
For years, Karla DeCuir has advocated for education and encouraged young women to pursue leadership roles. Now, she is being recognized nationally for her role as a leader.
DeCuir, UHV Katy senior director of enrollment management and external affairs, will be one of 26 people recognized as a National Latino Leader during the sixth annual National Latino Leadership Conference held virtually from Sept. 14 to 15. It is hosted by the Council for Latino Workplace Equity.
"I am extremely honored to be recognized as one of the Latino Leaders this year," DeCuir said. "It is a privilege to be among so many great leaders from different areas of business in the country, and I love helping other Latinos achieve success in their fields."
The National Latino Leader award highlights individuals who have achieved success in their careers while paving the way for other Latinos to advance in the corporate arena and contribute to creating and promoting a culture where Latino talent is supported and leveraged for organizational success, according to a news release from the National Diversity Council. The awardees also must demonstrate leadership excellence and high visibility in the Latino community and maintain a record of professional accomplishments.
The Council for Latino Workplace Equity is an initiative under the National Diversity Council. The theme for this year's conference is "The Rise, Power and Influence of Latino Leaders." In addition to receiving her award, DeCuir will serve as a panelist at the conference for a lecture titled "Young Latinas in Leadership: Representation Matters."
DeCuir has done a great job in her ability to hone in to the Latino culture and help lead others to success, said Jose Cantu, UHV vice president for enrollment management. Cantu also will be a panelist for the lecture "Communication and Latino Brand" at the conference.
"Karla has been a tremendous Latina role model and advocate, and her pride in her culture exudes from her on a daily basis," Cantu said. "She works to contribute back to her community, and many people look up to her and appreciate her support. In Texas, we have a large Latino population, and she represents women leading in the industry. This makes her a unique and tremendous asset to the UHV and Latino communities."
DeCuir joined UHV in 2016 and oversees the university's recruitment of transfer students, in addition to external relations and strategic partnerships for the UHV Katy instructional site. She has 17 years of business development, management, marketing and external affairs experience. Last year, she earned an executive Doctor of Education in professional leadership with an emphasis in special populations from the University of Houston. She holds a Master of Business Administration with a minor in human resources management from the University of Phoenix and a Bachelor of Science in marketing from the University of New Orleans. She also has completed the Houston Hispanic Chamber of Commerce Business Institute and the UH Women in Leadership program.
DeCuir has been a member of the Gulf Coast chapter of the Texas Diversity Council for five years and has served on the council's education committee and as vice president. She is now serving as the chapter's president. She is on the board of Archway Academy and is the president of the Katy Technology Education Foundation and serves on various committees. She also has served on the National Association of Women MBAs – Houston Professional Chapter, co-chaired the education committee of the Texas Diversity Council, and been an ambassador for the Greater Houston Partnership. She also is a board member for the UHV Latino Faculty and Staff Association.
DeCuir always has been passionate about diversity and inclusion in the workplace and advocates for more people from minority populations, especially Latinas, to serve in leadership positions. She applauds the work of the National Diversity Council and how council members work with different entities and all sectors and leadership levels to bring more diversity and inclusion across the country.
As part of her efforts to help more Latinas take active roles in leadership, she recently formed a UH System Latina-focused group called Unidas in the UHS. The goal of the group is to help Latinas working in the UH System become leaders and share experiences, advice and mentorship. Latina leaders are brought in to speak during meetings.
DeCuir has found that because of the traditional Latino culture, Latinas often will be quiet in the workplace and not speak up, and that can be seen as lacking passion and not being "leadership material." She is looking to help young Latinas become leaders while being true to themselves.
"I am passionate about helping Latina leaders take a seat at the table without losing our culture and values that make us who we are," she said.
The University of Houston-Victoria, located in the heart of the Coastal Bend region since 1973 in Victoria, Texas, offers courses leading to more than 80 academic programs in the schools of Arts & Sciences; Business Administration; and Education, Health Professions & Human Development. UHV provides face-to-face classes at its Victoria campus, as well as an instructional site in Katy, Texas, and online classes that students can take from anywhere. UHV supports the American Association of State Colleges and Universities Opportunities for All initiative to increase awareness about state colleges and universities and the important role they have in providing a high-quality and accessible education to an increasingly diverse student population, as well as contributing to regional and state economic development.