Close
UHV breaks ground on Kay's Grove memorial garden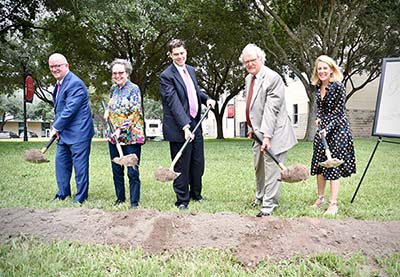 Family and friends of Kay Kerr Walker, a longtime supporter of both the UH System and UHV, break ground Thursday during a ceremony for Kay's Grove, a memorial garden in Walker's honor. Pictured from left are UHV President Bob Glenn with Kay's family members, including her sister, Carter Lee; son, Bruce Walker; husband, Ron Walker; and daughter, Carter Dugan.
University of Houston-Victoria leaders and the family of Kay Kerr Walker broke ground Thursday on the site that will be Kay's Grove, a 29,000-square-foot memorial landscaped garden for students, faculty, staff and visitors to enjoy on campus.
Walker was a longtime supporter of both the UH System and UHV. She served on the UH System Board of Regents from 1993 to 1999 as vice chair, secretary and member of the executive committee. For years, she served on various UHV search and art committees and as a nonvoting member of the UHV President's Regional Advisory Board.
She passed away Sept. 1, 2020, from COVID-19 complications. The garden will be located on the west side of University North, 3007 N. Ben Wilson St.
"Kay Walker's impact on UHV is almost immeasurable," UHV President Bob Glenn said. "Her time as a member of the UH System Board of Regents saw many changes here that were a direct result of her advocacy. After her board term expired, she continued to be a passionate advocate for the university. She understood in the clearest and most direct terms how much good UHV can do for this city, this county and this region, and she made sure we lived up to that promise. I cannot think of anyone else who is more deserving of this honor, and this garden will ensure her legacy is always remembered."
UHV leaders and members of the Walker family spoke at the groundbreaking event as well as landscape architects from Johnny Steel Design of Houston. María Gaztambide, director and chief curator of Public Art of the UH System, spoke during the ceremony about the artwork that will be permanently installed in Kay's Grove. The garden will include a sculpture by the late Texas artist Jesús Bautista Moroles and site-specific commissioned artwork by Austin-based contemporary artist Melissa Miller. Kay Walker admired Miller's artwork.
A ceremonial tree also was planted during the groundbreaking. The garden is expected to be completed in the spring.
In addition to serving on the UH System Board of Regents, Walker played an instrumental role in helping UHV acquire tuition revenue bonds for the purchase of land and a new building. In 2000, she was the recipient of the UHV Presidential Medal.
She and her husband, Ron Walker, also have been longtime contributors to the university. In 2014, they gave $250,000 to name the Kay and Ron Walker Auditorium inside UHV University North. Later that year, the Walkers received the Community Partnership Award during the UHV President's Annual Report and Excellence Awards event. They also helped create the Kay Kerr Walker Scholarship, which is awarded annually to an area UHV student.
The idea for Kay's Grove came to Ron as he prayed in a garden outside Citizen's Medical Center while Kay battled COVID-19 inside. The garden Ron prayed in was one that Kay helped designed. She loved nature and beauty, and the hospital garden was a place where people could have a moment of peace and tranquility when they had loved ones in the hospital, he said.
The name "Kay's Grove" embodies the whimsy and beauty of the memorial landscape garden but is also an easy, welcoming and fun name for visitors to remember, Ron said. The garden is almost entirely donor-funded, with almost 320 donors contributing to this single project. The garden will be located near the middle of campus where students, faculty, staff and community members can spend time alone or enjoy time with their friends and family.
"This garden on the UHV campus will be a place where people can have a moment of peace, contemplate, laugh, fall in love, study and make memories," Ron said. "Our family wanted to honor Kay's dedication to the community and the lives of individuals. She knew the value of an education and the value of community, and we know this would be something Kay would have liked for students and the community to love and enjoy. We hope Kay's Grove will be an asset to the UHV and Victoria communities, and we thank the community and her friends for their generosity toward this project."
The memorial garden was designed by Johnny Steel Design of Houston. It will include native and adapted plants with the intent to have different colors and textures throughout the seasons so that the landscape can be enjoyed year-round, senior landscape architect Jonathan Williams said. Different plants will bloom in the spring, summer and fall, which will help create a memory for visitors when they visit the garden during any season.
Kay's Grove will be located to the west of University North and extend toward the detention pond between University North and University Center. The grove, while being a garden, will have a landscape designed for traffic flow much like a courtyard so that visitors can easily walk through it, Williams said. Some of the plants visitors can expect to see include native Texas flowers such as coneflower and Indian paintbrush, almond verbena, Turk's Cap, American beautyberry, fringe trees, iris and various bedding roses. There also will be boulders placed to be used as seating for visitors.
"This design will create a connection between buildings and other spaces on campus and will be a new place for people to walk through," Williams said. "When creating a project like this, it starts off with a specific idea from the family and then slowly transitions into something that can be enjoyed by others as a celebration of life during any time of year. Kay's Grove will be an inviting and beautiful place for everyone to enjoy."
The University of Houston-Victoria, located in the heart of the Coastal Bend region since 1973 in Victoria, Texas, offers courses leading to more than 80 academic programs in the schools of Arts & Sciences; Business Administration; and Education, Health Professions & Human Development. UHV provides face-to-face classes at its Victoria campus, as well as an instructional site in Katy, Texas, and online classes that students can take from anywhere. UHV supports the American Association of State Colleges and Universities Opportunities for All initiative to increase awareness about state colleges and universities and the important role they have in providing a high-quality and accessible education to an increasingly diverse student population, as well as contributing to regional and state economic development.