Close
Nontraditional student works hard to represent Sugar Land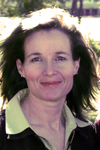 Rebecca Morgan
Growing up in Bandera, Texas, University of Houston-Victoria student Rebecca Morgan was raised in a religious environment where college was viewed as a bad influence.
When she was in her 20s, she was busy raising her children, but with an ever-present and powerful thirst for science and learning, by her 40s, Morgan decided it was time to go back to school.
"At the age I am now, I've already done the P.T.O., the P.T.A., the Little League, but I've never lost that fire for learning," she said. "So right now, I'm having my cake and eating it too."
Now majoring in biology and secondary science education at the UH System at Sugar Land, where UHV faculty members teach many of the classes, the nontraditional student is throwing herself not only into her studies, but also into campus life.
In addition to her heavy study schedule, Morgan, 41, also was elected in the spring as the senator-at-large representing Sugar Land on the UHV Student Senate. Morgan is using it to make sure the Sugar Land students' voices are heard and that they have strong representation in the university system student government.
"Right now, part of the need for the Sugar Land teaching center is to let the University of Houston-Victoria know that we exist," she said. "We're an hour away, and sometimes people don't realize we're here. The administration and Student Senate recognize that, but the big thing for me is becoming a voice, a student government voice."
Morgan also is the chairwoman of the newly assembled Greater Houston Student Association, which represents all the UH System campuses.
"It's our job to put together a common voice of students and be a resource for students for anything they might need," she said.
Although it's a lot of work, Morgan, who also is a member of the Gamma Beta Phi honor society, said she strongly believes in the notion of giving back.
"If I can take, I need to give," she said. "That's my philosophy of life. I think you need to give back with service, or otherwise you become a drain on the system."
Now living in Missouri City, Morgan isn't sure what she plans to do when she graduates, but regardless, you can bet she'll have a passion for it.
"There are two different directions I could take. I'm very drawn to cancer research," she said, adding that she already is working with several molecular labs in the area. "And then with teaching, I taught Sunday school for 12 years and know how important it is to give to the next generation. You can't take things with you, but you can pass things on to the next generation."
The UHV Outstanding Student is an online feature highlighting the exceptional students who attend the University of Houston-Victoria. To nominate a student, contact UHV Communications Manager Paula Cobler or call 361-570-4350.
The University of Houston-Victoria, located in the heart of the Coastal Bend region since 1973 in Victoria, Texas, offers courses leading to more than 80 academic programs in the schools of Arts & Sciences; Business Administration; and Education, Health Professions & Human Development. UHV provides face-to-face classes at its Victoria campus, as well as an instructional site in Katy, Texas, and online classes that students can take from anywhere. UHV supports the American Association of State Colleges and Universities Opportunities for All initiative to increase awareness about state colleges and universities and the important role they have in providing a high-quality and accessible education to an increasingly diverse student population, as well as contributing to regional and state economic development.