Close
UHV student joins United Way staff with help of fellowship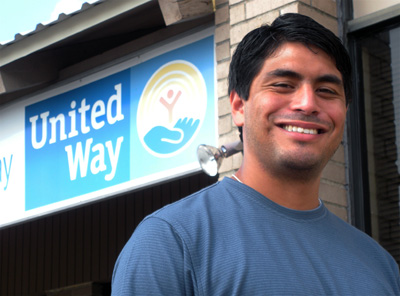 UHV graduate student Johndavid Compian works at the Victoria County United Way office this semester as a R.M. Tinstman fellow.
University of Houston-Victoria graduate student Johndavid Compian is assisting a local charity this semester and getting some valuable business experience along the way.
Compian recently joined the Victoria County United Way as a R.M. Tinstman fellow.
For Compian, the fellowship is a chance to look into a career in nonprofit management, while giving back to the community.
"This is a tremendous opportunity to learn the ins and outs of what it takes to run a major nonprofit organization, and I look forward to learning and being of service," Compian said.
The R.M. Tinstman Fellowship is part of the legacy from an estate to help young college students enter careers in the nonprofit sector, said Cliff Grimes, Victoria County United Way executive director. Compian will spend 20 hours a week at the local United Way office during the fall semester.
 "It helps having an extra hand," Grimes said. "We are a very small not-for-profit, so we try to maximize our efforts internally and externally by using volunteers. Having a UHV student who wants to work in the nonprofit sector is a major plus."
The fellowship partners with local United Ways with a 50-percent match toward an employee's compensation, Grimes said. Compian is the first student employed by Victoria County United Way under the fellowship.
UHV's Career Services office sent out notices that the local United Way was looking for help, and Compian replied. The office helped him with a cover letter and resume, and Grimes snapped up the prospective employee.
Compian said his college classes have led to his career path.
"All my studies have prepared me for either nonprofit work or government work, and I think I'm more suited to nonprofit," he said.
For Compian, a Victoria native and Memorial High School graduate, the job will provide solid experience and a sense of service.
"I believe nonprofits have great benefit for our society," Compian said. "They provide services that government can't always fulfill."
Compian is familiar with service projects as he fulfilled his Eagle Scout requirements by building a concrete wheelchair ramp at his church.
Grimes said his time with the local United Way will provide Compian experience in areas such as marketing, fundraising, volunteer deployment and operations. 
"We are excited about working with this student to help him move his career forward and, at the same time, supplement our staff," Grimes said. "We are grateful to the United Ways of Texas for this opportunity."
Compian is a full-time student at UHV, where he is pursuing a master's degree in interdisciplinary studies with a focus on homeland security and communication. He is an avid soccer player, who also coaches and referees the sport.
The fellowship is a United Ways of Texas honor named after Bob Tinstman, who gave a lifetime of service to his community, country and the United Way. The fellowship was established to provide opportunities for promising college students to explore the possibility of a career in the United Way system.
The University of Houston-Victoria, located in the heart of the Coastal Bend region since 1973 in Victoria, Texas, offers courses leading to more than 80 academic programs in the schools of Arts & Sciences; Business Administration; and Education, Health Professions & Human Development. UHV provides face-to-face classes at its Victoria campus, as well as an instructional site in Katy, Texas, and online classes that students can take from anywhere. UHV supports the American Association of State Colleges and Universities Opportunities for All initiative to increase awareness about state colleges and universities and the important role they have in providing a high-quality and accessible education to an increasingly diverse student population, as well as contributing to regional and state economic development.