Close
Claud Jacobs donates $25,000 to UHV to create scholarship honoring wife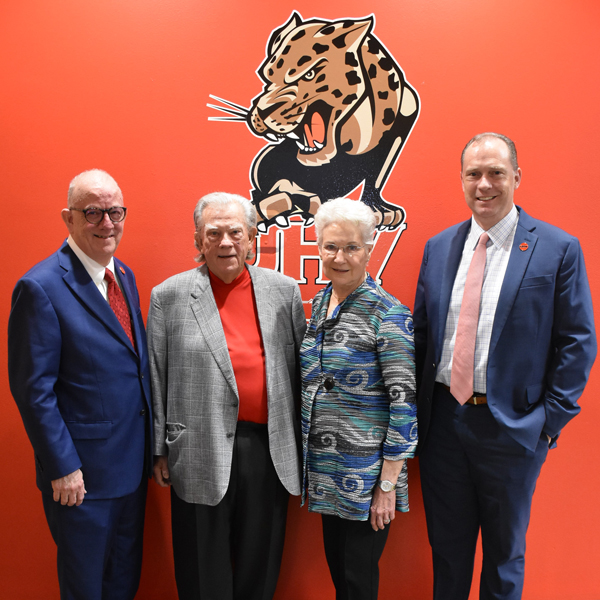 UHV President Bob Glenn, left; Claud and Mary Virginia Jacobs; and Jesse Pisors, UHV vice president for advancement and external relations, pose for a photo Tuesday. Claud Jacobs recently donated $25,000 to the university to create an endowed scholarship in honor of his wife, Mary Virginia
To Claud Jacobs, it is important to honor and express appreciation for others while they are still alive to receive the recognition. With that in mind, Jacobs has donated $25,000 to the University of Houston-Victoria to create a new endowed scholarship for nursing students in honor of his wife, Mary Virginia.
"Mary Virginia has been a part of everything in my life for the past 57 years and more," Jacobs said. "She has been part of my projects and was my sounding board and my critic when I needed it. She's had a lifelong passion for serving others – especially through nursing – and it was important for me to honor her now while she can see the impact of this scholarship in the lives of the students it helps."
The Mary Virginia Jacobs Nursing Scholarship Endowment will be offered by the UHV College of Education & Health Professions. To be eligible for the scholarship, students must be enrolled full or part time in the nursing program, have a financial need and live in Victoria, Goliad, DeWitt, Lavaca, Jackson, Calhoun or Refugio counties.
"Claud and Mary Virginia Jacobs are pillars of the Victoria-area community, and we are grateful for their continued support of UHV and its students," UHV President Bob Glenn said. "Their commitment to supporting the community through higher education is a positive example for all, and we look forward to seeing how this latest gift will impact future students."
Mary Virginia Jacobs is a certified family nurse practitioner who has bachelor's and master's degrees in nursing. She has worked as a nurse, nurse practitioner and in health care administrative positions in the area from 1967 to 2000. She also has served as interim executive director of Hospice of South Texas and has taught nursing at the college level for 13 years.
In addition to her nursing career, she also served on many state and community boards and organizations, including the Texas Board of Nurse Examiners, where she spent three terms as president; the Texas Nursing Association Board of Directors, in which she served as state treasurer; the Coordinating Board of Texas Colleges and Universities Nursing Education Advisory Committee; Texas Nurses Association; UHV Nursing Program Advisory Board; Bluebonnet Youth Ranch; Victoria Symphony League; Christ's Kitchen and the Food Bank of the Golden Crescent.
"The Jacobs family has supported the Victoria community and UHV for decades, and we are excited to be part of another effort to help others through their generosity," said Jesse Pisors, UHV vice president for advancement and external relations. "Claud and Mary Virginia know the importance of investing in the lives of others, whether it is through time, effort or finances. UHV is grateful to be included in their latest investment."
Claud and Mary Virginia Jacobs have a long history of supporting UHV and other students across the state. In 2015, UHV awarded them the People Who Make a Difference Award for their ongoing efforts for the university, including establishing the first athletic scholarship at UHV in 2007 and the first UHV endowed nursing scholarship in 2006 in memory of Mary Virginia's mother, Florence Nightingale Mason.
In recent years, the Jacobs received a first-hand example of how their contributions to higher education have impacted others. At one point, Claud Jacobs was receiving treatment at Citizens Medical Center. One of the nurses who was treating him realized who he was and revealed that she was the first student to receive a scholarship that the Jacobs had created at the University of Texas at Austin for nursing students. That realization brought the importance of supporting students home to the couple, Jacobs said.
"It was an amazing moment to see how our contribution to support nursing students came full circle," Jacobs said. "That scholarship enabled her to continue her studies, and then she was able to be part of the team that saved my life. I hope our decision to support higher education is followed by others in the community. You never know how that investment will come back and make a positive impact on yourself and the lives of others."
The University of Houston-Victoria, located in the heart of the Coastal Bend region since 1973 in Victoria, Texas, offers courses leading to more than 80 academic programs in the schools of Arts & Sciences; Business Administration; and Education, Health Professions & Human Development. UHV provides face-to-face classes at its Victoria campus, as well as an instructional site in Katy, Texas, and online classes that students can take from anywhere. UHV supports the American Association of State Colleges and Universities Opportunities for All initiative to increase awareness about state colleges and universities and the important role they have in providing a high-quality and accessible education to an increasingly diverse student population, as well as contributing to regional and state economic development.