Close
UHV Homecoming theme gives university magic treatment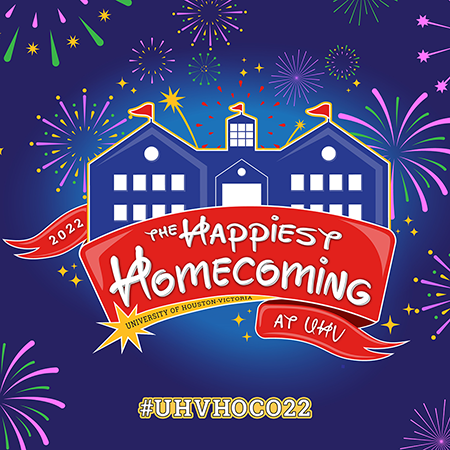 The University of Houston-Victoria's 2022 homecoming celebration will be a magical experience for all thanks to this year's theme and a wide variety of fun activities.
The Happiest Homecoming at UHV will be from April 18 to 23, and everyone is invited to help the university celebrate a magical, Disneyesque series of events throughout the week. Homecoming week will include events for students as well as many opportunities for UHV alumni and community members to partake in the celebrations either virtually or in person.
"UHV is excited to welcome our alumni and the community to campus for our 2022 Homecoming celebration," UHV President Bob Glenn said. "The past two years have been a difficult time for everyone, and we are pleased to be able to offer in-person events once again. I hope everyone will join us as we celebrate UHV and our alumni."
The Magic Begins Here Kickoff event will begin the festivities from 7 to 8:30 p.m. April 18 with an outdoor party at Pyramid Row, 3007 N. Ben Wilson St. The kickoff will feature a presentation of videos about UHV Athletics, an introduction of the UHV Homecoming Court, a fun skit with jaX and the Cheer Team, and a musical performance that will begin at 7:30 p.m. Kona Ice also will be available. The event is open to UHV students, faculty and staff as well as alumni and the community. It also will be streamed through Microsoft Teams.
"This year's theme is an expression of excitement for our students, the university and our community," said Hilary Kofron, UHV Student Life director. "The theme is focused on happiness, and that's what we want everyone to experience. Everyone is coming out of what was an uncertain time, and we are looking forward to coming together to have fun and celebrate homecoming together."
On April 20, the university will host a UHV Alumni Career Panel, which will feature a group of UHV alumni who will talk about their careers and how higher education helped them achieve success. The panel will be from 5:30 to 6:30 p.m. and will be held via Microsoft Teams.
On Thursday, April 21, the university will host two events that are open to the public. The first event will be the next UHV Discovers event from noon to 1 p.m. in the UHV University North Room 111 or streamed through Microsoft Teams. This event will showcase the research of two UHV College of Business faculty members, Nazif Durmaz, associate professor of economics, and Tong Hyouk Kang, assistant professor of management. Durmaz will give a presentation based on his research into mutual funds, and Kang's research presentation is titled "Real Options and Strategic Bankruptcy." This event is free and open to the public.
Later Thursday evening, UHV will host the Seventh Annual Talent Show from 7 to 9 p.m. in the UHV University North Multi-Purpose Room and on Microsoft Teams. The show will feature 10 UHV students who will perform for the audience and a panel of judges. During the event, the audience will have the opportunity to vote for their favorite performance, and audience votes will be counted with the judges' votes to determine the winners.
On Friday, April 22, UHV alumni and community members are invited to attend the UHV Alumni Banquet, which will be from 6:30 to 9 p.m. in the University North Multi-Purpose Room. The event will begin with a beer and wine reception followed by dinner. During dinner, there will be awards presented to the Distinguished Alumnus of the Year and the Young Alumna of the Year. Afterward, there will be entertainment by Robby Bennett, a comedian and musician. Tickets to the banquet cost $15 each, and dress should be cocktail attire.
"The Alumni Banquet is a lovely evening dedicated to honoring the university's alumni," said Kelsey Norgard, UHV director of alumni relations and annual giving. "Homecoming week is such a fun and festive time for the university and the community, and we are happy to see so many alumni come home to see how much the university has grown."
Homecoming week will wrap up with the President's Tailgate and Jaguars' Neverland Fair at 11 a.m. Saturday, April 23 at Riverside Stadium. The tailgate will feature barbecue with free soda, water, beer or wine. At the tailgate, a limited number of Mickey Mouse ears will be available. The fair will include bouncy houses and some games. All of this will lead up to the UHV baseball doubleheader against Texas A&M University-Texarkana beginning at noon. Between the games, UHV will announce this year's Royal Jaguars.
In addition to events that are open to the public, UHV plans to offer several events for students to enjoy, including a Be Our Guest information station, the Monster's University Block Party, To Katy and Beyond, a Villains vs. Heroes Powderpuff game and an Earth Day & Upcycle event. For students, the weekend will end Saturday evening with the Royal Celebration with UHV's Student Government Association.
To find out more about UHV Homecoming and to find links to events that are available to watch through Microsoft Teams, go to www.uhv.edu/homecoming.
The University of Houston-Victoria, located in the heart of the Coastal Bend region since 1973 in Victoria, Texas, offers courses leading to more than 80 academic programs in the schools of Arts & Sciences; Business Administration; and Education, Health Professions & Human Development. UHV provides face-to-face classes at its Victoria campus, as well as an instructional site in Katy, Texas, and online classes that students can take from anywhere. UHV supports the American Association of State Colleges and Universities Opportunities for All initiative to increase awareness about state colleges and universities and the important role they have in providing a high-quality and accessible education to an increasingly diverse student population, as well as contributing to regional and state economic development.