Close
UHV, City of Victoria partner for student internships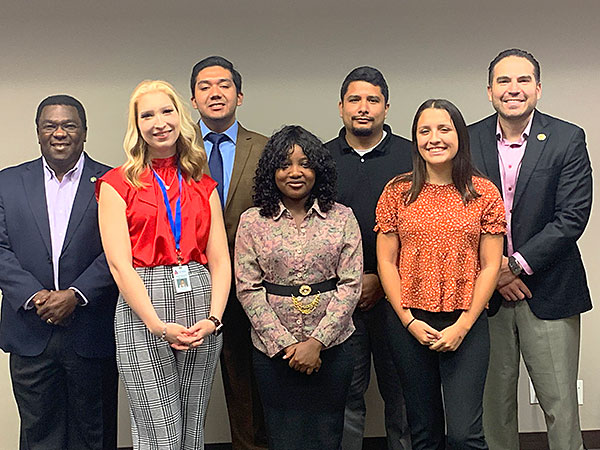 City of Victoria government officials and University of Houston-Victoria student interns pose for a photo after a presentation by the students. Pictured from left are Assistant City Manager Mike Etienne, City of Victoria Training and Development Specialist Sarah Parsons, intern Adrian Vargas, intern Lateefat Yahaya, intern Pedro Briones, intern Marilyn Medina and City Manager Jesús Garza.
Four University of Houston-Victoria students received invaluable work experience interning for various City of Victoria departments this summer in a partnership between the city government and the university, thanks to a grant the university received this past spring.
The students spent several weeks this summer working alongside employees of the City of Victoria Fire Department; City of Victoria Police Department; City of Victoria Municipal Court; and the City of Victoria Finance Department. Each student worked in a specific department according to their degree plan, and both the UHV internship course and their time with the city was paid for through a Texas Higher Education Coordinating Board Work-based Learning Opportunity Grant. This is the first time UHV and the City of Victoria have partnered for student internships.
"Internships are important to our students' learning experience because it helps them develop critical skills in the workplace that they will need after they graduate," said Amy Hatmaker, director of UHV Career Services. "This grant has opened doors for our students, and we appreciate the City of Victoria making these opportunities available for our students. We have wanted to partner with the city for a long time, and we hope to continue."
UHV Career Services received a $78,678 grant from the Texas Higher Education Board during the spring semester for students in unpaid, off-campus internships during the spring semester and summer. The funding from the grant also helped to increase the wages of students who were in paid internships to bring their pay up to target market price and expand internship offerings. UHV Career Services works to connect students and alumni with employers.
While not all UHV degree plans require an internship course, the experience can provide students with opportunities to apply those skills learned in the classroom in a work-based setting, and it helps them to begin to develop a network of professionals in their fields. Students who do not work an internship during their education can find themselves already behind in the job market, Hatmaker said. Through the grant and partnership, the four students have been able to gain insight into their future careers.
"We were excited to partner with UHV to give their students a chance to experience professional opportunities that are available to them here in Victoria," said City Manager Jesús A. Garza. "Our employees who hosted the interns were impressed by their intelligence and professionalism, and we hope that these bright students will be inspired to stay in Victoria after graduation and perhaps come work for the City of Victoria."
For this partnership, Marilyn Medina of San Antonio interned with the fire department; Pedro Briones of Beeville interned with the police department; Lateefat Yahaya of Nigeria interned with the municipal court; and Adrian Vargas of Cuero interned with the finance department. Each student interviewed with the City of Victoria like any other job candidates would so that the students could showcase their interview skills while also making sure they were good fits for the job, said Sarah Parsons, training and development specialist with the City of Victoria. Each student worked on a project or assignments for their assigned department.
The students all received glowing reviews from the city departments, Parsons said. The partnership also was valuable for the city because it introduced the city to young professionals in the area to help give them the tools and skills they need.
"The internships give the students a good learning experience, but it also helps bridge connections for our students," Parsons said. "We are very impressed with the students and the job they have done, and we hope to continue this partnership so that more students will have the same opportunities."
For Medina, a criminal justice major, this was her second internship experience. She previously interned with the San Antonio Police Department and wanted to expand her knowledge as she plans to pursue a career as a crime scene investigator. She worked on a community risk assessment.
"I am very grateful to have this opportunity and to see another side of law enforcement and learn the different crime data and statistics," she said. "Every department plays a role in a crime scene investigation, and this internship made me even more excited about the career of an investigator."
Yahaya is pursuing a Master of Science in computer science and interned with the information technology department of the City of Victoria Municipal Court. She worked on a data visualization dashboard for the court of data that dates back to 2016. Yahaya found the internship to be a great learning experience as she learned more tools, hardware and software to use as a data analyst. She also is grateful that her UHV courses helped prepare her for the internship.
"This experience made me more interested in data science, and I am grateful to be learning new things," Yahaya said. "Everyone was so nice, understanding and helpful. Learning to use some tools and filtering data was challenging at times, but I love challenges."
The internship experience has been eye-opening for Briones, who also is pursuing a criminal justice degree. His internship was focused on the administrative side of the police department, and he worked on a best practices project, including the rules, guidelines and protocols the police follow and statistics. Briones also had the opportunity to participate in a summer camp for middle school students that was hosted by the police department. He feels fortunate for the grant, as the pay helped him commute from Beeville to Victoria for the internship.
"I am a visual learner, so seeing what we are learning in class out in an actual work environment has made so many things easier to understand," Briones said. "It's been an interesting experience, and I am glad to be a part of this internship program."
Vargas is pursuing a Bachelor of Business Administration in accounting. Through his internship with the finance department, he was able to see how different accounting and finance can be. He worked on various assignments, including the city budget. He also learned what a typical day is like for finance employees in city government. Vargas plans to graduate at the end of the year and would love to continue working for the city.
"It's been a great experience, and I have a lot of gratitude to Amy Hatmaker for connecting me with the city," Vargas said. "This experience has really helped me with networking, and I hope more UHV students have opportunities like this in the future."
Employers interested in partnering with UHV Career Services can call 361-570-4369 or email careerservices@uhv.edu.
The University of Houston-Victoria, located in the heart of the Coastal Bend region since 1973 in Victoria, Texas, offers courses leading to more than 80 academic programs in the schools of Arts & Sciences; Business Administration; and Education, Health Professions & Human Development. UHV provides face-to-face classes at its Victoria campus, as well as an instructional site in Katy, Texas, and online classes that students can take from anywhere. UHV supports the American Association of State Colleges and Universities Opportunities for All initiative to increase awareness about state colleges and universities and the important role they have in providing a high-quality and accessible education to an increasingly diverse student population, as well as contributing to regional and state economic development.