Close
UHV holds successful Summer Bridge program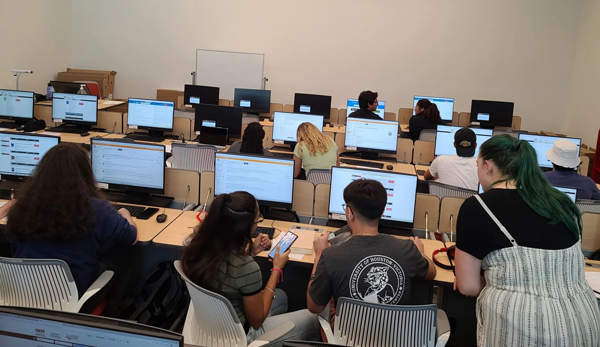 Students work on assignments during a UHV Summer Bridge program class. A total of 23 students participated in UHV's program, which helps students prepare for college.
On July 9, 23 students arrived at the University of Houston-Victoria campus to participate in the 2022 edition of the UHV Summer Bridge program.
The Summer Bridge program offers first-time college students who are Texas Success Initiative incomplete an opportunity to take six credit hours at no expense to themselves during the summer in order to become better prepared for fall classes.
UHV's Summer Bridge program is made possible by a Title III grant UHV received from the U.S. Department of Education in 2019. Students took face-to-face "Composition I" or "College Algebra" classes and corresponding First Year Seminars during the second summer 2022 five-week session. Instructors Amy Cuevas, Jake Snyder, Beverly Tomek, Randall Jasek, and Courtney Bosier-Hawthorne and supplemental instruction leaders Cresenda Arjona and Andy Tomek provided Summer Bridge students with an experience that allowed them to refine their academic skills and develop habits that aid in student success.
"Summer Bridge was like its own little boot camp," said Pedro Garcia of Victoria. "I dropped out of high school in the 11th grade and got my GED, so when I got to Summer Bridge, I knew nothing. Now I'm taking six classes, and because of Summer Bridge, the classes are a breeze."
In addition to time in the classroom, Summer Bridge students learned about UHV and fostered connections to campus and to each other. Student Services, the UHV Library, Financial Aid, and Student Life each provided a lunch during which they shared information with students on the services offered by their offices.
"Summer Bridge gave me the benefit of learning what college was like before college actually started," said Desiree Allen of Temple. "Academically, it taught me how to manage my assignments and time well before fall classes even started."
Summer Bridge students also lived together in Jaguar Suites, and Heather Crow, a UHV administrative assistant, and student success advocates Oneika Smith, Hailey Crow and Cobey Wasicek coordinated group meals and a variety of evening activities including craft nights, study nights, pool nights and an outing to Riverside Park for volleyball.
"Academically, Summer Bridge not only helped me with my TSI incompletion, but it gave me a slight peek of what life as a student at UHV is all about," said Dawson Corenfield of Van Vleck. "Summer Bridge introduced me to the Success Center, and if it wasn't for them and Summer Bridge, I probably wouldn't be a success advocate as of right now. Overall, UHV Summer Bridge showed me the ropes and gave me an experience I'll never forget."
The University of Houston-Victoria, located in the heart of the Coastal Bend region since 1973 in Victoria, Texas, offers courses leading to more than 80 academic programs in the schools of Arts & Sciences; Business Administration; and Education, Health Professions & Human Development. UHV provides face-to-face classes at its Victoria campus, as well as an instructional site in Katy, Texas, and online classes that students can take from anywhere. UHV supports the American Association of State Colleges and Universities Opportunities for All initiative to increase awareness about state colleges and universities and the important role they have in providing a high-quality and accessible education to an increasingly diverse student population, as well as contributing to regional and state economic development.