Close
UHV's Reeve to develop proposed doctoral nursing program
The University of Houston-Victoria School of Nursing is planning to expand its offerings again and has brought in an expert in the field to help develop a proposed doctoral-level nursing degree.
Kathleen Reeve, who recently was hired as the School's M.G. and Lillie A. Johnson Foundation Endowed Chair, will lead the creation of a Doctorate of Nursing Practice degree. Reeve will direct the university's degree plan, curriculum development, course descriptions and objectives, and develop a vision for the proposed DNP program.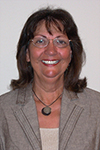 Kathleen Reeve
"It's a big project, but it's an important one," said Reeve, who holds a doctorate in public health and also was an Advanced Practice Registered Nurse for 16 years in Houston and Katy. "It is driven by the increasing demand for health care and recent changes in legislation, which creates a much greater need for Advanced Practice Registered Nurses."
The proposed DNP degree will provide advanced, graduate-level education in the diagnosis and management of medical conditions. Nurse practitioners can serve as a patient's primary health care provider, treating and managing the needs of the patient, prescribing medicines, and ordering tests and therapies for patients.  
Federal Healthcare Reform passed in 2009 creates an estimated 32 million previously uninsured citizens who now will be able to seek more affordable medical care. Add that to the increasing number of baby boomer retirees, and the demand for health care services will rise significantly. Reeve said there already are not enough health care providers to supply primary care.
"The Victoria, Sugar Land and Katy areas will require many more Advanced Practice Registered Nurses to manage practices, especially communities with populations who will finally have the opportunity to access health care," Reeve said.
Reeve said the university's plan is to get the program started as soon as possible so that UHV can produce seasoned nurse practitioners to provide care in the area. She said the proposed DNP may be available at the main UHV campus in Victoria, the UH System at Cinco Ranch and the UH System at Sugar Land. Offerings at all three locations could be facilitated with online and video classes.
"We're working with the communities to provide clinical opportunities so students will not be required to travel long distances for their clinical experiences," she said.
The hope is to begin enrollment in the fall of 2011, although the program must be approved at the university level, by the Texas Higher Education Coordinating Board and the Texas Board of Nursing, and meet other national criteria.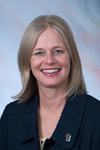 Kathryn Tart
"This is a time of growth in the health care industry, and UHV is adding to its nursing degree programs to try and address the increasing needs of society," said Kathryn Tart, founding dean of the UHV School of Nursing. "We are proud to have Dr. Reeve on board as the Johnson Endowed Chair. She will help us do our part to address critical shortages by providing primary care providers."
UHV's other nursing degrees are the Registered Nurse to Bachelor of Science in Nursing, for registered nurses with an associate's degree; the Second Degree BSN, a program for those who already have a bachelor's degree in another field and want to become a registered nurse; the Master of Science in Nursing; and the RN to MSN Bridge, which allows nurses to get a master's degree with nurse administrator or nurse educator concentrations.
"I am very appreciative of the Johnson Foundation's support in promoting this program and helping to fill the need for Advanced Practice Registered Nurses in the community," Reeve said.
Reeve has coordinated a master's program and directed adult and family nurse practitioner programs for the past 16 years. She and her husband have two grown children: a daughter who is a librarian in the Katy Independent School District and a son who is studying for his master's degree in biology; and three grandsons.
The proposed DNP would be the UHV School of Nursing's first doctoral program. The university worked in tandem with UH to offer a doctorate through the School of Education & Human Development in the 1990s before the advent of online courses.
For more information, contact Tammy Neeley Whatley at whatleyt@uhv.edu or visit the School of Nursing website at www.uhv.edu/nursing.
The University of Houston-Victoria, located in the heart of the Coastal Bend region since 1973 in Victoria, Texas, offers courses leading to more than 80 academic programs in the schools of Arts & Sciences; Business Administration; and Education, Health Professions & Human Development. UHV provides face-to-face classes at its Victoria campus, as well as an instructional site in Katy, Texas, and online classes that students can take from anywhere. UHV supports the American Association of State Colleges and Universities Opportunities for All initiative to increase awareness about state colleges and universities and the important role they have in providing a high-quality and accessible education to an increasingly diverse student population, as well as contributing to regional and state economic development.