Close
Author brings writing experience, expertise to UHV
From the heart of Manhattan to the Lone Star State, University of Houston-Victoria instructor Kim Herzinger brings a wealth of experience to UHV students and the burgeoning publishing program in the university's School of Arts & Sciences.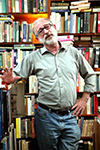 Kim Herzinger
The Pushcart Prize-winning author and biographer/editor of Texas letters icon Donald Barthelme was hired in the fall to teach introduction to cinema and professional writing courses. Herzinger adds even more heft to the lineup of published authors who now teach at UHV.
"The major thing that made me come to UHV was the whole area surrounding its publishing group, from the American Book Review, to Fiction Collective Two, to Centro Victoria," Herzinger said. "It was compelling to me because the university is investing a lot of energy in that area."
And Herzinger knows about energy, having just moved from Manhattan where he owns and operates Left Bank Books, a small, quirky bookshop featuring rare first editions and catering to the bibliophile and collector crowd.
Herzinger bought the shop in 2005. He had never run a business but owned a large collection of first-edition books.
"Collecting is a passion, whether it's books, or beer cans or stamps," Herzinger said. "Similarly, when you're running a bookstore, you'd better do it because you love it, because you're passionate about rare books. I knew I was never going to get rich, but I wanted to have fun, so I did that instead of playing golf."
Herzinger said he may open a used bookstore in Austin's trendy South Congress district but still has not found a location. He said he would sell books that he has to turn down for purchase in his New York store due to space restrictions. Herzinger said even though Austin is vibrant, there are few places where a strictly rare books store could be profitable.
Another passion held by Herzinger is the works of Barthelme, a native Texan who began his writing career at the Houston Post, then moved on to run the Creative Writing Department at the University of Houston. Barthelme became one of the most celebrated writers of his day, using irony, wit and irreverence to deal with the tumultuous period of the late 1960s.
Herzinger, a Eugene, Ore. native, spent a quarter century at the University of Southern Mississippi. There, he met Barthelme's brother, Frederick or "Rick," and the two began a relationship that increased Herzinger's appreciation of Don.
"When Donald died in 1989, Rick asked me to go to New York to the apartment where he had lived, and categorize and catalog all his material, much of it unpublished," Herzinger said. "So when it came time to publish a lot of this material, I was the natural choice. His brother trusted me to do that."
Barthelme's writing was funny but serious work about life in this time, Herzinger said.
"The late 1960s was a time when the old barriers between high culture and pop culture had broken down," he said. "He seemed to know everything and was not hesitant to put into his work not only humor, satire and irony, but also seriousness. And in the late '60s, trying to figure that out was not an easy matter."
Jeffrey Di Leo, dean of the UHV School of Arts & Sciences, said the addition of Herzinger to the faculty adds another unique voice to the collection of talent assembled at the university.
"Professor Herzinger adds a well-respected voice to our impressive lineup of instructors who have an extraordinary amount of publishing experience," Di Leo said. "His presence helps us to establish UHV as a small writing and publishing center that has a large national presence."
Herzinger also published a study in the works of D.H. Lawrence in 1982. In addition, Herzinger spoke at UHV in the fall of 2008 as part of the UHV/American Book Review Fall Reading Series. 
Barthelme, the subject of Herzinger's research, led University of Houston's creative writing program and made it one of the best in the nation. Similarly, Herzinger hopes what is happening at UHV will help catapult that program to the top ranks of the writing and publishing fields.
The University of Houston-Victoria, located in the heart of the Coastal Bend region since 1973 in Victoria, Texas, offers courses leading to more than 80 academic programs in the schools of Arts & Sciences; Business Administration; and Education, Health Professions & Human Development. UHV provides face-to-face classes at its Victoria campus, as well as an instructional site in Katy, Texas, and online classes that students can take from anywhere. UHV supports the American Association of State Colleges and Universities Opportunities for All initiative to increase awareness about state colleges and universities and the important role they have in providing a high-quality and accessible education to an increasingly diverse student population, as well as contributing to regional and state economic development.