Close
Student takes on both academic and business world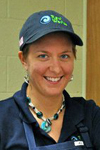 Emilie Eggleston
While many University of Houston-Victoria students find time to do extracurricular activities in addition to a full class load, 26-year-old Victoria resident Emilie Eggleston took this concept a step farther.
Even though she is in the midst of earning her UHV bachelor's degree in secondary math education, she recently managed to find the time to start her own business. Eggleston is the proprietor of Raw Waves, an organic smoothie bar that opened in mid-August inside of the Organic Emporium on Laurent Street.
"I never thought I'd own my first business in Victoria," she said. "A year ago, I sold my car in a failed attempt to start Raw Waves in Colorado. I returned to UHV last spring where the idea developed further in a research paper I wrote for my professional writing class."
Eggleston found an investor, and within three months, her business was born. She gets business advice from Phylis Canion, owner of the Organic Emporium, and Eggleston's boyfriend, who also has his own business.
She first became interested in nutrition and organic food in 2007 while she was in Austin.
"I blame Ron Paul," the Edna High School graduate said as she laughed. "I was part of that whole Ron Paul Revolution' and watched a lot of documentaries on the toxicities of our food supply, organic farming and how our health freedoms were being taken away. I also had a few digestive issues of my own, so for a while, I experimented with veganism and a 100-percent raw diet."
It was while doing her research paper that Eggleston met Canion, and after one month under her direction, Eggleston's digestive problems were solved. Eggleston realized nutrition was key to healing people's bodies, and she was determined to offer others good, totally natural and organic food, she said. It was something Victoria was ready for too, considering how well Raw Waves has been doing.
"Business is very good, and it keeps growing," she said. "Word is getting around. I even had a guy come in today and ask if I was hiring. It would be nice to eventually hire someone or find a partner dedicated to the cause and help the business grow."
Despite the success of her business, Eggleston has other aspirations for the future. Although she'd love to see Raw Waves expand to an entire raw caf, she also hopes to someday teach math at a private school.
"I want to be a leader and set an example. Sure I'll be the wacky math teacher who rides a bicycle and owns the smoothie bar, but I think I can really help kids," she said, adding that she currently tutors students in math at UHV. "I'm very grateful I've been blessed with all these opportunities. This fall, originally I wasn't sure if I could take classes because of the business, but it just so happened that all my classes were at night. To me, that was a sign from God that I could do both."
Eggleston expects to graduate in December 2012.
The UHV Outstanding Student is an online feature highlighting the exceptional students who attend the University of Houston-Victoria. To nominate a student, contact UHV Communications Manager Paula Cobler or call 361-570-4350.
The University of Houston-Victoria, located in the heart of the Coastal Bend region since 1973 in Victoria, Texas, offers courses leading to more than 80 academic programs in the schools of Arts & Sciences; Business Administration; and Education, Health Professions & Human Development. UHV provides face-to-face classes at its Victoria campus, as well as an instructional site in Katy, Texas, and online classes that students can take from anywhere. UHV supports the American Association of State Colleges and Universities Opportunities for All initiative to increase awareness about state colleges and universities and the important role they have in providing a high-quality and accessible education to an increasingly diverse student population, as well as contributing to regional and state economic development.