Close
Six UHV freshmen enroll in new, three-year bachelor's program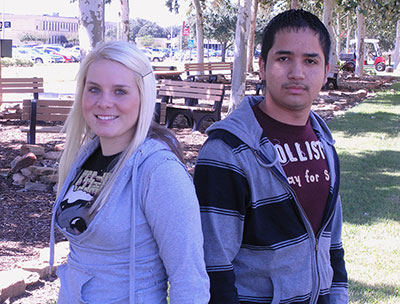 University of Houston-Victoria students Courtney Head of Pasadena and Edgar Valdez of Mission are two freshmen taking part in UHV's new Degree in Three, a complete, 120-credit-hour bachelor's program that students finish in three years.
College freshmen sometimes are accused of not taking school seriously, but some students at the University of Houston-Victoria have their noses to the grindstone in hopes of an early graduation.
Six members of UHV's first freshman class are taking part in the university's new Degree in Three, or Dn3, program, in which college freshmen hit the books hard, graduating in three years with a complete, 120-credit hour bachelor's degree.
"The Dn3 program is a great opportunity for students to get ahead," said Jeffrey Di Leo, dean of the UHV School of Arts & Sciences, which houses the Dn3 program. "It just requires determination and diligence."
The UHV program, the first three-year degree offered at a Texas public university, started this fall and is geared to save students time and money. That includes an estimated $14,000 on a year's worth of living expenses. Dn3 enrollees also can benefit from an option to freeze tuition and fees during their three years of study.
UHV's costs are already among the lowest in the state for four-year universities. Students who entered the Dn3 program this fall and selected the price-locking option can earn their bachelor's degree for less than $22,000 in tuition and fees.
University administrators expect the Dn3 program to continue to grow because of rising education costs and a challenging economy facing students and parents. In fact, similar programs have garnered attention around the state and nation as colleges and universities seek to offer alternatives to the traditional course load.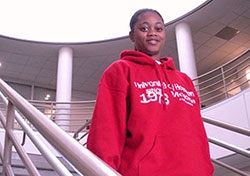 Freshman psychology major Danielle Mapps of Fresno juggles a full class schedule with the Dn3 but says the concentrated enrollment plan will get her to graduate school faster.
"The Dn3 program is a good opportunity to achieve your goals faster," said Edgar Valdez, a freshman criminal justice major from Mission. "The course load is fine. I just have to stay organized."
The Dn3 program is offered for students majoring in communication, criminal justice, English, history, psychology and education. The program includes some summer classes. International study abroad programs also are available to fit into the curriculum.
"I can handle the heavier course load," said Danielle Mapps, a freshman psychology student from Fresno. "I enrolled so I wouldn't have to take four years to get a bachelor's degree. I plan to continue and get a master's degree because I want to be a psychologist."
Everyone enrolled in the Dn3 must meet grade and degree-progress benchmarks, but the payoff is an early degree.
"The extra study will be worth it because it will save me money on tuition and fees," said Courtney Head, a freshman criminal justice major from Pasadena. "And I'll be happy when I graduate early."
Students and their parents can learn more about the Dn3 program by contacting Ashlee Wassick, advising specialist in the School of Arts & Sciences, at 361-570-4184 or wassicka@uhv.edu.
The University of Houston-Victoria, located in the heart of the Coastal Bend region since 1973 in Victoria, Texas, offers courses leading to more than 80 academic programs in the schools of Arts & Sciences; Business Administration; and Education, Health Professions & Human Development. UHV provides face-to-face classes at its Victoria campus, as well as an instructional site in Katy, Texas, and online classes that students can take from anywhere. UHV supports the American Association of State Colleges and Universities Opportunities for All initiative to increase awareness about state colleges and universities and the important role they have in providing a high-quality and accessible education to an increasingly diverse student population, as well as contributing to regional and state economic development.