Close
UHV Student Senate members get ideas, inspiration from Washington, D.C., trip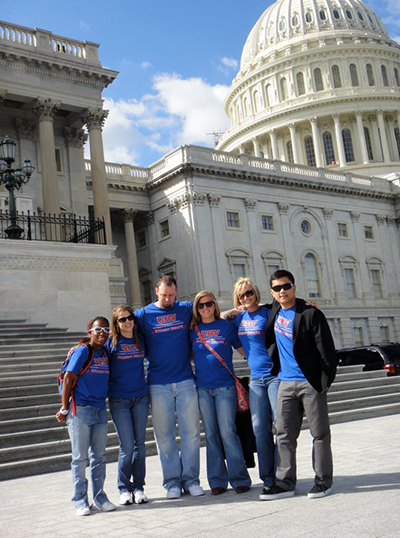 UHV Student Senate members sightsee at the U.S. Capitol during a recent trip to attend the American Student Government Association National Summit. Senate members pictured are Bre'Neka "Shorty" O'Bryant, left, Paige Ruschhaupt, Josh Walker, Emily Bergstrom, Savannah Schoelman and Erik Garino.
Six members of the University of Houston-Victoria Student Senate recently attended the annual American Student Government Association National Summit and brought back ideas to help the association grow along with the university.
Senate members returned with many ideas from the five-day summit about how to improve their organization. UHV's Student Senate acts as a liaison to school administration by promoting and communicating student interests.
Paige Ruschhaupt, a graduate student and the UHV Student Senate president, said the convention helped provide direction for the UHV student government, which plans to add underclassmen representatives in the future since the university now has freshmen and sophomores.
"I think it's going to point us in the right direction," said Ruschhaupt, who also serves as the student representative on the UHV President's Cabinet. "We saw how other schools do things and how involved other school senates can be."
Students attended workshops about women in leadership, ethics, constructive feedback, relating to administrators, creative thinking, goal setting and other topics.
"We did round tables, where we sat at a table with other students we didn't know and discussed different things that we did at our school," said junior Bre'Neka "Shorty" O'Bryant, who serves as the speaker of the Senate. "The trip was very inspiring, and I learned new things I can bring back to help me in the Senate meetings."
O'Bryant said the workshops also taught her about how to deal with people empathetically, especially when differences in opinion arise.
"I learned how to approach people better and work through problems I may have with someone," O'Bryant said. "We don't always know what people are going through."
There also was time for sightseeing in the nation's Capitol. The group visited the U.S. Capitol, the Jefferson and Lincoln memorials, museums and even the International Spy Museum, where they were assigned secret names.
Emily Bergstrom, a junior and the Senate secretary, said the conference was inspiring.
"It was my first time to attend, and I learned so many new ideas and techniques," she said. "Working with other student governments was enlightening because while we all have our own way of doing things, we all have the same goal, which is to serve our students in the best way possible."
Erik Garino was the veteran traveler of the group, making his third trip to the convention. The pre-med biology major was the Senate president last year and helped with updates of bylaws as well as spearheading community charity events, such as a school-supply drive.
"The convention is always a great experience, and we got more ideas, especially about how to promote student involvement and participation," said Garino, who now serves as the Senate director of external affairs. "We're using social media and helping put out signage to promote upcoming events."
Janet Foerster, the Student Senate's adviser, said the students grew from the event.
"There was a lot of input from different schools, most of which were a similar size as UHV and have similar issues," she said.
Josh Walker, a senior physiology and biology major who is the Senate public relations director, said the trip was thought-provoking.
"The best part overall was getting to meet new students from different areas of the country and getting thoughts about how to improve our goals as a Student Senate," he said. "Being exposed to such a different culture was also very interesting, and riding the Metro train everywhere led me to wonder why more cities in Texas do not have the same options."
In spite of airport snafus, including a missed plane thanks to a broken rail transport at an airport and a confiscated snow globe on the return trip, the students picked up a lot of information during the event.
Members said they also plan on continuing their community involvement this year. One upcoming charity event is its first Breast Cancer Awareness Kickball Tournament, set for Nov. 6 at the Victoria Adult Softball/Kickball Complex. Event information is available by e-mailing studentsenate@uhv.edu.
The University of Houston-Victoria, located in the heart of the Coastal Bend region since 1973 in Victoria, Texas, offers courses leading to more than 80 academic programs in the schools of Arts & Sciences; Business Administration; and Education, Health Professions & Human Development. UHV provides face-to-face classes at its Victoria campus, as well as an instructional site in Katy, Texas, and online classes that students can take from anywhere. UHV supports the American Association of State Colleges and Universities Opportunities for All initiative to increase awareness about state colleges and universities and the important role they have in providing a high-quality and accessible education to an increasingly diverse student population, as well as contributing to regional and state economic development.