Close
UHV junior finds good fit in UHV communication program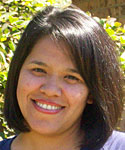 Karla Alvear
For Karla Alvear, a University of Houston-Victoria junior, the path to her education and career has taken a few twists and turns. But Alvear said she's finally on the road to a degree in a field she loves.
The George West native came from a happy home but said that, as a teenager, she let her rebellious side get the best of her. She moved in with her boyfriend at age 16 and went on to graduate from high school. Although she always planned to continue her education, she had three children by age 23 and found it difficult to make time for herself.
"Shortly after my third child was born, a friend suggested I apply to college," Alvear said. In spite of completing three semesters at Beeville's Coastal Bend College, "the pressure ended up getting to me, and I dropped out in 2001."
Several years later, after a move to Victoria, she decided to give college another try. Alvear enrolled at Victoria College, where she completed her basics and decided to enroll in the respiratory program. But she soon realized her heart wasn't in it.
"I felt it wasn't the right career path for me," 34-year-old Alvear said. "I had to make a hard decision. I was two semesters away from graduating but decided to pursue something else that suited me more."
That's when she found her way to UHV's communication program, something the self-proclaimed "people person" called a good fit. She's considering a career in public relations and said she has received guidance to help her along the way.
"I want to do something that interests me, something I enjoy but that will also be a challenge," she said.
Between balancing her current job as a home health care provider, completing schoolwork and raising her three children – Darrien, 15, Isaiah, 12, and Angela, 11 – she said it isn't always easy.
"Sometimes I feel the frustration, but my motivating factor is obtaining my bachelor's degree," she said. "That's what's kept me going the whole time."
She hopes her life story inspires her children to work for their goals, both educational and otherwise, and advised others to follow their hearts.
"It's important for a person to find what interests them and go after it," she said. "After all, a person can't go wrong if they're truly invested in what they are doing."
Hard work also helps.
"If at first you don't think it's for you, don't give up," Alvear said. "Nothing worthwhile ever comes easy."
The UHV Outstanding Student is an online feature highlighting the exceptional students who attend the University of Houston-Victoria. To nominate a student, contact UHV Communications Manager Paula Cobler or call 361-570-4350.
The University of Houston-Victoria, located in the heart of the Coastal Bend region since 1973 in Victoria, Texas, offers courses leading to more than 80 academic programs in the schools of Arts & Sciences; Business Administration; and Education, Health Professions & Human Development. UHV provides face-to-face classes at its Victoria campus, as well as an instructional site in Katy, Texas, and online classes that students can take from anywhere. UHV supports the American Association of State Colleges and Universities Opportunities for All initiative to increase awareness about state colleges and universities and the important role they have in providing a high-quality and accessible education to an increasingly diverse student population, as well as contributing to regional and state economic development.