Close
UHV's University Press of Victoria publishes first title with look at local port
The first book published by a new book press based at the University of Houston-Victoria shows how looking ahead and staying focused through adversity can pay off well into the future.
"Port of Victoria," written by Charles Spurlin and published by UHV's University Press of Victoria, looks at the history of area waterways and the evolution of getting the port established.
"Building the port was a slow but progressive step forward. Fortunately, there were inspiring leaders who guided the project," said Spurlin, retired chairman of the Victoria College Social Sciences Department. "Unquestionably, the port has played an important part in the economic development effort."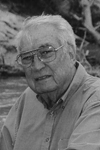 Charles Spurlin
University Press of Victoria will begin by focusing on offerings from local authors. Upcoming books to be published by the press include a historical novel, a local artist's memoir and a coffee table book by a local photographer.
"The UHV Center for Publishing was receiving many requests from local authors to consider their work for publication," said Managing Editor Charles Alcorn III, who heads up the book collective along with Jeffrey Di Leo, dean of the UHV School of Arts & Sciences, and Assistant Professor Kyle Schlesinger. "So given that the University of Houston System does not have a university press, we decided to start one here in Victoria."
For Spurling, the book is a chance to tell more local history.
"I am privileged to have UHV publish this book, especially since it is the first for the University Press of Victoria," he said.
Spurlin arrived in Victoria in 1961, a fresh-faced history instructor with his master's degree. After retiring more than 40 years later, he wrote the thorough and well-researched account of the long and oft-interrupted construction of the Port of Victoria.
"Since the days of the Republic of Texas, there was an interest in trying to make the lower Guadalupe navigable and tie Victoria to the western markets," Spurlin said.
Spurlin traces the history of adding the Guadalupe as a transportation option. It started in the idea stage in the 1800s, when Victoria was seen as a good spot for dropping off San Antonio-bound goods. It advanced at the 1905 convention when leaders got behind the project in earnest, and then again after World War II when the first federal monies were appropriated for the project.
This interest in making the lower Guadalupe navigable continued into the 20th century, ultimately coming to a halt. An alternate means of tying Victoria to the world emerged with the construction of a barge canal. In post-World War II, the barge canal project commenced in earnest, culminating in 1967 when the first barge load of gravel was shipped. 
"It is a story of visionary individuals who gave their utmost to bring about change for the economic betterment of their neighbors and families," Spurlin writes. "It is a story of overcoming disappointments but continually moving forward even though sometimes at a snail's pace."
Today the port, without a doubt, is a major benefit to the area. Caterpillar Inc.'s recent decision to build a manufacturing plant here was, in part, influenced by access to the port and railways.
"Ports with a rail location look attractive to any business that is shipping internationally," Spurlin said. "You can carry so much material with barges and rail."
Schlesinger said a UHV graduate student was involved in proofreading and implementing the design of the "Port of Victoria." Students work on University Press of Victoria books for either undergraduate English internship credit, graduate internship credit or as part of their graduate coursework in the UHV publishing program.  
"Port of Victoria" is available at the UHV Center for Publishing in the University Center, 3007 N. Ben Wilson St., or the VC/UHV Bookstore. The book is available in hardcover for $24.95 or softcover for $14.95.
"This is a wonderful opportunity for our students to get more hands-on book publishing experience," Di Leo said. "We are particularly pleased with the local focus of the University Press of Victoria – one which allows us to create stronger bridges with the Victoria community. The press also strengthens our publishing program by adding regional publication to the array of national publications and presses with which our students already work at UHV."
The University of Houston-Victoria, located in the heart of the Coastal Bend region since 1973 in Victoria, Texas, offers courses leading to more than 80 academic programs in the schools of Arts & Sciences; Business Administration; and Education, Health Professions & Human Development. UHV provides face-to-face classes at its Victoria campus, as well as an instructional site in Katy, Texas, and online classes that students can take from anywhere. UHV supports the American Association of State Colleges and Universities Opportunities for All initiative to increase awareness about state colleges and universities and the important role they have in providing a high-quality and accessible education to an increasingly diverse student population, as well as contributing to regional and state economic development.