Close
UHV professor to begin 'cloud computing' online lab
Cloud computing is all the rage in the technology industry, but it is in its infancy for real-world applications.
Now a University of Houston-Victoria professor is in the process of developing an online lab using cloud technology, one that could potentially result in saving time and money for the university and students alike.
UHV faculty member Li Chao, a professor of computer science and mathematics, has used a $7,000 grant he recently received from Amazon.com to develop an online lab with the new cloud technology. "Cloud" refers to the delivery of IT infrastructure via the Internet, as opposed to through local networks.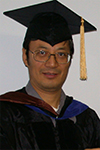 Li Chao
"This can reduce the cost of technology," Chao said. "Universities, school districts and small businesses with limited technology budgets are all interested in how they can apply this."
Cloud computing is customizable in that it allows users to run applications through the Internet rather than being in the presence of a single computer running software applications. In higher education, it would allow a student to access a lab without being on campus.
"Through this lab, we can learn about cloud computing, and students can access the lab on their own," he said. "We will see how it works, but there is huge potential savings when you consider space requirements, equipment and personnel costs of maintaining a computer lab."
A single application on a server could be run on hundreds, or even thousands, of remote computers, saving the institution money on equipment, maintenance and software licensing. The platform has been compared to toy Legos, with development constrained only by a vendor's design and capabilities. The predictability of the platform is seen as a plus.
Applications of the new technology seem limitless. Each time Chao mentions it to small business owners, they are interested as it represents potential cost savings.
Chao said his grant purchased 70 virtual machines, which he will distribute to students for the online lab.
"So far, it seems pretty good. It runs much faster than we anticipated," he said of the cloud experiment. "Our students are getting good experience because they are learning what cloud computing is, and they will have worked in a cloud environment."
Cloud computing also could benefit students by saving them driving time, Chao said.
"If we set up labs online, these students can stay home and do their lab work," he said. "They'll be able to tap into it from anywhere there is an Internet connection."
Although the new technology still is being touted by early adopters, it is easy to see how cost savings would appeal to UHV, which delivers many of its courses online.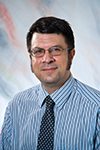 Jeffrey Di Leo
"Cloud computing is an exciting new field and one that can potentially deliver lessons more efficiently and save students money in the process," said Jeffrey Di Leo, dean of the UHV School of Arts & Sciences. "It is exciting to see how Professor Chao is using this grant and gratifying that our school is on the forefront of these innovations."
Chao, who also is the chairman of the Science, Technology and Mathematics Division in the UHV School of Arts & Sciences, joined the university's faculty in 1995. A certified Oracle database administrator and Microsoft solution developer, he is active in research involving networking, database, data analysis and technology-based teaching.
The University of Houston-Victoria, located in the heart of the Coastal Bend region since 1973 in Victoria, Texas, offers courses leading to more than 80 academic programs in the schools of Arts & Sciences; Business Administration; and Education, Health Professions & Human Development. UHV provides face-to-face classes at its Victoria campus, as well as an instructional site in Katy, Texas, and online classes that students can take from anywhere. UHV supports the American Association of State Colleges and Universities Opportunities for All initiative to increase awareness about state colleges and universities and the important role they have in providing a high-quality and accessible education to an increasingly diverse student population, as well as contributing to regional and state economic development.