Close
Community leaders celebrate 'A Year of FIRSTS' at UHV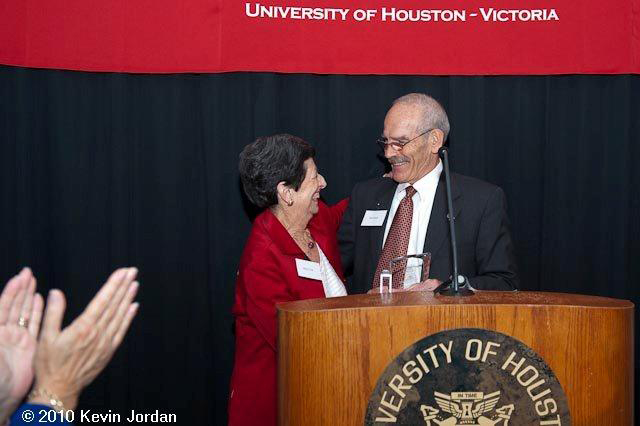 Janey Lack, vice president of marketing and advertising for Lacks Stores Inc., accepts the Community Partnership Award from University of Houston-Victoria Interim President Don Smith, right, at Thursday's UHV Annual Report & Excellence Awards event.
A local businesswoman who was instrumental in the University of Houston-Victoria's expansion, two business leaders who are UHV alumni and a student involved in campus and community activities received awards from the university Thursday night.
The special recognition awards were handed out as part of the 2009-2010 UHV Annual Report & Excellence Awards event, which attracted more than 175 area leaders to the university. The theme of the annual report was "A Year of FIRSTS."
"We chose this theme because of all the exciting 'firsts' that occurred at UHV throughout the year," UHV Interim President Don Smith said. "We successfully recruited our first freshmen and sophomores. We purchased and began renovating our first residence hall for students. We announced our first golf and soccer coaches – and these were just a few of our firsts."
Smith, who became UHV's interim president in August, also gave credit during the evening to former UHV President Tim Hudson's work and others who contributed to the university's "firsts" and accomplishments of the past year.
Speakers, including Smith, talked about the university's achievements during the year. Chari Norgard, UHV's associate vice president for Student Success and Enrollment Management, announced that the university had already received 316 freshman applicants for fall 2011 and had accepted 23 freshmen students.
The Community Partnership Award was presented to Janey Lack, vice president of marketing and advertising for Lacks Stores Inc. UHV alumni David and Tammy Murphy, who run a Victoria Chick-fil-A franchise, were presented with the Distinguished Alumni Award. The Student Leadership Award went to Courtney Pettit, an education major who is captain of the Jaguars softball team and a senator at-large on the UHV Student Senate.
Lack played a key role in the university's successful year. In 2008, when the UH Board of Regents began to consider expanding UHV to a four-year university, Lack worked to secure $100,000 in pledges from community supporters and had commitments for that amount within one week. She continued to play a leadership role by working with the university to help recruit its first freshmen class.
"I am so proud of the University of Houston-Victoria and its excellence, which made all of this worthwhile," Lack said after the event.
Lack currently serves as a committee chair on the Crossroads Commission on Education, a group led by State Rep. Geanie Morrison that is made up of community leaders who seek to improve education on all levels. Lack was a member of the Victoria City Council for seven years and was on the board of directors for Citizens Medical Center.
She is a past recipient of the South Texas Woman Award, the Texas Mid-Coast Reading Council Literacy Award and the Jaycee Award for Distinguished Service.
The Murphys both have Bachelor of Business Administration degrees from UHV. David received his in 1994, began his business career at Lacks Stores Inc. and then became owner/operator of a Chick-fil-A in San Antonio. In 2009, he was selected as the owner/operator of the Chick-fil-A franchise on Navarro Street in Victoria.
Tammy received her BBA in 1995, and at age 20, opened the Ice Cream Depot in the Victoria Mall as an independent entrepreneur. She is the unit marketing director for the Chick-fil-A store.
The Victoria natives have received Chick-fil-A's most prestigious recognition, The Symbol of Success Award, for three consecutive years. They have given generously to UHV and continue to support the university by providing meals at various athletic events and other functions.
"I know our success can be attributed to the education we had at this university," David said during the event.
Pettit said coming to UHV has been a good opportunity for her. Last season, the Jaguars first baseman was selected to the Louisville Slugger/National Fastpitch Coaches Association All-Southwest Regional first team and the Association of Independent Institutions All-Conference Team.
As a member of the UHV Student Senate, Pettit represents the interests of the student body by promoting communication between students and administration. Senate members volunteer at university and community events.
Pettit also mentors and tutors students at Victoria West High School and wants to become a teacher and softball coach after she graduates.
"I try to be a leader on and off the field, and it's such an honor to be recognized for it," she said after the event.
In addition, UHV faculty and staff members were recognized at the event for awards they had previously received. Vera Adamchik, an associate professor in the School of Business Administration, was recognized with the Enron Teaching Excellence Award. Richard Gunasekera, a professor in the School of Arts & Sciences, was honored with the Research and Scholarly Activity Excellence Award. Joseph Ben-Ur, also a business professor, received the Distinguished Faculty Service Award.
Lawrence Nelson, an online support technician for the School of Education & Human Development, was recognized with the Employee of the Year Award.
Smith also announced at the event that UHV had produced an online annual report.
"This is a sign of the university's commitment to the environment, and it's also a way we can provide an expanded annual report to the community," he said. "Thursday night's events were videotaped and will be added to the website."
Area residents can view the annual report and an event photo gallery at www.uhvAnnualReport.com right now, and within the next several days, additional photos and videos will be posted. The site currently features video presentations shown during the event; faculty, staff, student and alumni highlights, UHV's enrollment and financial figures; a list of donors; and much more.
The University of Houston-Victoria, located in the heart of the Coastal Bend region since 1973 in Victoria, Texas, offers courses leading to more than 80 academic programs in the schools of Arts & Sciences; Business Administration; and Education, Health Professions & Human Development. UHV provides face-to-face classes at its Victoria campus, as well as an instructional site in Katy, Texas, and online classes that students can take from anywhere. UHV supports the American Association of State Colleges and Universities Opportunities for All initiative to increase awareness about state colleges and universities and the important role they have in providing a high-quality and accessible education to an increasingly diverse student population, as well as contributing to regional and state economic development.