Close
Golf transfer enjoys study, sport, life at UHV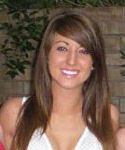 Lyndie Smith
A string of events led University of Houston-Victoria sophomore Lyndie Smith to her spot on the university's women's golf team.
The Dallas native played golf for the Texarkana Community College team when a friend, who also golfed, began speaking with UHV staff. Although her friend was discussing his own athletic career, he inquired about a women's team.
"I met with some people from the school, and they said they would like to have me," Smith said, explaining that part of the draw for her was that the program was just getting started. "It just sort of came together."
Athletics are nothing new to the 20-year-old, who said she's played sports virtually her entire life. Competitive soccer was her first game of choice, but she developed an interest in golf during her freshman year of high school. The school didn't allow students to play multiple sports, and golf won out.
"My brother played in high school, and my dad also played," Smith said. "It was something I really enjoyed."
The UHV team, still in its first year, has come together well, she said. The teammates connect and work together, although things can get chaotic at times.
Smith, a psychology major, balances classes, study time and about 20 hours of golf practice a week as she pursues her undergraduate degree.
Although it makes for busy days, Smith said she handles it well. Her classes finish before 11:30 a.m. each day, which still leaves her time to eat, practice and study. It helps that her golf coach is flexible and allows his players to work practices around test schedules.
Course work and golf aren't the only things that keep Smith busy. She stays active with Frisbee golf, a sport she discovered during the summer, and also gets in touch with her creative side, writing and playing music on her keyboard.
Looking ahead, she plans to play golf for the remainder of her college years and might make a career out of the sport, possibly as a course manager. Then again, she might also follow in her father's footsteps and become a counselor.
In the meantime, she said she's enjoying her time in school.
"It's all what you make of it, really," she said. "I enjoy the people, the school is good, and I'm living my life. I'm happy."
The UHV Outstanding Student is an online feature highlighting the exceptional students who attend the University of Houston-Victoria. To nominate a student, contact UHV Communications Manager Paula Cobler or call 361-570-4350.
The University of Houston-Victoria, located in the heart of the Coastal Bend region since 1973 in Victoria, Texas, offers courses leading to more than 80 academic programs in the schools of Arts & Sciences; Business Administration; and Education, Health Professions & Human Development. UHV provides face-to-face classes at its Victoria campus, as well as an instructional site in Katy, Texas, and online classes that students can take from anywhere. UHV supports the American Association of State Colleges and Universities Opportunities for All initiative to increase awareness about state colleges and universities and the important role they have in providing a high-quality and accessible education to an increasingly diverse student population, as well as contributing to regional and state economic development.