Close
UHV staff member engages in out-of-this-world cosplay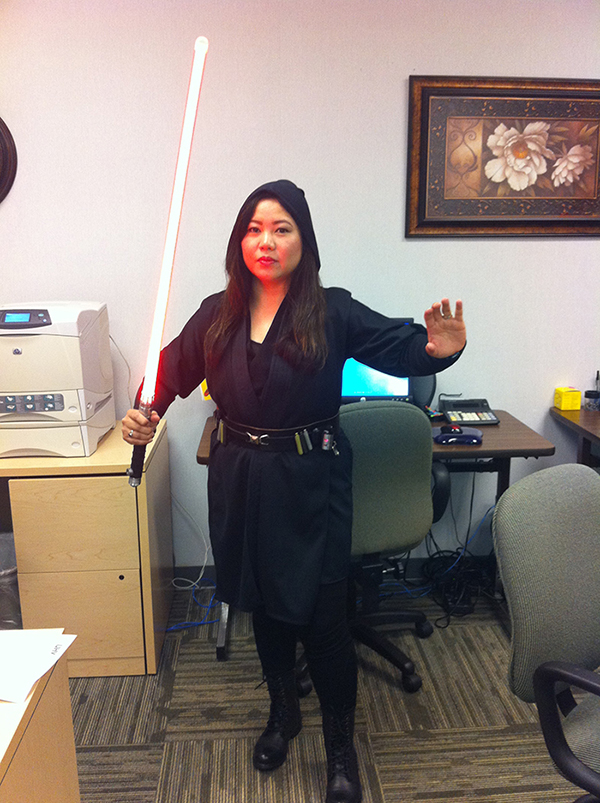 Vangie Kolesar shows off her "Darth Vangie" cosplay in her office during a UHV Halloween celebration. Kolesar started cosplay in 2003 after her husband introduced her to "Star Wars" and "Star Trek."
Vangie Kolesar is known at the University of Houston-Victoria as being a dedicated 20-year employee, but that dedication and passion also extends to her church, her family and the creative hobby known as cosplay.
Cosplay – a portmanteau of the words "costume play" – is an activity, subculture and form of performance art in which participants dress up as characters from movies, TV shows, books and video games.
Kolesar, UHV accounting services coordinator, first began cosplaying with her husband in 2003 when he introduced her to the Star Trek and Star Wars franchises.
"We started collecting all sorts of costumes, toys and replica gadgets to use for dressing up during Halloween," she said.
Kolesar's exposure to the tradition of convention cosplay started in 2014 at the first Victoria Comic Con. Since then, she's regularly attended conventions in Corpus Christi, San Antonio, New Braunfels and Brazoria City. The biggest event she's attended is the annual Comicpalooza in Houston, but she hopes to one day go to the world-famous San Diego Comic-Con.
Conventions offer much more than just an opportunity to cosplay. Convention goers enjoy panel discussions, exclusive sneak peaks of the latest films, and celebrity meet and greets.
"When I attended the Comicpalooza in Houston three years ago, I had the chance to meet and greet – plus take selfies – with my favorite actors from 'Star Trek: The Next Generation,'" Kolesar said. These included Brent Spiner, LeVar Burton and Jeri Ryan.
Kolesar and her husband are members of the Star Wars Enthusiasts of Houston, where fans of the sci-fi franchise come together to participate in social events, charitable activities and cosplay.
Some of Kolesar's favorite cosplays include her own version of a Jedi and Sith, a female version of Darth Vader (Darth Vangie) and Princess Leia. She also has cosplayed as Gamora from "Guardians of the Galaxy," Mulan from the classic Disney film and Hermione from Harry Potter.
Kolesar values cosplay for the unique experiences and escapism it provides.
"When I cosplay, I feel like I'm living in a different time or in a different world while portraying the character I love," she said. "It's also a chance for me to experience costumes, cool props and gadgets."
The University of Houston-Victoria, located in the heart of the Coastal Bend region since 1973 in Victoria, Texas, offers courses leading to more than 80 academic programs in the schools of Arts & Sciences; Business Administration; and Education, Health Professions & Human Development. UHV provides face-to-face classes at its Victoria campus, as well as an instructional site in Katy, Texas, and online classes that students can take from anywhere. UHV supports the American Association of State Colleges and Universities Opportunities for All initiative to increase awareness about state colleges and universities and the important role they have in providing a high-quality and accessible education to an increasingly diverse student population, as well as contributing to regional and state economic development.
Contact:
Victoria Hudgeons, Special to UHV
361-570-4296
Share: