Close
UHV students help community during National Volunteer Week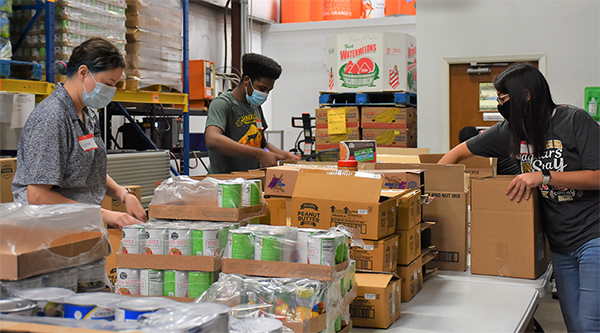 UHV Student Life Coordinator Heather Krischke, left, and UHV students Zion Walker and Yesenia Gutierrez pack canned vegetables into boxes at the Food Bank of the Golden Crescent during National Volunteer Week.
As a proud, new member of the University of Houston-Victoria community, freshman Jacquelyn Velazquez knew she wanted to volunteer in a way that would impact people.
For National Volunteer Week, Velazquez, an Eagle Pass native, decided to donate blood for the first time. She was just one of the many UHV students who participated in the weeklong events from April 19 to Friday.
"After being an active member of the UHV community and everything that has happened with the pandemic, I've gotten a bigger sense of community," said Velazquez, a political science major. "I hope that by volunteering, I can help set an example for my fellow students. It's important to give back, and giving blood is a good way to do that, especially when there is so much need right now."
National Volunteer Week is celebrated annually during the third week of April. During the week, UHV faculty, staff and students can volunteer for causes on and off campus in Victoria, Houston and surrounding counties.
This year, the UHV community had both in-person and virtual opportunities, Student Life Director Hilary Kofron said. Safety protocols were enforced for in-person volunteer activities. Activities included helping in the UHV community garden, donating blood at an on-campus blood drive, assisting at the Food Bank of the Golden Crescent, and volunteering virtually with Bread of Life Inc. in Houston. Other opportunities included volunteering through United Way of the Crossroads and at The Texas Zoo.
"At UHV, we find value in volunteering and serving," Kofron said. "This year has been a challenge with offering in-person events, and we are glad to be able to facilitate a variety of safe volunteer events this week."
Heather Krischke, UHV student life coordinator, organized the events for the week. She chose events that had the most potential to help students and the Victoria and Houston communities. During the April 19 Garden Day, volunteers harvested vegetables that were sent to JP's Market, the free student food pantry on the UHV campus that serves UHV and Victoria College students. The South Texas Blood and Tissue Center parked a mobile donation bus April 20 at the UHV University Commons parking lot, where about a dozen new donors donated blood. On Thursday, UHV students and staff members helped prepare palettes of food to be sent to Edna.
"We had a wide variety of students who participated in National Volunteer Week from Victoria and Houston, which was nice to see," Krischke said. "It was great to see all the students who were willing to give back to communities in our area."
For Tochukwu Iheanacho, a computer science graduate student from Nigeria, volunteering is a way of life. Before coming to Victoria, he volunteered with other organizations in Nigeria that offer individuals help in areas that include financial literacy, communication skills, health and hygiene. He volunteered at the Food Bank of the Golden Crescent to help give back to Victoria area communities.
"I love volunteering and being a part of National Volunteer Week with UHV," Iheanacho said. "It feels great to come out and meet other people who feel the same way."
The University of Houston-Victoria, located in the heart of the Coastal Bend region since 1973 in Victoria, Texas, offers courses leading to more than 80 academic programs in the schools of Arts & Sciences; Business Administration; and Education, Health Professions & Human Development. UHV provides face-to-face classes at its Victoria campus, as well as an instructional site in Katy, Texas, and online classes that students can take from anywhere. UHV supports the American Association of State Colleges and Universities Opportunities for All initiative to increase awareness about state colleges and universities and the important role they have in providing a high-quality and accessible education to an increasingly diverse student population, as well as contributing to regional and state economic development.