Close
UHV celebrates year of achievements at in-person annual report event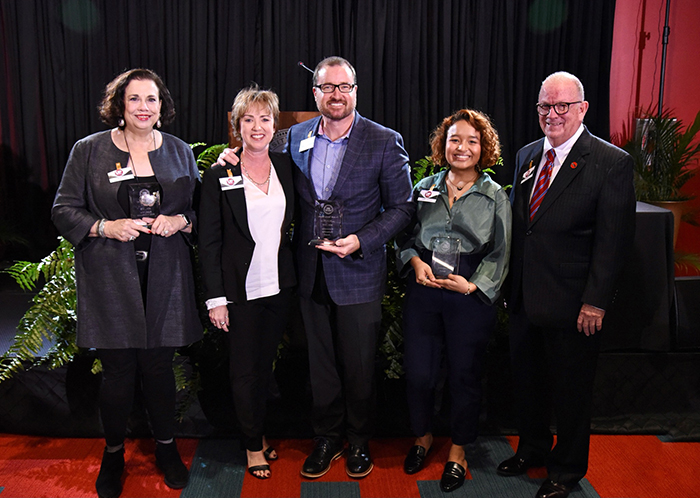 UHV President Bob Glenn, right, stands with award winners on Tuesday after the 2020-2021 UHV President's Annual Report and Excellence Awards. Pictured with Glenn, from left, is Kay McCoy, who accepted the People Who Make A Difference Award on behalf of her late husband, Victoria Mayor Rawley McCoy; Tammy and David Murphy, owners and operators of the two Chick-fil-A locations in Victoria, who both received the Community Partnership Award; and UHV student Tiarah Figueroa, recipient of the Student Leadership Award.
University and community leaders gathered Tuesday evening for the 2020-2021 University of Houston-Victoria President's Annual Report & Excellence Awards, which included the presentation of awards to community partners, a student and to the late Victoria mayor, as well as a special announcement.
About 170 people attended the event, which took place at UHV Northwest, the university's newly renovated property at Airline Road and Laurent Street. The location opened this fall and houses UHV Athletics, the UHV Small Business Development Center, the Center for Regional Collaboration, and the university's kinesiology programs. This is the first in-person annual report event since 2019. Attendees learned about the university's accomplishments and other highlights from the 2021 fiscal year.
The theme for this year's annual report is "Up to the Challenge!" because despite a difficult year, UHV students, employees, alumni and community members were up to the challenge of not only succeeding but thriving, and they will continue to push forward now and in the future to move the university and themselves forward. More information about UHV's successes and major events in 2020-2021 can be found online at www.uhvannualreport.com
"Much of these successes could not have happened without the hard work of former administrators, faculty, staff and community members during the last 48 years," UHV President Bob Glenn said. "They had a vision when they started UHV in 1973 as an off-campus center of the University of Houston, and look how far we've come. If this past year has taught us anything, it's that we are resilient, and that if we all work together, great things can happen."
During the ceremony, attendees heard from Glenn; UH System Regent Paula Mendoza; Chance Glenn, UHV provost and vice president for academic affairs; Tiarah Figueroa, UHV Student Government Association president; and Athletics Director Ashley Walyuchow.
The university gave three awards during the ceremony, including the People Who Make A Difference Award, which pays tribute to those who have supported the university and made a difference in the quality of life of the community. The award was given to the late Victoria Mayor Rawley McCoy, who passed away suddenly in March. His wife, Kay McCoy, accepted the award in his honor.
McCoy was a Victoria native who, in 1995, founded Rawley McCoy & Associates. His firm was involved in the design of UHV buildings, including University North, University Center and University West. Rawley McCoy & Associates also was involved in the renovation and remodeling of two of the student residence halls on campus, Jaguar Hall and Jaguar Suites.
In addition to being part of UHV's physical campus growth, McCoy also was supportive of UHV's place in the Crossroads as an institution of higher learning, and he collaborated with UHV presidents and other administrators to advance projects that benefited the university, city and community. He championed UHV's proposal to reimagine and redesign Ben Wilson Street, both in the interest of safety and to further UHV's presence and brand in Victoria. McCoy rarely missed a UHV event or meeting to which he was invited, and he spent countless hours on the UHV campus and interacting with the UHV community, both as mayor and for many years before his election.
"I am honored to accept this award – Rawley would be proud," Kay McCoy said. "He was always a man with a plan and achieved what he put his mind to."
Another award from the event was the Community Partnership Award, which is presented to a person, business or organization that has helped advance the quality of life in the region and at the university. This year, the award was given to Victoria residents and UHV alumni David and Tammy Murphy. The couple are owners and operators of the two Victoria Chick-fil-A locations and oversee the Chick-fil-A licensee location on the UHV campus.
In 2010, they were both awarded the UHV Distinguished Alumni Award, and in 2016, the Murphys founded the Chick-Fil-A Future Business Leadership Scholarship and have contributed to it regularly ever since. The scholarship awards $1,000 per year to marketing or management students at UHV. They also have two employees whose roles are solely dedicated to helping Chick-fil-A team members who are in school have access to scholarships, tutoring assistance, leadership and skills development, and other areas of help students might need to be prepared to finish high school, go on to college or a technical trade school, or complete their higher education.
The Murphys also have a location in downtown Victoria called "The Hub" where students can have a quiet place to study, congregate or receive training. Several Chick-fil-A team members attended the event, and David Murphy thanked them for their service and work.
"We are eternally grateful to receive this award and grateful to be part of the Victoria community," David Murphy said. "We are about serving others. We serve our team, guests and community because relationships matter to us, and remarkable experiences are our priority. This award is a reminder that we are living out our purpose."
The university also presented the Student Leadership Award, which recognizes a student who demonstrates excellence in leadership and academics. The award was given to Figueroa, who is a senior from San Antonio. She is pursuing a Bachelor of Science in communication with a minor in humanities, and is in her second term as SGA president. Figueroa has dedicated all of her energy outside of her studies to serving the UHV student population and has led the student government through the pandemic.
She also worked to establish more connections between the student population and the university's faculty and staff, and represented UHV students in initiatives such as the university's Race & Diversity Task Force and the COVID-19 Reopening Task Force. In May, Figueroa received the Student Organization Member of the Year award, and she has been named to the UHV Dean's List several times.
"It is truly an honor to receive this award," Figueroa said. "I couldn't do it without the help of my Jaguar family."
The university ended the night with a special announcement that the M.G. & Lillie A. Johnson Foundation recently donated $300,000 to the university. The funds will be used for scholarships for students who are residents of Victoria and the surrounding counties and are studying nursing and other health-related fields.
In addition to these awards and announcements, the event featured videos about Student Life, Athletics and UHV's three academic schools, followed by speeches about highlights from the past year. These included:
The UHV softball team won the Red River Athletic Conference tournament to advance to the National Association of Intercollegiate Athletics National Championship Opening Round, and for the first time in program history, the team won the opening round bracket to advance to the NAIA Softball World Series. The Jags finished the season ranked 19th in the NAIA.
A new position in Student Affairs, the assistant director of diversity and inclusion, was created to implement new university diversity, equity and inclusion initiatives, including the formation of a Multicultural Advisory Council, a student organization open to all UHV students. The assistant director also started a monthly virtual Brave Space Series and facilitated more than 40 programs.
The Specialist in School Psychology program was awarded a national accreditation that is helping UHV recruit new students and streamline the professional certification process for the program's graduates. The accreditation through 2028 from the National Association of School Psychologists makes UHV one of only 13 universities accredited in Texas.
The Strategic Master of Business Administration was recognized as a top program when the Princeton Review included it in its list of Best Business Schools 2021: Best On-Campus MBA Programs. The list included schools worldwide and was determined using factors such as institutional data and student surveys. The school also ranked No. 7 in the Greatest Resources for Minority Students category.
The university's graduate counseling program updated its degree offering to a Master of Science in Professional Counseling with tracks in clinical mental health counseling and professional school counseling. The degrees are nationally accredited by the Council for the Accreditation of Counseling & Related Educational Programs and are the only CACREP-accredited professional counseling degrees available in the Victoria and Greater Houston areas.
The 2020-2021 annual report website features videos; UHV's enrollment and financial figures; a list of donors; faculty, staff, student and alumni highlights; photos from the year and more at www.uhvannualreport.com.
The University of Houston-Victoria, located in the heart of the Coastal Bend region since 1973 in Victoria, Texas, offers courses leading to more than 80 academic programs in the schools of Arts & Sciences; Business Administration; and Education, Health Professions & Human Development. UHV provides face-to-face classes at its Victoria campus, as well as an instructional site in Katy, Texas, and online classes that students can take from anywhere. UHV supports the American Association of State Colleges and Universities Opportunities for All initiative to increase awareness about state colleges and universities and the important role they have in providing a high-quality and accessible education to an increasingly diverse student population, as well as contributing to regional and state economic development.