Close
Business students win competition by analyzing connectivity company
Teams Screenshot spring 2022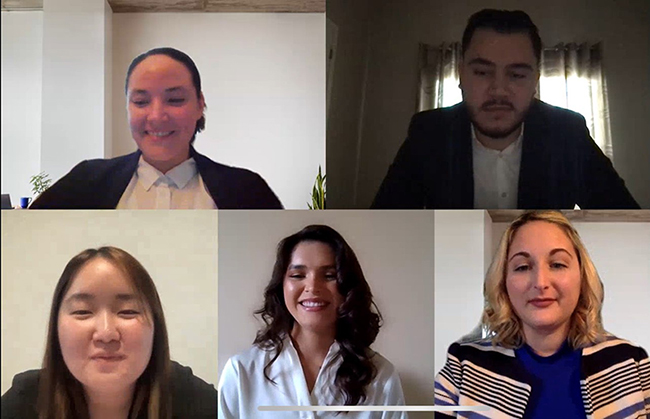 Members of the winning team took a screenshot during the spring 2022 UHV College of Business BBA Case Conference. Pictured clockwise from top left are Emily McNair, Haitham Halim, Jaime Davis, Dara Gomez and Lily Wu.
When it came to preparing their research and recommendations for the 30th University of Houston-Victoria Bachelor of Business Administration Case Conference, the first-place team chose to follow the democratic process.
"We made sure to communicate all of our research finds with each other, then we'd vote on how we wanted to move forward," said Dara Gomez, a Pettus marketing major. "We divided up the work according to each person's strengths, but we made the decisions about how to proceed together."
Every semester, UHV students enrolled in "Strategic Management," the BBA program's capstone course, attend the conference to compete in the presentation of a company case analysis. This year, 143 undergraduate students on 28 teams participated in the competition on April 30. The students analyzed Crown Castle, a connectivity company based in Houston.
In addition to Gomez, other members of the first-place team were Jaime Davis and Lily Wu of Houston, Haitham Halim of Victoria and Emily McNair of Waco.
"The BBA Case Competition is something the College of Business looks forward to every semester," said Rhiannon Smith, assistant dean of administration and student services. "Our students work hard all semester, and it is exciting to see them use everything they have learned to create these quality presentations."
During the conference, students must present information from different analyses of the company to a panel of judges made up of UHV faculty, alumni and community business leaders, who give scores to individuals and teams. The teams work on their research and develop their presentations through the semester.
"After working with the students and reviewing their papers throughout the semester, I was certain they would do well, and I am even more pleased to know they earned first place," said Tong Kang, UHV assistant professor of strategic management, who taught the students in the first- and second-place teams. "They were very well prepared and displayed great researching skills. The conference is a memorable event, and it gives students experience to draw on when they need to do similar presentations in their careers."
As the team compiled their research, they chose to focus on two key issues for Crown Castle: improving a negative company culture and expanding the availability of fiberoptic cable.
"When we were researching the company, we kept finding negative ratings and reviews on job search sites," Gomez said. "One of the main assets of a company is its workforce, and good companies promote a positive culture to encourage employees to stay and give their best. With that in mind, we recommended that the company take some steps to improve the culture."
When considering the need for more fiberoptic access for services, the team recommended that the company move away from adding small cell transmitters, which can be more expensive and only offer coverage to small areas. Instead, they recommended that Crown Castle acquire a small fiberoptic company to expand the company's reach and resources.
Other teams placing in the BBA competition were:
Second Place – Justin Hoffpauir of Austin, Frank Peace of Katy, Robert Radford of Brookshire, Cindy Ventura of Sealy and Cody Weems of Tomball
Third Place – Madison Benavides of Ganado, Nathan Erick of Katy, Beth Farouse of Houston, Aisha Jimenez of Brookshire, Christopher Mitchell of Schulenburg and Jordan Zack of Edna.
The University of Houston-Victoria, located in the heart of the Coastal Bend region since 1973 in Victoria, Texas, offers courses leading to more than 80 academic programs in the schools of Arts & Sciences; Business Administration; and Education, Health Professions & Human Development. UHV provides face-to-face classes at its Victoria campus, as well as an instructional site in Katy, Texas, and online classes that students can take from anywhere. UHV supports the American Association of State Colleges and Universities Opportunities for All initiative to increase awareness about state colleges and universities and the important role they have in providing a high-quality and accessible education to an increasingly diverse student population, as well as contributing to regional and state economic development.