Close
Cameroon native helped kick off new soccer team at UHV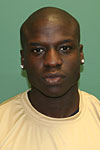 Zuzeko "ZuZu" Ghongkedze
For Zuzeko "ZuZu" Ghongkedze, a forward on the University of Houston-Victoria men's soccer team, the playing field is like home. He spends hours running, strategizing and working on his game.
In truth, the 22-year-old is a long way from home.
Ghongkedze, a biology major, emigrated to the U.S. from Cameroon when he was 12. His mother's position with Texas A&M University in College Station brought the family to the Lone Star State.
At first, the move was an adjustment for Ghongkedze and his four siblings.
"It was the little things," he said. "The food, things like that. Things were just different."
He adjusted over time, taking comfort in a longtime hobby: soccer.
"I've been playing as long as I can remember," he said. "I played on teams when I was little and I kept playing, even after we moved."
That love of the game continued through middle school and on through his graduation at A&M Consolidated High School. Today he's part of UHV's first-ever men's team.
The sophomore said he enjoys knowing he got in with the team on the ground floor. It gives him a part in establishing new traditions, he said. Already, he and his teammates have dubbed UHV''s fenced-in soccer field "The Cage."
"We've had a lot of fun," he said. "We all get along really well, and it's an honor to be part of the school''s first team."
It isn''t all about school and sports for the transplanted Texan. He enjoys reading in his spare time. Nutrition and philosophy books are his favorite, but he'll read most anything. He also keeps in touch with his extended family in Africa through e-mails and Skype conversations.
"I miss back home, but I stay in touch," he said. "I actually haven't been back since we left."
Looking to the future, Ghongkedze said he hopes to enter medical school remain involved in the athletics world in another way, through sports medicine.
He said he looks forward to whatever the future holds.
"I''m a little nervous, I'm not going to lie," he said with a chuckle. "But, really, I'm more excited than anything."
The UHV Outstanding Student is an online feature highlighting the exceptional students who attend the University of Houston-Victoria. To nominate a student, contact UHV Communications Manager Paula Cobler or call 361-570-4350.
The University of Houston-Victoria, located in the heart of the Coastal Bend region since 1973 in Victoria, Texas, offers courses leading to more than 80 academic programs in the schools of Arts & Sciences; Business Administration; and Education, Health Professions & Human Development. UHV provides face-to-face classes at its Victoria campus, as well as an instructional site in Katy, Texas, and online classes that students can take from anywhere. UHV supports the American Association of State Colleges and Universities Opportunities for All initiative to increase awareness about state colleges and universities and the important role they have in providing a high-quality and accessible education to an increasingly diverse student population, as well as contributing to regional and state economic development.