Close
UHV lands two on all-conference soccer team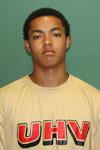 Lenox Evans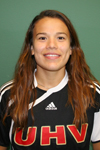 Sarah Sladivar
Defender Lenox Evans and goalkeeper Sarah Saldivar were the lone University of Houston-Victoria representatives to be selected to the 2010 Association of Independent Institutions all-conference soccer teams released Tuesday.
Both Evans and Saldivar were named as second-team selections.
"It's a real honor to have two players selected to the all-conference team in our first year," UHV Jaguars coach Adrian Rigby said.
Evans, a freshman from Dallas, started and appeared in 15 of the Jaguars 16 games this season and had seven shots, including two on goal.
"Lenox helped carry our defense this season," Rigby said. "With his speed and athleticism he was a tremendous asset to the team."
Saldivar, a junior from Houston, started in 13 of the Jaguars 15 games recording a team-high 90 saves and had a .732 saves percentage. She also allowed 33 goals on the season and played nearly 920 minutes.
"Sarah was a big key in keeping us in a number of games this season," Rigby said. "She was a late arrival but also proved to be a big asset for us."
Simon Fraser swept the top individual honors as Max Baessato was named the men's conference player of the year, while Lauren Lachlan was named the women's player of the year. Simon Fraser coach Alan Koch was named the men's coach of the year, while California State University-San Marcos' Ron Pulvers earned the women's coach of the year.
Following are the A.I.I. 2010 All-Conference Teams:
MEN
Player of the Year: Max Baessato, Simon Fraser
Coach of the Year: Alan Koch, Simon Fraser
First Team
Simon Fraser: Max Baessato, Michael Winter, Roman Doutkevitch; Josh Bennett, Hide Ozawa, Sang Hwang and Helge Neumann; Houston St. Thomas: Lukas Simon, Jad El-Masri and Nick Boras; Lambuth: Juan Garzon and Daniel Ericsson; Cal State-San Marcos: Bradley Seidenglanz and Jordan Shadeed.
Second Team
UH-Victoria: Lenox Evans; Lambuth: Adam Grant and Bret Boylan; Thomas University: Nathan Would and Rowan Liburd; Embry-Riddle Aeronautical: Magi Mas Manresa and Thiago Caetano; Houston St. Thomas: Jack Brett, Rafael Bustos and Irving Escobedo; Marygrove: Jordan Berry; CSUSM: Jake Kaiser and Erik Mueller.
WOMEN
Player of the Year: Lauren Lachlan, Simon Fraser
Coach of the Year: Ron Pulvers, California State University-San Marcos
First Team
Cal State-San Marcos: Kaycee Gunion, Brenna Brenton, Michele Ramirez and Lauren Johnson; Embry-Riddle Aeronautical: Brittany Murillo, Julie Falsken and Kiley Frazier; Thomas University: Hannah Claesson and Carina Spengler; Simon Fraser: Jessica Flemming, April Coffin, Ari Adams, Lauren Lashlan and Lia Marining.
Second Team
UH-Victoria: Sarah Saldivar; Simon Fraser: Amelia Ng and Aly Benes; Lambuth: Rachel Harless and Jamie Neal; Soka: Ashley Okazaki; Thomas University: Eliana Nevarez, Kasey Cooper, Myra Jenkins, and Alexandria Sveinsdottir; Embry-Riddle: Samantha Welch and Marissa Golesh; Central Baptist: Kinsey Morris; Southern Virginia: Bryndel Kindred; Cal State-San Marcos: Shelby Bush
The University of Houston-Victoria, located in the heart of the Coastal Bend region since 1973 in Victoria, Texas, offers courses leading to more than 80 academic programs in the schools of Arts & Sciences; Business Administration; and Education, Health Professions & Human Development. UHV provides face-to-face classes at its Victoria campus, as well as an instructional site in Katy, Texas, and online classes that students can take from anywhere. UHV supports the American Association of State Colleges and Universities Opportunities for All initiative to increase awareness about state colleges and universities and the important role they have in providing a high-quality and accessible education to an increasingly diverse student population, as well as contributing to regional and state economic development.