Close
Family is driving force for top fall graduates in UHV School of Business Administration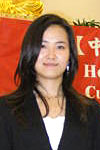 Liyuxuan "Rebecca" Su
The outstanding fall graduates in the University of Houston-Victoria School of Business Administration agree that family was their prime motivation for getting a degree.
Liyuxuan "Rebecca" Su, the school's top graduate student, hails from the Shaanxi Province in Central China and will graduate with a Global Master of Business Administration at the 11 a.m. Dec. 11 commencement at the Leonard E. Merrell Center, 6301 S. Stadium Lane in Katy.
"My mom and uncle were both in the pharmaceutical business, and I helped them at the business with planning, accounting and marketing when I was an undergraduate student," Su said. "That experience really helped me with my classes at UHV."
Su said she eventually plans to return to Shaanxi to start a business, taking full advantage of her dual language skills.
"I knew since age 8 that I wanted to go into business, and at age 20, I decided to go into the financial and planning field," the Katy resident said. "I'd like to get some experience in international trade, energy or banking with a large company, then start my own business."
Su said she got the chance to travel around the U.S. during her time here, and lists Boston and California as her favorite places, noting the culture and museums.
During her travels, she dove into her studies, and in spite of her support system being overseas, finished her graduate degree.
"In China, I was very social, but here I have spent more time with my studies," Su said of finishing her graduate degree in two and a half years.
She said she appreciated the helpfulness of staff members in the UHV international student office, which works with students on everything from housing to insurance.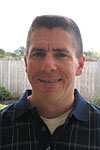 David McGeehon
David McGeehon, the school's outstanding fall undergraduate, also pursued his degree to better his family's life.
No one can question his dedication to his studies. The 42-year-old business major even worked on a research paper while his wife endured a 17-hour labor with the birth of their second child. The Sugar Land resident said his wife's constant support allowed him to devote the time to finish his Bachelor of Business Administration in management degree.
"I''m not sure that is her favorite story from my finishing the degree, but it was necessary," McGeehon said as he laughed. "My wife was my biggest supporter throughout my return to school, and I also received a lot of support from my parents, as well."
McGeehon also was moved to finish his degree to provide an example to his two daughters.
"I'm glad they are seeing me do this so they can see the value of it," he said. "By the time they are in college, a bachelor's degree will be as common as having your high school diploma is today. They need to see that it's a priority."
McGeehon took a common path to the workforce, finishing high school in 1986 and completing two years of college, then opting to leave school and go to work.
"I wanted to make some money and thought I could do it without a degree," he said. "I did for a while, but then responsibilities with my family grew, and I knew I would need a degree to move up at work."
And like many nontraditional-age students, his work experience and added years of maturity benefited his studies, he said.
"Having been in the workforce, it was easier to see how what I was studying related to my job and what it actually meant," he said. "I wouldn't have had the same perspective if what I have learned in the past year had been taught to me when I was an 18-year-old."
He said his employer at a manufacturing company encouraged him and was supportive of his degree plan. Since McGeehon was footing the bill, he said the cost and convenience of the UHV classes offered at the UH System at Sugar Land, as well as UHV's online course offerings, helped out significantly.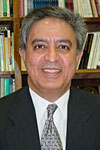 Farhang Niroomand
McGeehon said scheduling school and his job was a challenge, but he soon learned how to do it.
"I loved it, and the classes were challenging," he said. "I'm now thinking of a postgraduate degree after I take some time off to catch up with family time. I feel like I found a good groove balancing family, work and education."
Farhang Niroomand, dean of the UHV School of Business Administration, said the graduates excelled in challenging programs through solid work and determination.
"The dedication of these two students is commendable, and they deserve this recognition," Niroomand said. "We are proud that they can apply the skills they acquired at UHV both locally and internationally, and we wish them well in their careers."
The University of Houston-Victoria, located in the heart of the Coastal Bend region since 1973 in Victoria, Texas, offers courses leading to more than 80 academic programs in the schools of Arts & Sciences; Business Administration; and Education, Health Professions & Human Development. UHV provides face-to-face classes at its Victoria campus, as well as an instructional site in Katy, Texas, and online classes that students can take from anywhere. UHV supports the American Association of State Colleges and Universities Opportunities for All initiative to increase awareness about state colleges and universities and the important role they have in providing a high-quality and accessible education to an increasingly diverse student population, as well as contributing to regional and state economic development.