Close
Joy of teaching motivates UHV student to graduate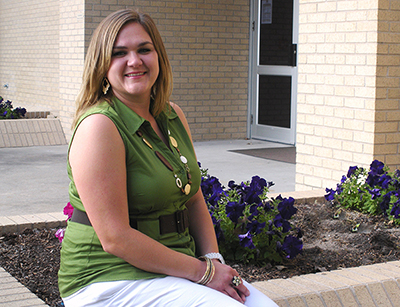 University of Houston-Victoria student Melanie Castaneda is looking forward to graduating on Saturday. She already has started a permanent substitute position teaching kindergarteners at Vickers Elementary School in Victoria.
If University of Houston-Victoria student Melanie Castaneda is having a bad day, she knows she'll forget all about it as soon as she gets into the classroom at Vickers Elementary School.
"The kindergarteners are hilarious," she said about her most recent student teaching assignment. "One little boy had to name five things he was thankful for as part of a Thanksgiving project, and three of the things he listed were Tyrannosaurus rex, T. rex and dinosaurs."
Castaneda, or "Ms. C." as her students call her, will graduate magna cum laude from UHV on Saturday with a bachelor's degree in interdisciplinary studies focusing on early childhood education through sixth grade.
But the 27-year-old Victoria resident wasn't always so sure she wanted to be a teacher. After graduating from what was then Victoria High School in 2001, she started taking classes at Victoria College and planned on eventually becoming a lawyer.
"I saw what some of my family members had who were lawyers and that interested me, but I didn't have a passion for it," she said.
By the time she was 20, she had changed her mind. A job at a local daycare made her realize that teaching was what she wanted to do. Castaneda decided to transfer to UHV about two and a half years ago and go to school full time so that she could finish her bachelor's degree faster.
She has even inspired her 32-year-old husband, Steven, to get his higher education. He's been taking classes at Victoria College for the last year and wants to become a physical therapist. Their 4-year-old daughter, Julia, likes it that all three of them go to school.
 "I want her to grow up and to be able to check the box on surveys that both of her parents are college graduates," Castaneda said.
Castaneda hasn't just concentrated on taking classes as a UHV student. She also got involved with the UHV Student Senate when she was a junior and now is a senator at-large. Her motivation for joining the Senate was to make a difference at the university and in the community.
In her role on the Senate, she volunteered at summer camps at the Texas Zoo in Victoria and helped coordinate a Breast Cancer Awareness Kickball Tournament in November.  She also served as a student ambassador during freshman orientation sessions in the summer.
"The freshmen were really curious about what student life is like at UHV," she said. "Now I see them around UHV, and they remember me."
Student Senate adviser Janet Foerster said she has appreciated Castaneda's work on the Senate and knows she will do well in the future.
"She's a 'take action' type of person," Foerster said. "She gets the job done and has a lot of good ideas."
That attitude has already helped Castaneda get a classroom job. She started a "permanent substitute" position at Vickers Elementary on Wednesday. She's teaching kindergarteners for six weeks while the regular classroom teacher is on maternity leave. She hopes to find a permanent teaching job after that. If not, she will substitute teach and start taking graduate classes toward a master's degree in counselor education.
"School doesn't scare me anymore," she said. "I just want to try everything."
But more immediately, Castaneda is excited about walking across the stage during UHV's fall graduation ceremony at the Leonard E. Merrell Center in Katy. There to cheer her on will be her father and stepmother, Billy and JoAnn Winston; and her mother and stepfather, Debbie and Wayne Mercado. All four live in Victoria.
"I'm so excited about graduation," Castaneda said. "I didn't even know that I would be this excited until the paperwork started coming in the mail. It's just going to be so cool."
The University of Houston-Victoria, located in the heart of the Coastal Bend region since 1973 in Victoria, Texas, offers courses leading to more than 80 academic programs in the schools of Arts & Sciences; Business Administration; and Education, Health Professions & Human Development. UHV provides face-to-face classes at its Victoria campus, as well as an instructional site in Katy, Texas, and online classes that students can take from anywhere. UHV supports the American Association of State Colleges and Universities Opportunities for All initiative to increase awareness about state colleges and universities and the important role they have in providing a high-quality and accessible education to an increasingly diverse student population, as well as contributing to regional and state economic development.