Close
Jaguar Hall R.A.s enjoy perks, interaction of job watching over residents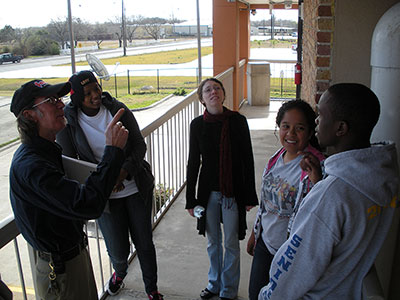 Gerald Kelley, Jaguar Hall maintenance supervisor, points out safety features to Resident Advisers Lauren Clark, left, Anita Strange, Ashley Kellis-Carr and Moses Olukoya.
Some students dive right into university life, while others may have an adjustment period after they leave home. Resident Advisers, or R.A.s, are there for both kinds of students at the University of Houston-Victoria's Jaguar Hall.
"How they adjust depends on the person. One rewarding thing about being an R.A. is just being there for those who need to talk to someone or just vent," said Ashley Townsend, the veteran R.A. on a team of five at Jaguar Hall.
The R.A.s are preparing for the spring semester move-in that starts on Friday. Classes begin on Tuesday. This will be the second semester the residence hall is open after UHV's expansion to add freshmen and sophomores. Another dorm is planned for a fall 2012 opening.
The diverse R.A. group is charged with working with management and staff to keep maintenance and discipline to a minimum, and to maximize responsible enjoyment of the college experience for their fellow college freshmen.
"You've got to be patient and not let the little things get to you," Townsend said. "I learned to just take a step back, breathe and then keep going."
At 23, Townsend is an older student, and that gives her some perspective that benefits the freshmen.
"It's a good bit of work. There are a lot of handouts, paperwork, plus planning and holding events," said Townsend, who held weekly study hall sessions for other Jaguar Hall residents in the fall. "But it is a unique and fun experience, too."
Jaguar Hall is run by American Campus Communities, which has a contract with UHV. Alexandra "Zandy" Baker is the Jaguar Hall general manager and brings 15 years residence hall work experience to Victoria.
"R.A.s are there to make sure the residents have a positive experience," Baker said. "We expect them to be role models for everyone living here."
Jaguar Hall's September start was the fourth dorm opening that Baker has managed during her career.
"Things were challenging at first, but we're making continual improvements," she said of the converted hotel that will house 163 this semester in its 140 rooms. "This is a very nice facility."
R.A.s must work a minimum of 15 hours each week and are paid with room and board for the semester. For each hour they work over 15, they receive $7.25 per hour.
The students go through a week-long training that encompasses everything from confrontation and conflict, to diversity and desk duties. R.A.s are responsible for everything from walking the grounds to check on safety issues, to helping plan and host events, to assisting with the academic success of students.
Moses Olukoya, a freshman from Sugar Land, wanted to become an R.A. after having an influential one of his own at a Baltimore-area college.
"I had a great R.A., and it made me think I'd like to do that, as well," said Olukoya, who lived in Jaguar Hall in the fall. "They have made big improvements here, and it definitely helps with college costs since we're getting room and board credit."
Problems can present themselves to R.A.s in the form of noise and other discipline issues. And even though ACC uses roommate matching techniques, sometimes conflicts arise. R.A.s must manage and report these problems while keeping up with their own studies.
"Things are going to happen. We're in a dorm with about 200 students, most of whom are away from home for the first time," said Anita Strange, a Victoria resident who wanted the full college experience so she moved into the dorms.
On Friday, Gerald Kelley, Jaguar Hall maintenance supervisor, took the R.A.s on a tour of every nook and cranny of Jaguar Hall as part of their training, explaining what is expected of them. Kelley talked about making out reports on safety and maintenance issues, plus making sure the dorm's atmosphere is fun but conducive to learning.
"Everything in their room needs to work correctly for their comfort and safety," Kelley said. "If one light bulb is out, you don't need to report it as an emergency. But if all their lights are out, that's an emergency."
All five R.A.s took notes and soaked in what Kelley said.
"We're on it," new R.A. Ashleigh Kellis-Carr said.
For more information about Jaguar Hall, student housing or the R.A.s, call Baker at 361-570-4400 or visit uhvstudenthousing.com.
The University of Houston-Victoria, located in the heart of the Coastal Bend region since 1973 in Victoria, Texas, offers courses leading to more than 80 academic programs in the schools of Arts & Sciences; Business Administration; and Education, Health Professions & Human Development. UHV provides face-to-face classes at its Victoria campus, as well as an instructional site in Katy, Texas, and online classes that students can take from anywhere. UHV supports the American Association of State Colleges and Universities Opportunities for All initiative to increase awareness about state colleges and universities and the important role they have in providing a high-quality and accessible education to an increasingly diverse student population, as well as contributing to regional and state economic development.