Close
UHV Student Senate freshmen get involved; organization eyes more advocacy
University of Houston-Victoria Student Senate members are always looking ahead to service projects. But the organization's new freshmen promise to bring a spark to their efforts.
Ushered in along with the university's expansion, six freshmen were chosen from a pool of 48 applicants to serve on the Student Senate's freshman committee. The Senate advocates for the student body while offering opinions to the UHV President's Cabinet.
What makes a freshman, away from home and loaded down with coursework and adult responsibilities, want to give time to a university?
"For me, it's just a desire to see things get done," said Lauren Clark, a communication major from Missouri City. "There is a need to hear the voice of underclassmen, so people will know what things we need and what we'd like to get accomplished."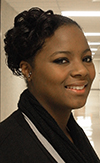 Lauren Clark
Clark lent her voice to the growing university in hopes of guiding policy and seeing projects through. Despite not participating in high school student government, she wanted to serve on the Senate after hearing speakers at her freshman orientation.
"I just heard so many good things about the Senate," she said. "They were ones to approach to get a new student organization started or to contact the president's office. One person described it as 'like student council in high school, except it actually matters.'"
Like Clark, freshman Shane Scallan wanted to become more active to make a difference.

Shane Scallan
"I wanted to get involved and experience the university to the fullest by helping out where I could," said Scallan, a freshman Senate member from Harlingen who is studying mathematics. "I was never in any organizations in high school except for band."
Scallan said his school government service is a great ice-breaker for someone new to town.
"It's a good way to meet people," he said. "I'm pretty social already, but being involved with the Senate activities makes it a lot easier."
That new freshman energy will help the Senate as it changes the way it conducts its business, switching its focus from charity drive and student-hospitality events, now handled by UHV Student Services, to becoming more advocacy driven.
"Service-related projects will remain a part of student government, but advocating for the students and taking a more active role in the Student Senate's seat at the table of the President's Cabinet are priorities," Student Senate President Paige Ruschhaupt said. "We still want to keep in touch with the students, but it has gotten to the point where the university is bigger, we have more students on campus, and we want to be more of a government. We want the students to know we're there for them."

Paige Ruschhaupt
In her role, Ruschhaupt sits on the President's Cabinet along with the provost, deans of each of UHV's four schools, other administrators, and Faculty Senate and Staff Council representatives.
"The administration has been great to us, and they support the students completely," Ruschhaupt said. "They have backed whatever observations I have made in the cabinet meetings. I feel like they are behind us."
The Senate is planning its semester calendar of events, and discussing strategy and changes to its bylaws.
"The Senate will be larger," she said. "Right now, there are a few juniors and seniors, and six on the freshman committee. Next year, there will be new freshmen, plus sophomores. We are setting up the bylaws so we'll have a certain number representing each class."
For now, freshmen members serve on committees and help with events, but have no voting rights. That will change after the Senate election later this spring, Ruschhaupt said.
To learn more about the UHV Student Senate, visit http://www.uhv.edu/student_org/ss/ or e-mail studentsenate@uhv.edu.
The University of Houston-Victoria, located in the heart of the Coastal Bend region since 1973 in Victoria, Texas, offers courses leading to more than 80 academic programs in the schools of Arts & Sciences; Business Administration; and Education, Health Professions & Human Development. UHV provides face-to-face classes at its Victoria campus, as well as an instructional site in Katy, Texas, and online classes that students can take from anywhere. UHV supports the American Association of State Colleges and Universities Opportunities for All initiative to increase awareness about state colleges and universities and the important role they have in providing a high-quality and accessible education to an increasingly diverse student population, as well as contributing to regional and state economic development.