Close
UHV helps school district with anti-bullying initiatives
University of Houston-Victoria students, faculty and staff members are making a difference in the Victoria school district and community with their work to curb student bullying.
"Bullying doesn't just happen in schools. It happens at the mall; it happens at the bus stop. It's a very real national and community issue with very negative outcomes,"said Anitra Shelton-Quinn, an assistant professor and the school psychology program director in the UHV School of Arts & Sciences.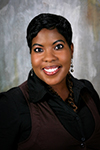 Anitra Shelton-Quinn
Shelton-Quinn and UHV assistant professor Trina Gordon, director of the School of Arts & Sciences counseling psychology program, began partnering with Victoria Independent School District administrators last spring to develop Village Builders, an anti-bullying program that initially will be implemented in the district's four middle schools.
Other UHV faculty and staff involved with anti-bullying initiatives in Victoria are Lawrence Rossow, dean of the UHV School of Education & Human Development, and Lawrence Nelson, the school's multimedia specialist. The two, in addition to Shelton-Quinn and Gordon, are part of a community Anti-Bullying Task Force established by VISD Superintendent Bob Moore. Rossow is heading up a subcommittee on cyberbullying.
"The Internet can somewhat disguise who the bullying culprits are, but there are ways to track down the bullies and put a stop to what they are doing,"Rossow said.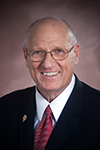 Lawrence Rossow
Subcommittee members are developing protocol for district administrators to use to identify cyberbullies and will be providing training later in the semester.
Shelton-Quinn and Gordon initially focused on the extent of bullying in the district's middle schools and have met with administrators at the district level and in the middle schools to raise awareness about bullying in the schools. They are presenting information about Village Builders at Stroman Middle School on Jan. 27.
"This is a good beginning step to combat a problem that's happening nationwide, and the program is another way we can strengthen the ties between UHV and the school district,"Gordon said.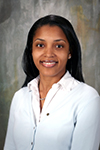 Trina Gordon
The survey last spring of 1,100 students from Crain and Howell middle schools showed that bullying is not necessarily starting in local schools but is continuing there, she said. Bullying also is taking place in schools in the form of sexual harassment. In addition, students reported that they are more comfortable reporting bullying incidents to their parents than their teachers.
UHV psychology graduate students helped enter data from the initial survey, and upper-division undergraduates and graduate students will become more involved with Village Builders as the program progresses by providing anti-bullying training.
The second phase of Village Builders will start this spring and will include gathering school climate data, and scheduling classroom meetings for students and parent meetings about bullying and peer relations, Shelton-Quinn said.
 "Students and their parents may not even be aware of what bullying is and how it affects people,"she said.
Bullying is serious because those who are bullied can suffer from anxiety, low self-esteem and depression, and may not want to come to school, Shelton-Quinn said. National studies show that nearly 30 percent of students are bullies or victims of bullies. Bullies are more likely to end up in the criminal justice system later in life.
The third phase of Village Builders is expected to start late this spring or early in the fall. At that point, interventions will take place between bullies and the students they are bullying. Their parents also will be involved.
"This whole program is based on the premise that it takes a village to raise a child," Shelton-Quinn said. "It's not just the responsibility of teachers and principals to make sure bullying isn't going on. It's everybody's responsibility to make sure we have bully-free zones."
Community members who want more information about Village Builders or UHV students interested in participating in the project may contact Shelton-Quinn at sheltonquinna@uhv.edu or Gordon at gordont@uhv.edu.
The University of Houston-Victoria, located in the heart of the Coastal Bend region since 1973 in Victoria, Texas, offers courses leading to more than 80 academic programs in the schools of Arts & Sciences; Business Administration; and Education, Health Professions & Human Development. UHV provides face-to-face classes at its Victoria campus, as well as an instructional site in Katy, Texas, and online classes that students can take from anywhere. UHV supports the American Association of State Colleges and Universities Opportunities for All initiative to increase awareness about state colleges and universities and the important role they have in providing a high-quality and accessible education to an increasingly diverse student population, as well as contributing to regional and state economic development.