Close
UHV baseball player returns to mound after major back surgery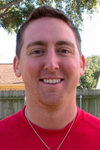 Chase Graves
University of Houston-Victoria baseball player Chase Graves received some news more than two years ago that was sure to turn his world upside down.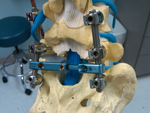 This spinal brace, plus several large screws, have been placed in Chase Graves back to stabilize his spine. Graves has returned to the pitching mound for the UHV Jaguars.
As a sophomore pitcher at a college in Kansas, Graves' lower back started hurting. He tried to play though the pain until it reached the point where he dreaded the thought of getting out of bed. A series of MRIs and visits to specialists discovered the problem: Doctors said that pitching had caused a loss of cartilage, a fracture in three vertebrae and severe nerve damage.
Doctors were not optimistic, predicting that, with surgery, Graves might have only a 40-percent chance of playing baseball again. He underwent a complicated surgery and lost his scholarship.
"The time I spent in the hospital was terrible," Graves said. "I'm a very independent person. It was tough relying on my parents to be there 24 hours a day to assist me in anything that required me getting out of bed."
Graves returned to Texas in 2009 with hopes that he would be able to recover. When he finally got to the comfort of his own home in Victoria, things were not immediately better.
"For two weeks, I felt like a 90-year-old man because the only way I could make my way around the house was with the help of a walker," he said. "And I was not permitted to move around the house alone. My mom was right beside me everywhere I went."
His mother, Tracy Graves, played a big role in his recovery.
"I was in charge of every aspect of the home care, everything from preparing all of his meals to taking him to physical therapy four times a week," she said. "It was tough seeing my youngest child, who prides himself on being self-reliant, now have to count on me to get him through the day. I could only imagine the struggles that he faced during the long and rigorous road to recovery."
After surgery, rehabilitation and hard work, Graves can be found each afternoon at Riverside Stadium along with the rest of the Jaguars baseball team.With the help of six titanium screws drilled into his vertebrae and four rods inserted into his spine to separate his discs, the "Grave Digger" is back in the game.
Graves is a middle-relief pitcher and a vital part of the UHV pitching staff. Through his hard work, friendship and willingness to stand up for teammates, Graves anchors the bullpen and has become a leader on the team.
He still has to deal with some pain, but this has not hindered his work ethic.In the off-season, Graves spent the majority of his time at the gym lifting weights and spending hours on the elliptical to get himself ready for the 2011 season.
Today the unorthodox-throwing right hander is ready to plow down the batters. With a concentrated focus, Graves is the first one at practice each day, and when he is not throwing in the bullpen, he runs laps around the field.
Last year, Graves helped the team win its second straight conference title and advanced to the National Association of Intercollegiate Athletics National Championship tournament, a high point in the history of the program.


A fierce competitor, Graves does not start confrontations but will not hesitate to take up for his teammates. Graves, who is a senior psychology major, also takes younger players under his wing, letting them know what head coach Terry Puhl likes from his players and what is expected during games and practice.
Graves plans to graduate in May and will pursue a career in sports psychology.
The UHV Outstanding Student is an online feature highlighting the exceptional students who attend the University of Houston-Victoria. To nominate a student, contact UHV Communications Manager Paula Cobler or call 361-570-4350.
The University of Houston-Victoria, located in the heart of the Coastal Bend region since 1973 in Victoria, Texas, offers courses leading to more than 80 academic programs in the schools of Arts & Sciences; Business Administration; and Education, Health Professions & Human Development. UHV provides face-to-face classes at its Victoria campus, as well as an instructional site in Katy, Texas, and online classes that students can take from anywhere. UHV supports the American Association of State Colleges and Universities Opportunities for All initiative to increase awareness about state colleges and universities and the important role they have in providing a high-quality and accessible education to an increasingly diverse student population, as well as contributing to regional and state economic development.