Close
UHV a perfect fit for assistant professor's wide-ranging interests
Once Mark Ward's children finished college, he thought, "Now it's time for me." The longtime communications professional took a pause from work and teaching, completed his doctoral degree in rhetorical and communication studies at Clemson University, and accepted a job in the fall as an assistant professor of communication at the University of Houston-Victoria.
"At UHV, excellence in teaching and research are seen as complementary rather than one being stressed over the other," Ward said. "There is a great encouragement for research, but also the opportunity to be hands-on with the students in the classroom."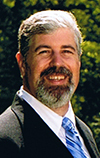 Mark Ward
Ward said teaching positions at other universities were options for him. But he chose UHV because innovative instruction and scholarship are mutually encouraged, the institution's expansion to add sophomores and freshmen presented a unique challenge, the student body is diverse, and Victoria offers a quality of life that combines most amenities of a large city with fewer of the hassles.
His main assignment at UHV has been to organize the core freshman course in public speaking.
"This is a great opportunity to build from scratch a freshman speech program," he said. "Plus, I only have a seven-minute commute to work. Being close to campus makes it easy for me to be part of a learning community that publishes journals, books and brings in guest speakers through the UHV/American Book Review Reading Series."
For Ward, an interdisciplinary approach to his job fits perfectly with his background, which is an eclectic mix of writing, broadcasting, teaching and speaking. He was raised in Arlington, Va., near the nation's capital. For 20 years, he worked as communications director for four national and international nonprofits. In that role, he handled public relations, marketing and publications for two industry trade associations, a national veterans association and an international religious organization.
As a professional independent writer, Ward also has published seven nonfiction books and more than 2,000 feature articles for trade publications that cover everything from petroleum and construction to retailing and food service.
His book and article writing garnered invitations to speak at conferences, and there people took notice of his pleasant, bass-range voice. This led to opportunities in broadcasting as Ward began doing voiceover work and audio production for nationally syndicated radio shows. He even formed his own company, Message Media Group, as an umbrella for his freelance writing and voiceover activities.
In midlife, Ward embarked on an academic career and since has published nearly a dozen scholarly articles and presented numerous research papers at national and international conferences. The thread that ties his research together is an interest in how communication, culture and identity are connected – whether in organizations, religious communities, virtual worlds or college classrooms, all of which he has studied.
Ward combined professional and personal interests when he spent four years as bass singer for a gospel quartet that traveled on weekends throughout the eastern U.S. He used that time to do ethnographic research by observing how church members' communication and culture mixed.
"Communication ethnography involves participating in and observing the way people talk in a given community," he said. "During my years on the road, I spent a lot of time in evangelical churches, which is a culture in itself. So for example, when people there call each other 'brother' and talk of 'having fellowship,' that expresses the culture's underlying assumptions about how people should relate to each other. But visitors may be confused because they don't understand the assumptions behind the talk."
Ward said when people of different religions try and talk to one another, the difficulty they may experience in communicating is in part because they belong to different communities that each has its own distinctive cultural assumptions. In order to communicate, he explained, "They must be mindful of those differences and refrain from using their own lingos."
Ward has done research on the Holocaust years, looking into how people in the Nazi bureaucracy communicated with one another in order to produce an organizational culture and identity that "justified" genocide. He also has researched how players of online video games form virtual communities through their communication and how the communication that takes place in a college classroom can be channeled to build a productive learning community.
In addition to teaching the freshman course in public speaking, Ward also teaches advanced courses related to corporate communication such as leadership and public relations. He is available as a speaker for local business and professional events.
Ward's personal interests are many, from music to day trips. He is active in his local church, where he sings and plays the piano. And he and his wife, Donna, relish the adventure of coming to South Texas and exploring the natural beauty, history, culture and recreational opportunities of the Coastal Bend. The couple earlier this month spent their wedding anniversary watching alligators and whooping cranes on a day trip to the Aransas National Wildlife Refuge.
"I have taught at universities where the student body was not very diverse and most of those in my classrooms were traditional students who grew up with the assumption that they were going to college," Ward said. "But I love my opportunities at UHV to serve, and hopefully make a difference for, a diverse community full of first- and second-generation college students."
Jeffrey Di Leo, dean of the UHV School of Arts & Sciences, said Ward brings a quarter century of professional experience to the university.
"I am pleased to have someone of Dr. Ward's talents as a part of our core faculty," Di Leo said. "His experience and expertise on a wide range of subjects enriches our school."
The University of Houston-Victoria, located in the heart of the Coastal Bend region since 1973 in Victoria, Texas, offers courses leading to more than 80 academic programs in the schools of Arts & Sciences; Business Administration; and Education, Health Professions & Human Development. UHV provides face-to-face classes at its Victoria campus, as well as an instructional site in Katy, Texas, and online classes that students can take from anywhere. UHV supports the American Association of State Colleges and Universities Opportunities for All initiative to increase awareness about state colleges and universities and the important role they have in providing a high-quality and accessible education to an increasingly diverse student population, as well as contributing to regional and state economic development.