Close
Society for Critical Exchange invites public to Winter Theory Institute
The Society for Critical Exchange, the oldest society dedicated exclusively to theory, will host its second Winter Theory Institute Feb. 10 through 13 at the University of Houston-Victoria.
The theme of this year's conference is "Neoliberalism's Cultural Work," featuring a variety of academics from across the nation discussing how economic and political policies relate to social and cultural practices. The public is invited to the free conference.
Neoliberalism stresses that the private sector can operate more efficiently than governments, so its advocates push for free trade, fiscal conservatism by governments and open markets. Critics say the theory promotes high inequality and low wages.
But the movement has come to encompass more than economic matters, said Uppinder Mehan, associate director of the Society for Critical Exchange and a UHV assistant professor of English.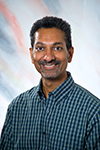 Uppinder Mehan
"People used to think of it strictly in terms of free trade, imports and exports," Mehan said. "But there is an ideology at work that wants to privatize as much of government as possible, believing that private enterprise can operate more efficiently. There are aspects of it that deal with culture and politics, as well as economics."
The institute's presentations will take place from 9 a.m. to 5 p.m. Feb. 11 and 12 in the President's Conference Room on the third floor of the UHV University Center, 3007 N. Ben Wilson St.
"We had a good response last year," Mehan said of the inaugural event. "We were pleasantly surprised by the public attention, as well as that from other faculty."
Mehan is co-editor of "So Long Been Dreaming: Postcolonial Science Fiction and Fantasy," and his essays have appeared in "Comparative Literature, Paragraph," and "Foundation: The International Review of Science Fiction." Mehan will talk about "The Neoliberal Self in a Post-Scarcity World."
Mehan said talks by Noah De Lissovoy and Paul Passavant will be highlights of the institute. Lissovoy is an assistant professor in curriculum at the University of Texas at Austin. His research focuses on critical approaches to curriculum, pedagogy and educational theory, as well as problems posed for educators by globalization. Passavant, an associate professor of political science at Hobart and William Smith Colleges in Geneva, N.Y., will give a talk about the hostilities of the neoliberal state.
Jeffrey Di Leo, dean of the UHV School of Arts & Sciences and a presenter at the institute, said SCE holds events like the Winter Theory Institute to advance the role of theory in academia and intellectual arenas.
"We are pleased to bring in these top scholars from around the nation to discuss different aspects of an important topic in our society today," Di Leo said. "There will be a broad spectrum of disciplines represented, and we are proud to showcase this university as an institution of rigorous academic thought."
Andrew Baerg, director of communication at UHV, also will present a talk about the effects of neoliberalism on computer gaming.
For more information and to view the schedule, see societyforcriticalexchange.org or contact Mehan at mehanu@uhv.edu or 361-570-4178.
The University of Houston-Victoria, located in the heart of the Coastal Bend region since 1973 in Victoria, Texas, offers courses leading to more than 80 academic programs in the schools of Arts & Sciences; Business Administration; and Education, Health Professions & Human Development. UHV provides face-to-face classes at its Victoria campus, as well as an instructional site in Katy, Texas, and online classes that students can take from anywhere. UHV supports the American Association of State Colleges and Universities Opportunities for All initiative to increase awareness about state colleges and universities and the important role they have in providing a high-quality and accessible education to an increasingly diverse student population, as well as contributing to regional and state economic development.