Close
'Right-brained' multimedia artist is next UHV/American Book Review speaker
Photographer, painter and poet Rachel Eliza Griffiths goes wherever her imagination takes her.
New York-based artist Griffiths is the next speaker for the University of Houston-Victoria/American Book Review Spring Reading Series. Her talk will take place at noon Wednesday in the Alcorn Auditorium on the second floor of UHV University West, 3007 N. Ben Wilson St. The public is invited to attend the free talk.
Griffiths has developed her many talents from a background that was not necessarily an artistic one. Her father was an environmental attorney, and her mother stayed at home in Wilmington, Del., to raise Griffiths and three siblings. The 32-year-old said she and a brother ended up "right-brained," while her other two siblings are more "left-brained" and are now a lawyer and a financial analyst.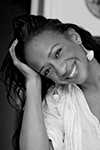 Rachel Eliza Griffiths
"While my family was not really artsy, my parents really valued education, and school was very central to our household," Griffiths said. "As I grew up, I spent much of my childhood in the public library. It was an old building in Wilmington that was a place of adventure. I would go through the sections and read whatever I wanted, and I was never told, 'You can't be in that section.'"
As Griffiths' interest in art grew, her desire to move to New York City did as well. She had read about New York being an oasis for artists, with ideas, inspiration and culture around every corner. She made the move to the city of 8 million when she enrolled in graduate school.
"I was a romantic, and I just decided to make New York a part of my school. Living there is an education in itself," she said. "I spent a lot of time walking in Central Park, or Washington Square, and up in Harlem, just looking at everything – museums and galleries and all the things that just weren't part of the landscape where I grew up."
She took notes and photographs of her exploring different streets, absorbing details about people and places. She also liked the anonymity.
"It is interesting to walk around the village and think about different poets, artists, writers and musicians who lived there before," Griffiths said. "I think about if I had lived during their time and how my life would be different."
Griffiths teaches a poetry workshop at Sarah Lawrence College, and she also does photography projects with a focus on portraits of other artists, poets, painters and writers.
Juggling work in teaching, photography, painting and poetry requires a balance for demands on her time.
"I try to reflect on what I am feeling and what my inspiration is at the moment," she said. "But once I commit, I am good about blocking out and concentrating on what needs to get done."
Where much of her writing and painting is personal, she also is inspired by current events and things that arouse her interest and curiosity.
"I have poems about nature, but also about national events or experiences," she said. "I have several poems about Hurricane Katrina, other writers or news of the times. Empathy is important for an artist, and I believe I can relate what others are feeling through my work.
"Wherever my imagination goes, I have to pick up and follow."
Griffiths' next book is "The Requited Distance," with takes on the Greek story of Icarus and its themes of obedience and family, and is due out this month. It includes one of her paintings of the well-known Greek story on the cover. Another book of poems called "Mule & Pear" is due out in the fall.
A Cave Canem Fellow, Griffiths has been widely published in journals, magazines, anthologies and periodicals. She has a master's degree in English literature and a Master of Fine Arts in creative writing.
Tom Williams, an ABR associate editor and chair of the Humanities Division in the UHV School of Arts & Sciences, said Griffiths' diverse talents strengthen the strong spring ABR lineup of speakers.
"A poet and photographer of uncommon gifts, Ms. Griffiths will surely inform and delight the ABR audience," Williams said.
Other writers for the Spring Reading Series are:
Kate Bernheimer, Feb. 17 – Bernheimer has published novels, stories, children's books, creative nonfiction and essays about fairy tales and has edited three fairy-tale anthologies. The founder of "Fairy Tale Review," she is a writer in residence at the University of Louisiana in Lafayette.
Beverly Lowry, March 10 – Lowry is a Guggenheim and National Endowment for the Arts award winner and has served as president of the Texas Institute of Letters. The author of seven novels and two nonfiction works, Lowry was a former instructor at George Mason University, and she now resides in Austin.
Rolando Hinojosa-Smith, April 21 – Hinojosa-Smith specializes in life and literature of the Southwest, and was the first Chicano author to receive the prestigious Premio Casa de las Americas award. He has devoted most of his career as a writer to his 15-volume "Klail City Death Trip" series.
Authors who are part of the Spring Reading Series attend roundtable discussions with UHV faculty and students, make classroom visits to area schools, give lectures open to the community, and go to receptions hosted by Friends of ABR patrons while they are in Victoria.
ABR is a nonprofit, internationally distributed literary journal that is published six times a year. It began in 1977, moved to UHV in 2007 and has a circulation of about 8,000. The journal specializes in reviews of works published by small presses.
For more information about the reading series, call ABR Managing Editor Charles Alcorn at 361-570-4100 or go to www.americanbookreview.org.
The University of Houston-Victoria, located in the heart of the Coastal Bend region since 1973 in Victoria, Texas, offers courses leading to more than 80 academic programs in the schools of Arts & Sciences; Business Administration; and Education, Health Professions & Human Development. UHV provides face-to-face classes at its Victoria campus, as well as an instructional site in Katy, Texas, and online classes that students can take from anywhere. UHV supports the American Association of State Colleges and Universities Opportunities for All initiative to increase awareness about state colleges and universities and the important role they have in providing a high-quality and accessible education to an increasingly diverse student population, as well as contributing to regional and state economic development.