Close
New software at UHV helps students connect to professor lectures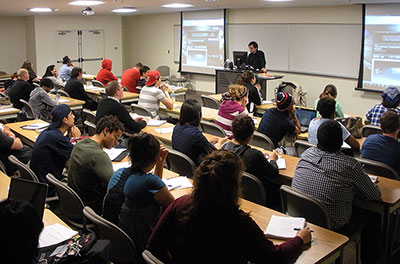 Alireza Tavakkoli, a University of Houston-Victoria assistant professor of computer science, gives a lecture in one of the new Jaguar Hall classrooms equipped with audiovisual equipment that records lectures for later use. Tavakkoli's classes are the most-watched at UHV this semester with students viewing the archived lectures a total of nearly 2,000 minutes.
Software and audiovisual equipment recently installed in University of Houston-Victoria classrooms are ushering in the era of "lecture capture" to help students and instructors alike.
UHV instructional designer Michael Weston said the fall semester was used as the university's pilot program for the software and equipment.

Michael Weston
"The software is intended to give students an extra tool for studying," Weston said. "If you want to listen to a lecture, or just part of a lecture, you can view it online. It also helps athletes and other students who need to miss some face-to-face classes but want to view them after the fact."
The software is called Panopto, and it is easily accessed through a Web browser. Students log in to the UHV website with their UHV information, and they have access to all the audio and video of the lecture, and even PowerPoint presentations shown by the faculty member.
UHV uses the software, combined with audiovisual equipment, in 10 classrooms – three in the University Center, five in University West and two in the new Jaguar Hall classrooms. About 25 faculty members use the software regularly, said Matt Alexander, manager of user services for UHV Information Technology.

Matt Alexander
"The IT staff sets up the room for the professor, and the software is very easy to use," he said. "The instructor hits 'record,' uploads the lecture when class is over, and within an hour, the lecture is available for students to log on and view."
The software can help with more than missed notes, Alexander said. Recently, a professor did a separate two- to three-minute post for one large class with about 60 students. Some students did not understand a portion of the lecture, and the short video post helped explain it in greater detail than was covered in class.
In the classroom, cameras capture the video while microphones record both the lecture and student questions. With UHV's large online programs, rooms equipped with audiovisual capabilities are a must.
Marcus Clayton, a UHV freshman math major, said the lecture-capture system helps him prepare for exams.
"I think it's very helpful," Clayton said. "In class, you can get caught up taking notes and looking at the PowerPoint slides. But I can go back and watch the lectures as many times as I want so I will be ready for the quiz."
Weston works in the UHV Center for Teaching Innovation and found out about the software at a 2009 conference he attended.
"At the center, we evaluate new educational technology, and if it makes sense for UHV, we try it out," he said. "If it passes our test, we'll purchase it and do a pilot program."
The purchase was supported by the Department of Education's Title V grant "Improving Hispanic Attainment in South Texas: Building Community among the High School, the Community College, and the University," a cooperative arrangement between Coastal Bend College and UHV.
Weston said the use of the technology is rapidly growing.
"More than 400 universities around the nation are using a lecture-capture technology now," he said. "It's becoming an important component to the academic mission."
Alexander said UHV's vision is to have 90 percent or more of its classes archived, and its lecture-capture software eventually may tie in to the university's other classroom management software.
"We plan to expand it into more rooms," he said. "It seems like the faculty really like it. Within five to 10 years, it will be the standard."
The University of Houston-Victoria, located in the heart of the Coastal Bend region since 1973 in Victoria, Texas, offers courses leading to more than 80 academic programs in the schools of Arts & Sciences; Business Administration; and Education, Health Professions & Human Development. UHV provides face-to-face classes at its Victoria campus, as well as an instructional site in Katy, Texas, and online classes that students can take from anywhere. UHV supports the American Association of State Colleges and Universities Opportunities for All initiative to increase awareness about state colleges and universities and the important role they have in providing a high-quality and accessible education to an increasingly diverse student population, as well as contributing to regional and state economic development.