Close
UHV offers help with freshman stress
A recent University of California Los Angeles study found that today's college freshmen are more stressed out than ever before. And while the University of Houston-Victoria lead counselor agrees, he said the local university provides ways for students to deal with college stress.
The study, titled "The American Freshman: National Norms Fall 2010," recently made national news. It stated that the emotional health of college freshmen had declined to the lowest level in the past quarter century since the surveys began.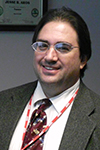 Jesse Aros
"It's no surprise because I think all of the population is more stressed," said Jesse Aros, UHV Counseling Center director. "It can be rough now, given the financial challenges of the past few years, the job market and the uncertainty of a comfortable retirement. Instead of having a job for life as past generations have had, many people have to retrench themselves two to three times. Losing that security is tough."
The study found that many students are worried about their own college debt and wonder if they will be able to find a job once they complete their degree. Students also feel stress from the expectations they put on themselves.
Aros said UHV has a number of counseling options for students who feel stress, and he can give assessments to gauge depression or anxiety. He said many students are working to help support their families, and some of their parents are dealing with unemployment.
"It can be difficult to deal with the stresses of being an adult, a scholar, a worker, an athlete or a parent," he said. "Many students have multiple roles."
The UHV Counseling Center has added hours after 5 p.m. to accommodate students who need to see a counselor after class. A member poll of the Association of University & College Counseling Center Directors found similar efforts to meet growing demand. One of the group's members stated the biggest problems for colleges were "increased need with fewer resources" and "finding the time to reach out and be on campus providing interventions for those who would not come to see us."
UHV offers counseling for individuals, couples, families and groups. The counseling center also helps the university's Academic Center with workshops dealing with memory techniques, healthy relationships and even the side effects of energy drinks.
Chari Norgard, associate vice president for student affairs, said as the university continues to grow, so will the need for services.
"With the addition of freshmen and sophomores this year, it stands to reason that the demand for counseling services would increase," Norgard said. "We want parents and students to know we are committed to helping find solutions for any student who feels overwhelmed."
The UCLA study stated that women make up 60 percent of students who seek out college mental health services, and 39 percent of women feel frequently overwhelmed, compared with 18 percent of men. The overall percentage of students who said their emotional health was above average was 52 percent, down from 64 percent in 1985.
"It seems to affect females more, which is a concern because recent enrollment percentages show that about 60 percent of university freshmen are female," Aros said. "No matter who you are, if you get under too much pressure, you can crack. We want to let students know that we are here for them, and we can offer solutions."
Some additional pressure may come from families, intentional or not, especially for students who are the first to attend a university.
"Here at UHV, we have lots of first-generation students," Aros said. "It's great that they are seeking to be the first, but it definitely adds some pressure regarding expectations."
The counseling office's outreach includes participation in face-to-face and virtual events, a video in production that will explain its services and campus posters.
"We want to break that stereotype that a person is weak if he or she asks for help," Aros said. "Just like any type of medical help, it's best if we can catch it early or prevent it."
For more information, contact Aros at 361-570-4186 or arosj@uhv.edu.
The University of Houston-Victoria, located in the heart of the Coastal Bend region since 1973 in Victoria, Texas, offers courses leading to more than 80 academic programs in the schools of Arts & Sciences; Business Administration; and Education, Health Professions & Human Development. UHV provides face-to-face classes at its Victoria campus, as well as an instructional site in Katy, Texas, and online classes that students can take from anywhere. UHV supports the American Association of State Colleges and Universities Opportunities for All initiative to increase awareness about state colleges and universities and the important role they have in providing a high-quality and accessible education to an increasingly diverse student population, as well as contributing to regional and state economic development.